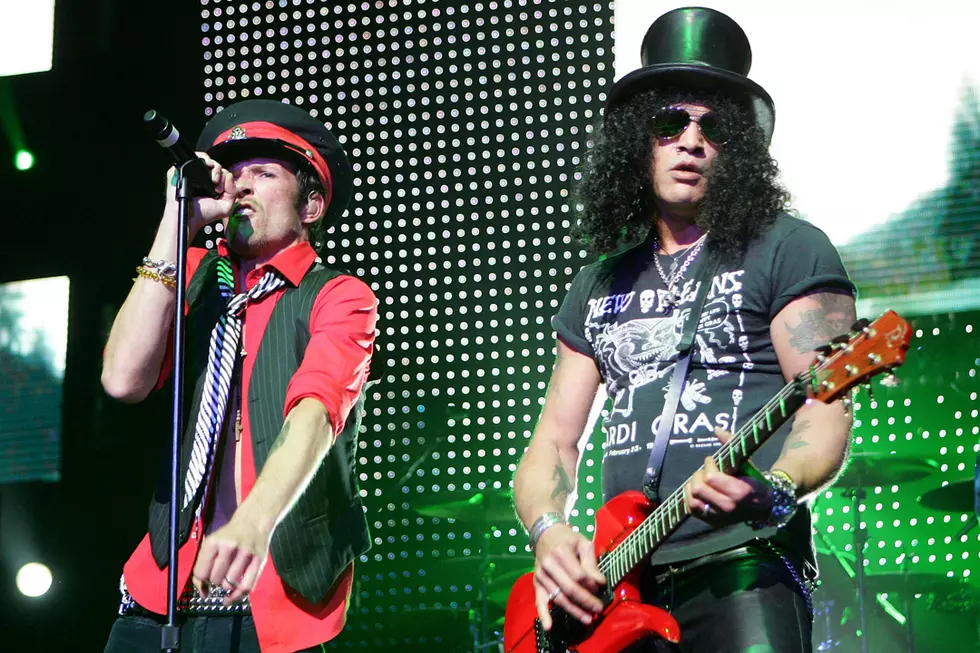 When Velvet Revolver Debuted With 'Contraband'
Ethan Miller, Getty Images
When Velvet Revolver released their debut album Contraband on June 8, 2004, they were indeed the "band against" -- i.e. the "contra" band, if you recall your Spanish lessons.
At the time, Guns N' Roses' long-promised Chinese Democracy remained unreleased, almost a decade since its recording was first rumored. Meanwhile, ex-GNR guitarist Slash, bassist Duff McKagan and drummer Matt Sorum were eager to get on with their careers. They joined forces with oft-troubled but undeniably talented Stone Temple Pilots singer Scott Weiland, plus rhythm guitarist Dave Kushner (ex-Wasted Youth), and Velvet Revolver were born.
That the new supergroup came together at all -- amid numerous fits, starts, and failed singer auditions (which involved everyone from Buckcherry's Josh Todd to Kelly Shaefer of Atheist and Neurotica) -- was something of a miracle. But once Weiland finally decided to join the fold, after initially demurring, not even his mandated house arrest for drug-related probation violations could stall the band's inspired writing and recording process.
Within months, Contraband had found a home first with RCA Records and then at the top of the Billboard charts, eventually selling four million copies in the U.S. alone. Three singles emerged, including the brazen hard rocker "Slither," the urgent hell-raiser "Dirty Little Thing" and, most notably, the No. 1 power ballad "Fall to Pieces," which benefited from a music video inspired by Weiland's recurring substance issues.
Listen to Velvet Revolver's 'Sucker Train Blues'
Even better, the remainder of Contraband featured infectious fare like "Sucker Train Blues," "Do It for the Kids" and "Spectacle" — all of which offered a little something for supporters of both '90s alternative rock and '80s hair metal (as improbable as that may seem), while "You Got No Right" boasted surprisingly vulnerable acoustics and melancholy melodies.
There seemed to be plenty of firepower, in other words, to keep Velvet Revolver on the concert trail for years to come. Unfortunately, planet-sized egos exerted their considerable gravitational pull within the band from day one. Velvet Revolver released just one more album, 2007's Libertad, while Guns N' Roses finally delivered Chinese Democracy a year later.
Guns N' Roses Lineup Changes: A Complete Guide (We Think)
More From Ultimate Classic Rock