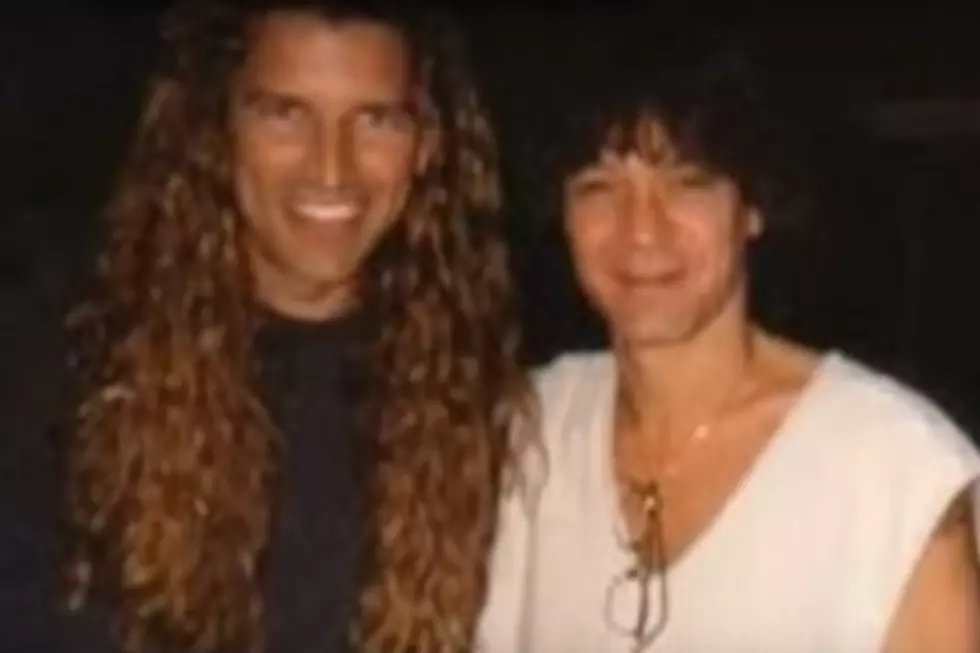 Lost Van Halen / Mitch Malloy Demo Released
YouTube
Malloy says that Eddie asked him to finish the song back then, before everything went sideways. Stalwart Van Halen fans will note that the instrumental track bears a resemblance to a demo called "That's Why I Love You" that surfaced during the subsequent Van Halen III era.
Malloy had apparently been tapped to take over at Van Halen's new frontman, and had even started working on new music in 1996. (You can hear him performing the hit "Panama" with the group during a rehearsal below.) Then came a pop-culture moment that he watched with everyone else on MTV. Original singer David Lee Roth famously took the stage with Van Halen during the Video Music Awards, his first such appearance since leaving in 1985.
"I was, like, 'What?' My jaw just dropped," Malloy says in a documentary called Van Halen's Lost Boy. "Then, I was just like: 'What are they doing? Why is Dave with them? This is not good for me.' It just hit me at that time now the whole world thought that Dave was back in the band – and wanted Dave back in the band, including me. I mean, I grew up on Van Halen with Dave in it."
Malloy says he was told that MTV had engineered the move as a stunt, that Roth was not officially back as a member. Still, he felt he had been stabbed in the back. "When I saw Dave come out with them," Malloy adds, "that was it for me. It was over. … This can't work for me."
Roth's initial reunion with Van Halen was, alas, short lived. The band later re-emerged for a similarly brief partnership with Gary Cherone. Roth wouldn't come back full time until 2007. Malloy has since continued a solo career that began with his self-titled 1992 debut, while fashioning a career as a mixer and mastering engineer with the likes of Taylor Swift, Kenny Loggins and others.
Listen to Mitch Malloy Perform 'Panama' with Van Halen
Van Halen Albums, Ranked Worst to Best
More From Ultimate Classic Rock