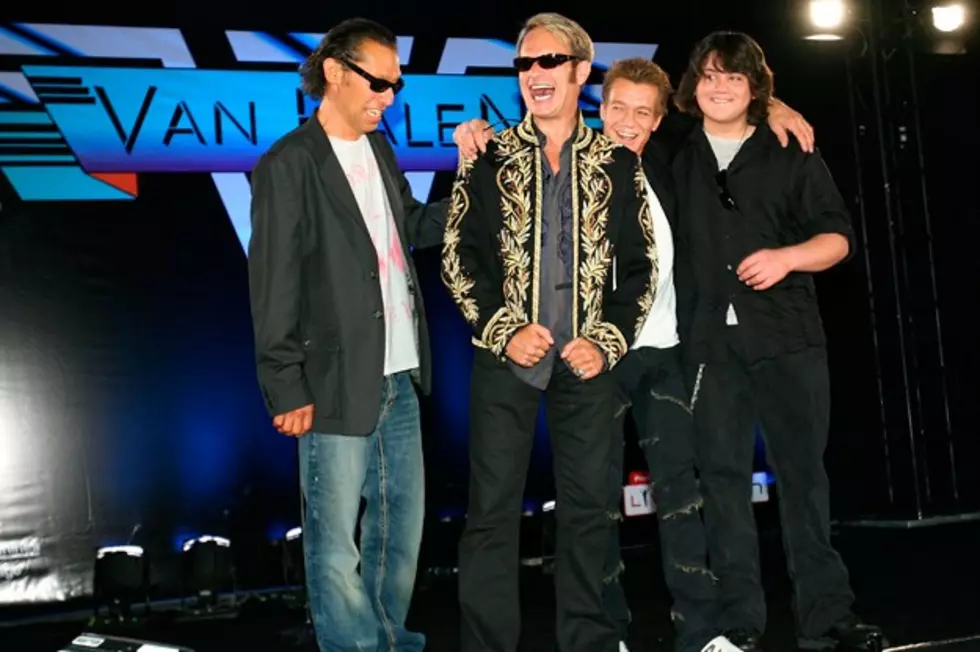 Van Halen – 2012 New Album Preview
After 13 years of rumors, reissues, and a revolving door at the lead singer position, Van Halen is supposedly finally ready to re-emerge with new music -- and with original vocalist David Lee Roth on board for his first full-length VH record in nearly 30 years.
Is 2012 going to be the year Van Halen finally returns to active duty, or are fans headed for 12 more months of anonymous rumors and disappointment? Here's what we know so far.
The fact is, nobody outside the band's immediate circle really knows what they've recorded -- although if you take producer Ross Hogarth at his word, the new stuff is "the killing side of Van Halen at the top of their game again with Diamond Dave, and the band on fire." Over the summer, Hogarth said "The whole Van Halen record has been recorded and we're all excited… I'm really stoked about it, as it is the original band, Eddie and Alex with Wolf playing bass, and David Lee Roth singing."
Whether or not any of those rumors are true, the band has definitely had some kinks to work out on the business side of things -- after more than 30 years with Warner Bros., they recently signed a deal with Interscope Records for the new album, which is supposedly set for a February 2012 release date. Yeah, we know -- release dates have been rumored in the past. But the band's lead singer couldn't be held accountable via Twitter before. That's got to count for something, right?
Needless to say, we aren't scheduling a listening party for February just yet, but we do remain cautiously optimistic about hearing this mythical new Van Halen record sometime during 2012 -- even if we are still sad about Michael Anthony being kicked out of the band. How about you?
More From Ultimate Classic Rock