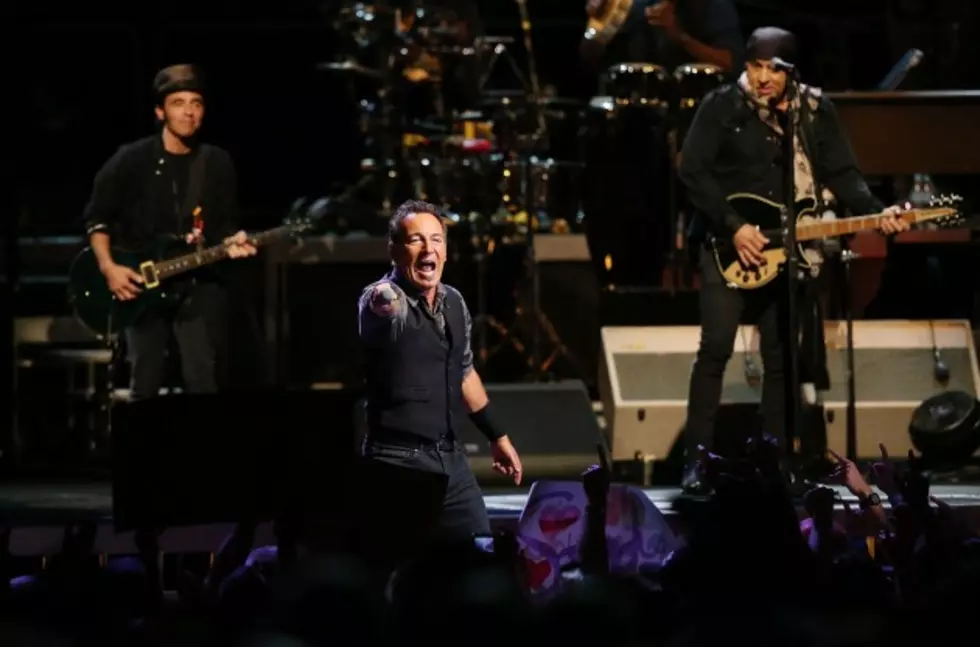 Top 10 Unreleased Bruce Springsteen Songs
Mark Metcalfe, Getty Images
When one contemplates the fabled musical vault of Bruce Springsteen, it's easy to imagine something like the warehouse at the end of 'Raiders of the Lost Ark,' except instead of fabled mythic relics, the room is stacked high with old reel-to-reel tapes.
These days, Springsteen's "vault" is probably little more than an iTunes library on his laptop. But that doesn't make it any less legendary. The Boss began tossing out choice cuts from his archives in 1998 with the four-disc 'Tracks' boxed set. The sixty-six songs on that collection were culled from a rumored 200 to 300 possible tunes. More recently, 2010's 'The Promise: The Darkness on the Edge of Town Story' box included a two-disc set of outtakes focused solely on the sessions for the 'Darkness on the Edge of Town' album.
Similar projects for 'The River' and 'Born in the U.S.A.' are both heavily rumored and high atop the wish lists of most Springsteen fans. The most recent Springsteen album, 'High Hopes,' is even an archival project of sorts; many of the tracks date from sessions as far back as 2002.
With all these archival releases, what's left in that vault of his? Probably tons of material we know nothing about...and at least ten unquestionably classic Springsteen cuts. With the E Street Band now enshrined in the Rock and Roll Hall of Fame, let's take a look at their finest unheard moments on the cream of the unreleased Springsteen crop. With his recent penchant for live obscurities, some lucky audience may even hear one of these in the weeks to come.
10

'Evacuation of the West'

Outtake from: 'The Wild, the Innocent and the E Street Shuffle' (1973)

Also known as 'No More Kings in Texas,' this 1973 cut is a spiritual cousin to songs like 'Wild Billy's Circus Story' and 'Hey Santa Ana,' the kind of sprawling fantasies rooted in America's romantic past that Springsteen had stopped writing by 1974. It features the fluid, soulful drumming of original E Streeter Vini "Mad Dog" Lopez and a vocal reminiscent of the Band's Rick Danko.

9

'Jole Blon'

Outtake from: 'The River' (1980)

Springsteen's version of the "Cajun national anthem" was considered among the many tunes laid down for 'The River,' but the Boss ultimately decided to donate his take to '60s soul singer Gary "U.S." Bonds, who re-recorded the song with Springsteen for the 1981 album 'Dedication,' co-produced by Springsteen and Steven Van Zandt. It's popped up on occasion live, most recently during the E Street Band's Australia and New Zealand run of shows earlier this year. Whenever it appears, "Mighty" Max Weinberg usually tears it up.

8

'Cindy'

Outtake from: 'The River' (1979)

Before deciding 'The River' would be a double album, Springsteen came very close to releasing a single disc version from the first batch of sessions in mid-1979, entitled 'The Ties That Bind.' Most of its 10 songs found their way to official release on 'The River,' while a handful emerged on 'Tracks' nearly 20 years later. This is the lone holdout, a slight pop tune with yearning guitars about a guy who can't get a date with the girl he loves. This version also spotlights Clarence "Big Man" Clemons on bass harmony vocals.

7

'(Drop On Down And) Cover Me'

Outtake from: 'Born In The U.S.A.' (1983)

Springsteen has a long history of approaching a set of lyrics from more than one melodic angle before settling on a final song. Here he took the lyrical bones of the 'Cover Me,' which was cut during the early-1982 sessions for 'Born in the U.S.A.,' and completely transforms it into a different tune a year later. Springsteen eventually preferred the first version, but the rework still has plenty going for it, most notably Weinberg letting loose with a beat on the verses that calls to mind the legendary B-side 'Roulette.'

6

'Out On The Run (Looking For Love)'

Outtake from: 'The River' (1980)

There were some amazing 'River'-era outtakes on 'Tracks,' but even more amazing are the tantalizing tidbits of songs that have snuck out via unofficial channels. Bootleg tapes of E Street Band rehearsal sessions from that era contain a trove of unbelievable material, all of it in very rough shape, but providing a glimpse at songs that would become instant classics if studio versions were ever released. It's hard to pick just one favorite, but 'Out On The Run (Looking For Love)' has a central guitar riff that is contagious, even if it sounds like it was recorded on a crappy boombox in a barn, which it probably was.

5

'Janey Needs A Shooter'

Outtake from: 'Darkness on the Edge of Town' (1978)

The earliest known versions of this tune date back to 1972, when an in-studio piano demo was recorded (and has since snuck out on bootlegs and grey market releases). This take, another rehearsal committed to tape, was attempted in 1978. After hearing just the title, Warren Zevon was inspired to write his own song with the same name, which Springsteen helped him finish. In the hands of the Boss, this original becomes a churning studio epic in the mold of 'Frankie' or 'The Promise' from the same era.

4

'Unsatisfied Heart'

Outtake from: 'Born in the U.S.A.' (1983)

The sessions that ultimately produced 'Born in the U.S.A.' took place in fits and starts across three years, during which Springsteen released an entire separate album, the sparse acoustic 'Nebraska,' even as he continued to toil with the band. One of the most fascinating alternate paths of his career came about in January and February of 1983, when Springsteen retreated to a home studio in Los Angeles and cut more than an album's worth of material alone with the help of a drum machine. The songs are a natural extension of the intimacy of 'Nebraska' but open up the sonic palate and the thematic considerations to include ruminations on love, hope, and the damages of war. There's a cluster of amazing songs from this brief creative outburst, but 'Unsatisfied Heart' is perhaps the most enigmatic and beautiful.

3

'Thunder Road (Acoustic)'

Outtake from: 'Born To Run' (1975)

It's Chrissie's dress swaying on that front porch, not Mary's. But that's the least of the differences in this early version of the 'Born to Run' album opener. This take is pondering, dark, and lonely. Springsteen accompanies himself on acoustic guitar; the track is nearly overtaken by echo. It's almost impossible to believe that these same words could lead to two performances so totally opposite in tone and style; if nothing else, that speaks to the power of Springsteen's songwriting.

2

'Preacher's Daughter'

Outtake from: 'Darkness On The Edge Of Town' (1977)

With a simmering guitar, Clemons' patient tambourine, and Springsteen in full dark Elvis Presley-crooner mode, 'Preacher's Daughter' starts at a low boil and stays there, building up around a vocal that radiates sexual tension. This is another studio outtake that could easily stand alongside any of the tracks issued on the eventual album, in this case 'Darkness on the Edge of Town.' Slip this in before 'Racing in the Street' on side A and it would only enhance the final product.

1

'Protection'

Outtake from: 'Born in the U.S.A.' (1982)

In 1981, David Geffen approached Springsteen manager Jon Landau and asked if Springsteen would write a song for Donna Summer's debut album on Geffen Records. Springsteen actually wrote two--the first was 'Cover Me,' which Landau insisted Springsteen hang onto for his own upcoming album. The second, 'Protection,' could have been just as huge a hit for the Boss. It's got the same desperate muscle and danceable beat as several other tunes from 'Born in the U.S.A.' With scorching guitars, trademark Roy Bittan piano, Garry W. Tallent holding down the bottom with a sinister bass line and Clarence Clemons' sax blowing the bridge wide open, this is easily the greatest unreleased performance by Springsteen and the E Street Band...that we know of today.
More From Ultimate Classic Rock