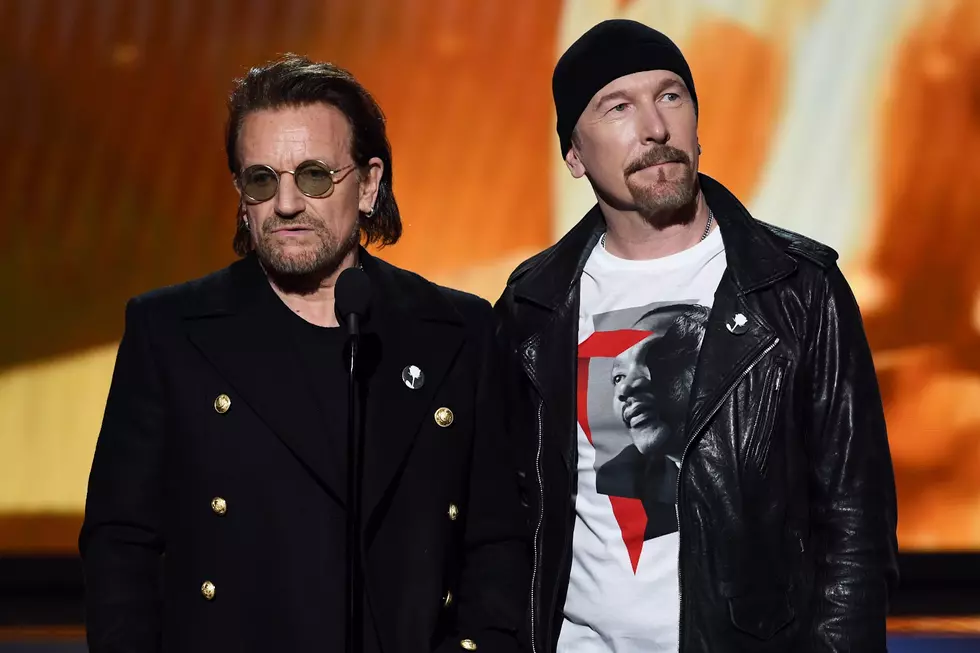 How the Edge Stops Himself From Quitting U2
Kevin Winter, Getty Images
U2 guitarist the Edge dismissed rumors that the band was preparing to split, and explained how he talks himself out of quitting when the idea enters his head.
The group recently announced a Las Vegas residency that will open the new MSG Sphere venue this fall, but revealed they'd be playing without drummer Larry Mullen, who needs time off for medical reasons. That led some fans to conclude their days were numbered. In a new interview with The Telegraph (and additional quotes posted on Twitter by writer Neil McCormick), the Edge said they'd heard the same story before, and it was as untrue now as it was in the past.
"We're extremely disappointed that Larry won't be joining us in Vegas," he said. "It was not the plan. We were all fully expecting the four founding members to be on stage, and going into the very lengthy decision making process, that was always the assumption. After we found out through Larry the unfortunate fact that he won't be able to play, we were in a quandary – can we pull the plug on it now, having committed? ... What are the implications not just to this incredible venue and the people that have trusted us with this fantastic opportunity to open it, but also to our reputation? You know, we care about these things."
He added: "If we make a commitment, we almost never don't do the show. ... So it was a many-faceted decision but this was the right call; I've absolutely no doubt about it. And we very much look forward to the next time we can climb on stage with Larry as our drummer. We will miss him terribly. But I think it's okay."
On the subject of relationships within the band, the Edge admitted he occasionally found himself at odds with frontman Bono. "Of course Bono gets too much for me sometimes!" he said. "I'm sure I drive him mad, as well. If that wasn't the case, I think we would be doing a disservice to each other, because it's in the realm where we push each other, challenge each other, annoy the hell out of each other, that you know there's something going on. If you never get to that place, dude, you don't really have a proper ­creative relationship."
He reflected: "Occasionally, when I get really dejected, I say to myself, 'OK, I'm out of here. I'm going to do something much less taxing and more fun. So, what is it?' Then I'd think, 'Well, I love music, but do I want to be a solo artist? Nah. So I'd have to find a really good singer. OK, so I'll work with Bono. But we absolutely need a completely unique rhythm section that don't sound like every other rock band. I guess that would be Adam [Clayton] and Larry.
"So every time I think of quitting, I kind of reinvent U2. We all know that we shine brighter by being in proximity to each other. That's why it's going to be very difficult to break up U2 – simply because it works so well for us all."
U2 Albums Ranked
U2 don't inspire weak reactions in people. There are passionate U2 fans, and passionate U2 haters, and very little in between.
More From Ultimate Classic Rock