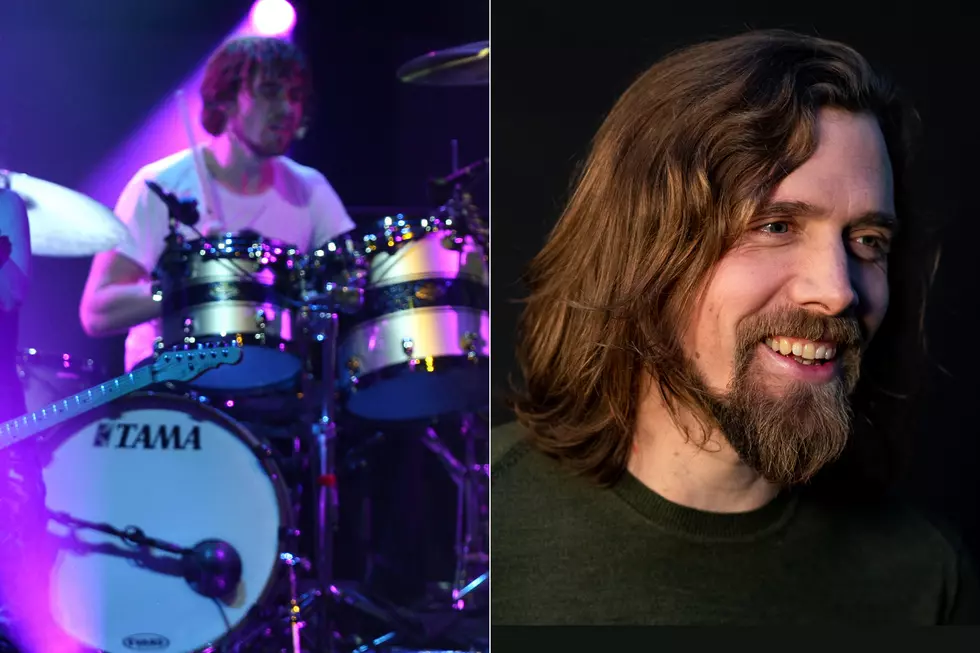 Meet U2's New Drummer, Bram van den Berg
Mark Venema / Paul Bergen, Getty Images
When U2 appears in Las Vegas later this year for a fall residency, it will be the first time the band has performed live since December 2019. But that's not the only reason the shows will be noteworthy.
It's also reportedly only the second time in the band's 40-plus-year career that they'll perform shows without one of their core four members, drummer Larry Mullen Jr. (The first time was in 1993 when bassist Adam Clayton missed one of U2's Zoo TV Tour shows in Sydney due to a debilitating hangover. His bass technician, Stuart Morgan, filled in; the incident pushed Clayton into sobriety.) Mullen Jr. had previously announced that he would not be joining the band on the road in 2023 while he handles health issues.
His replacement is Bram van den Berg, the 40-year-old drummer of the Dutch pop-rock band Krezip. The group, fronted by Jacqueline Govaert, was initially formed in 1997 in Tilburg, Netherlands; van den Berg joined in 2004. The band is popular in the Netherlands — they've played their home country's Pinkpop festival six times — as well as in other parts of Europe, Krezip has released five albums, three of which van den Berg has contributed to.
Van den Berg, who was born in the small Dutch village of Wamel, joined his first band, One in a Million, in 2001, while studying at the Fontys Rock Academy in Tilburg. Three years later he joined Krezip and played his first concert with them on New Year's Day 2005. That same year, the band released its third album, What Are You Waiting For? "I am a song drummer," he said in a 2005 interview with Drummerszone. "Don't get me wrong, I love the heavy technical drummers, but [I'd] rather focus on songs: serving the song, so to speak."
Watch Bram van den Berg Perform With Krezip at Pinkpop in 2009
Van den Berg, who has also drummed for VanVelzen, Drive Like Maria and Guild of Stags, has cited various rock drummers as inspiration. "I just want to create a full sound and try to create that by playing as I do," van den Berg said in 2005. "My greatest influences actually do the same. Drummers like Roger Taylor, Taylor Hawkins and Dave Grohl. Man, their sound is just awesome. But at the same time, they are also drummers who focus on the songs, not the heavy technical stuff. For instance, take 'We Will Rock You' [by] Queen. It's boom boom tak, boom boom tak. That rhythm is totally nothing but everything at the same time. The public knows it, remembers it and claps [its] hands on it. That's how it should be."
Although Krezip split up in 2009, they reunited in 2019 at Pinkpop, and also announced last month that their sixth album, Any Day Now, will arrive on April 7.
In an Instagram post, Krezip acknowledged they are "incredibly proud" of van den Berg, noting that U2 is one of his favorite bands. "We've known for a long time how good he is," they said.
More details on U2's shows at the MSG Sphere at the Venetian in Las Vegas will be announced later.
"Very excited about this opportunity to join Bono, the Edge and Adam onstage in Las Vegas," van den Berg wrote in an Instagram post. "It's big shoes to fill but Larry and the band have been so supportive, I can't wait!"
U2 Albums Ranked
U2 don't inspire weak reactions in people. There are passionate U2 fans, and passionate U2 haters, and very little in between.
More From Ultimate Classic Rock