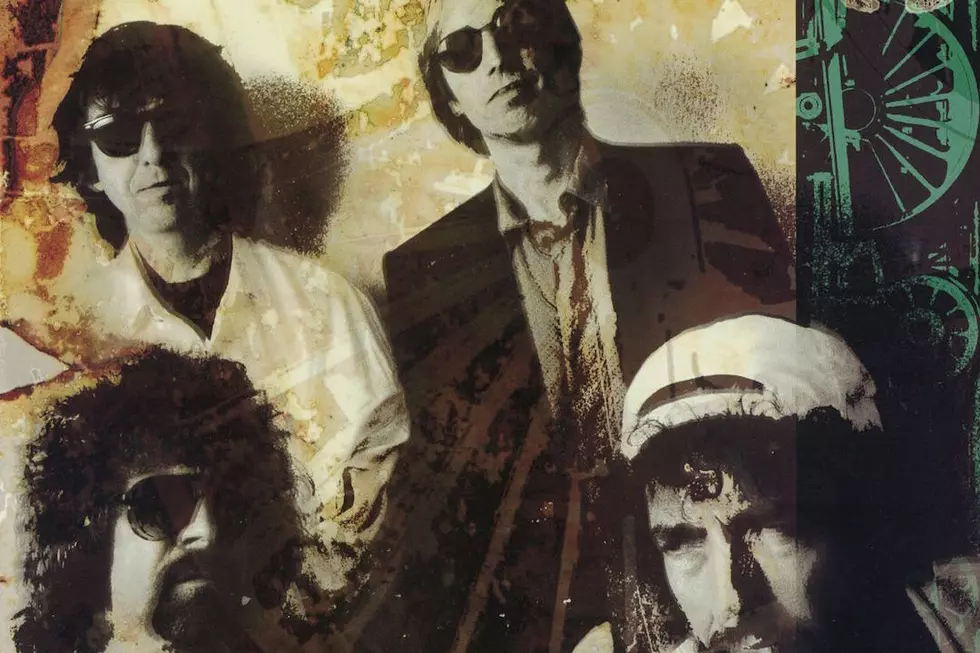 How the Traveling Wilburys Struggled With Loss on 'Vol. 3′
Wilbury Records
They tried to lighten the mood. Lynne said the album's whimsical, out-of-sequence title was intentional. "That was George's idea," Lynne told USA Today in 2007. "He said, 'Let's confuse the buggers.'" Like the first album, the band members adopted pseudonyms. This time, all of the songs were credited to Spike (Harrison), Boo (Dylan), Muddy (Petty) and Clayton (Lynne), with Harrison and Lynne handling production duties during sessions held in April and May of 1990.
Still, Vol. 3 was dedicated to Lefty Wilbury (Orbison), and his loss was keenly felt. In fact, many critics unfavorably compared Vol. 3 to the Traveling Wilburys' debut, which yielded the hits "Handle With Care" and "End of the Line" – and their second LP only reached No. 11.
They discussed playing a few shows, which might have bolstered sales, but nothing ever came of it. "We had jokes about touring," Lynne said in George Harrison: Behind the Locked Door. "George would say, 'Right, we're going to get an aircraft carrier and follow the sunshine. Play Hawaii, the Caribbean, all these lovely little spots.' We never did it, of course, but he was really looking into it big time. He was like, 'We could park in the dock and play on the deck, then hoist up the gang plank and off we'd go to the next one!'"
It also didn't help that Vol. 3 opens with its strongest tune, "She's My Baby." For sheer rock energy, "She's My Baby" surpasses anything on either Traveling Wilburys album – something that likely propelled it to No. 2 on the mainstream rock charts. All four Wilburys take turns on lead vocals while guest Gary Moore adds a scorching guitar solo.
Watch the Traveling Wilburys Perform 'She's My Baby'
To some degree, it's all downhill from there, though Vol. 3 is not without its moments. "Inside Out," which reached No. 16 on the mainstream rock charts, again features each singer taking the lead, echoing the give-and-take that made the first album so popular. "The Devil's Been Busy" takes a cynical look at the folks who control your life. Its message? You're screwed. Bob Dylan sings, "Sometimes you're better off not knowing / How much you've been had."
Meanwhile, "If You Belonged to Me" finds Dylan in top form. The biting lyrics and harmonica solo recall his '60s folk period. Dylan has fun as the scorned lover in "Where Were You Last Night?," a duet with George Harrison. It's almost impossible not to like Lynne's lead on "New Blue Moon," either.
Along the way, the Traveling Wilburys tackle a variety of musical genres. "Cool Dry Place" is a bluesy Tom Petty song about moving his music gear into storage. (Listen for plenty of music insider references: "There's organs and trombones / And reverbs we can use / Lots of DX7s / And old athletic shoes.") "Poor House" is a catchy bluegrass tune, with Harrison's wistful slide guitar working a counterpoint to the song's goofy vocals. The biggest surprise is "7 Deadly Sins," a doo-wop number that features Dylan's raspy lead. The countdown of sins may remind some of "The Book of Love" by the Monotones.
Yet, there was no getting away from Orbison's absence. "You Took My Breath Away," the penultimate song on Vol. 3, is a lovely ballad delivered by Tom Petty with help from Dylan. Some have described it as an homage to Roy Orbison. While Orbison is never mentioned, Petty sings, "You took this song of mine / And changed the middle bit / It used to sound all right / But now the words don't fit."
They tried to diffuse any sense of gloom with the album-closing "Wilbury Twist," a wild rocker that works as a takeoff on '60s dance tunes like Little Eva's "The Loco-Motion" that gave how-to instructions. But the Wilburys' moment was clearly over. There was never another album, and both of the Traveling Wilburys' initial recordings eventually went out of print. That is, until a Rhino Records reissue in 2007. By then, however, Harrison had died – and the former Beatles star took any hopes for more music from the Wilburys with him.
 
 
The Best Song From Every Tom Petty Album
More From Ultimate Classic Rock