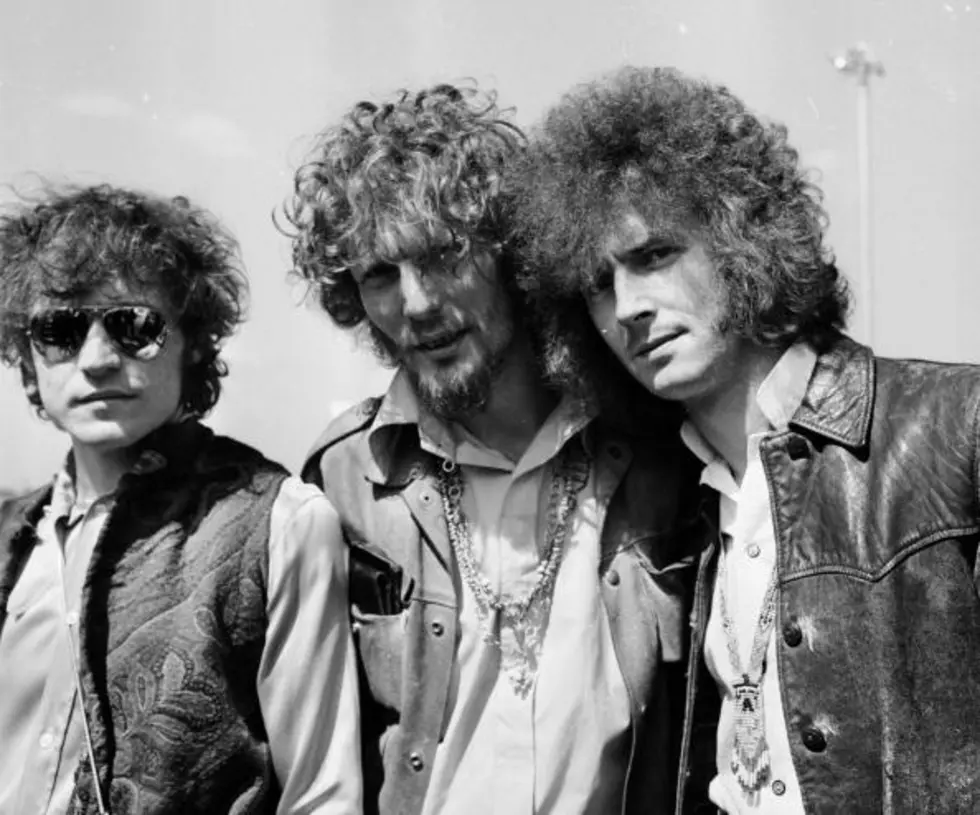 George Stroud, Getty Images
As rock and roll flourished into its second era during the '60s, on the back of the Beatles' trailblazing vision for self-contained rock groups, gifted instrumentalists began earning almost as much fame as the singers who had dominated '50s rock, backed only by anonymous sidemen. From this development, there emerged an audience receptive to a new kind of rock band - one where established instrumental stars could move beyond the groups that originally made their name and join forces to create entirely new entities. Thus was born the "Supergroup," and, as the following list will make evident, their peculiar intra-band dynamics were uniquely responsible for shaping their careers, and brand new qualities associated with the category. So here we go with the Top 10 Supergroups!
10

Vocalist/bassist Tim Bogert and drummer Carmine Appice spent the latter half of the '60s contributing to the birth of heavy metal as the rhythm section of Vanilla Fudge, later holding down the fort with the bluesier Cactus before hooking up with legendary guitarist Jeff Beck in the first supergroup on our list. An established solo artist and guitar hero in his own right by this time, Beck had of course done time with The Yardbirds back in the '60s and apparently frequently crossed paths with Bogert and Appice over the years, setting the stage for this musical merger. The trio spent most of 1973 touring across the globe in support of their sole, eponymous album, but dissolved early the next year while attempting to record its follow-up – setting an all too common one-and-done precedent for many of the groups listed below.

9

Almost lost to the vagaries of time and overshadowed by the towering monolith that is 'Don't Stop Believing,' it's now easy to forget that Journey started out as a Santana splinter group, dedicated to performing portentous art rock instead of radio-friendly AOR. The band was masterminded in 1973 by Santana manager Herbie Herbert, who coaxed vocalist/keyboardist Gregg Rolie and guitarist Neal Schon away from Carlos, bassist Ross Valory and rhythm guitarist George Tickner out of psych outfit Frumious Bandersnatch, then corralled journeyman drummer Aynsley Dunbar (ex-Mothers, Retaliation, Jeff Beck Group, etc.) into the fold. And, while Journey's first three albums didn't lack for the occasional, muso-pleasing highlight, the group didn't truly become 'super' in the commercial sense until sole survivors Schon and Valory brought in new singer Steve Perry towards the end of the decade, ushering the arena-conquering second phase of their career.

8

Another one-and-done supergroup, with but one eponymous 1969 LP to its name, the aptly named Blind Faith proved something of a spur-of-the-moment hangover for former Cream members Eric Clapton and Ginger Baker, who teamed up with precocious Spencer Davis Group and Traffic alum Steve Winwood, plus the comparatively un-legendary Ric Grech (also Traffic, Family, later Baker's Air Force). That album nevertheless handily claimed the #1 spot on both the US and UK charts, yielded a few all-time classic tunes (Winwood's 'Can't Find My Way Home,' Clapton's 'Presence of the Lord'), and even sparked a ton of controversy with its provocative cover art photo, featuring a much-too-young girl, naked, holding a phallic-looking automobile hood ornament. Yes, we're still trying to figure out the thought process behind that one, too.

7

Boasting four egos so large not even a continent-sized name seemed big enough to contain them, Asia assembled the considerable talents of reformed prog rockers, vocalist/bassist John Wetton (King Crimson, Roxy Music, Wishbone Ash and others), guitarist Steve Howe (Yes), keyboardist Geoff Downes (Yes, The Buggles) and drummer Carl Palmer (the 'P' in ELP, Atomic Rooster, etc.). Together, they proceeded to celebrate surviving the ravages of punk rock with some relatively 'light entertainment,' in the shape of sleek, bombastic '80s AOR. A stunning departure from their shared, overwrought musical past, the quartet's blockbuster 1982 debut took off like a shot, on the strength of several arena rock hit singles and music videos eagerly replayed again and again on the nascent MTV. But they almost as quickly disintegrated upon reentry into the stratosphere, leaving fans coughing in a cloud of debris and hubris for decades thereafter – suffice to say that two competing versions of the band are currently on the road.

6

Mr. Clapton's second (and not even final) appearance on this list was ironically conceived under the Derek & the Dominoes pseudonym specifically to avoid supergroup connotations. But with bad-ass session men like drummer Jim Gordon (Beach Boys, Everly Brothers, and countless others), keyboardist Bobby Whitlock (a former Stax regular) and bassist Carl Radle (Delaney, Bonnie & Friends) lending their considerable talents, alongside some red-headed dude on slide guitar named 'Skydog' (er, Duane Allman!), there was no chance in hell of that happening. Heck, even the producer in charge of 1970's 'Layla and Other Assorted Love Songs' – recording technology pioneer Tom Dowd – added some more 'super' to this super bunch; and while 'Layla' also proved to be yet another one-off LP (albeit a double) and no Dominoes tour ever took place, that curious bogus named still reverberates louder down the years than many, non-invented monikers in rock.

5

When the names of those involved are so imposing they supersede an actual, you know, band name, then you're usually treading on supergroup terrain, my friends, and perhaps no band epitomized this mythical epoch when musical dinosaurs walked the earth as overtly as Emerson, Lake & Palmer – ELP for short. Assembled in 1970, the trio's impressive resumés already included stints with The Nice (Emerson), King Crimson (Lake), Atomic Rooster and The Crazy World of Arthur Brown (Palmer), and yet all these credentials would soon pale 'neath the sun-obfuscating prog-symphonic excess to follow. By the time ELP ground to halt towards the decade's end (via the derisory 'Love Beach' LP), entire cities had been razed to the ground, fundamental human decency compromised, and even a few laws of physics (never mind good taste) brought into question. Let's just say you could probably lay at least 30% of the blame for punk rock's emergence and censorious retort upon ELP's magniloquent musical endeavors.

4

Another product of 1973 (possibly the apex year in supergroup history?), Bad Company not only fulfilled all key supergroup requirements by matching Free's Paul Rodgers (vocals) and Simon Kirke (drums) with Mott the Hoople's Mick Ralphs (guitar) and King Crimson's Boz Burrell (bass), but, as the first artists signed to the Swan Song imprint, satisfied the egos of Led Zeppelin, to boot. If only all those involved, including Zep manager/enforcer, Peter Grant, could have known how tragically prescient the label's falling Icarus logo would prove, before too long. Contrary to most of the other bands on this list, however, Bad Company's music was of course distinguished by its unassuming, almost Spartan simplicity. But before you get excited and credit this humbler aesthetic for the band's relative longevity by supergroup standards (ten years and six albums), don't forget ELP hung around just as long.

3

Even by the loftiest supergroup standards, The Travelling Wilburys almost exceed definition in human terms. Spanning several generations of rock and roll royalty, The Wilburys included (better sit, now), one vintage '50s rocker in Roy Orbison, one folk-rock messiah in Bob Dylan, one Beatle (ferchrissake!) in George Harrison, one of America's favorite singer/songwriters of the '70s and '80s in Tom Petty, and one symphonic rock-genius-cum-producer-to-the-stars in Jeff Lynne. Oh yeah, and some dude called Jim Keltner sat in on drums. Good God! Needless to say, such a jaw-dropping assemblage of musical talent on this humble mortal coil clearly tipped the hand of fate, forcing some higher power to reset the cosmic balance by sadly calling Orbison home prior to the Wilburys second LP; but it's some small consolation to us all that musical history had already been made by their first album.

2

Dang, and the 'Y' is almost optional! Not to immediately nullify our barefaced blubbering over supergroup #3, but David Crosby (of The Byrds), Stephen Stills (of Buffalo Springfield and the also seminal Kooper, Bloomfield & Stills 'Super Session') & Graham Nash (of The Hollies) – plus their sometimes partner Neil motherfriggin' Young – may epitomize the supergroup, above all other contenders. No, they weren't the first or most enduring, but theirs was arguably the first collection of individual names – not a band name – to be given top billing in rock. What's more, as their heavenly vocal harmonies swarmed radio waves and wafted over Max Yasgur's farm during the Woodstock Festival (their second gig ever!), CSNY was arguably more responsible than any other entity for first introducing the supergroup concept into the mainstream conscience. Though absent from the band's classic first LP, Young had joined in time for Woodstock, went on to participate in 1970's sophomore 'Déjà Vu' album, and, before year's end, joined in the mutual egomaniacal implosion that scattered all four members to the winds of solo careers, marked by intermittent reunions that have kept both the CSN and CSNY brands chugging along over the ensuing decades.

1

When you're dealing with so many rock and roll deities, sometimes the only course of action in choosing #1 is to start at the very beginning, with the ensemble generally acknowledged as the world's first rock supergroup, Cream. Formed in 1966, the original 'power trio' literally comprised 'the cream' of Swinging London's instrumentally-accomplished musical elite, having been conceived as a custom-built vehicle for none other than 'GOD' – as former Yardbirds and Bluesbreaker guitarist Eric Clapton had by then been anointed – and Graham Bond Organization alums Jack Bruce (vocalist, songwriter and bassist extraordinaire) and Ginger Baker (a versatile drummer as proficient with rock and R&B as he was jazz and other , more exotic styles). Over the course of just three years and four, almost universally acclaimed albums (the first and last had their flaws, but second and third efforts, 'Disraeli Gears' and 'Wheels of Fire,' remain utterly essential), Cream would also go on to define virtually all of the chart-topping highs (thanks to timeless singles like 'Sunshine of your Love' and 'Badge,' etc.) and self-indulgent lows (see their seemingly endless, ego-driven on-stage jams and solo sections) of the supergroup life cycle, plus every triumph and pitfall in between. Hence their presence at the top of this list, as they were at the dawn of the supergroup era.
More From Ultimate Classic Rock