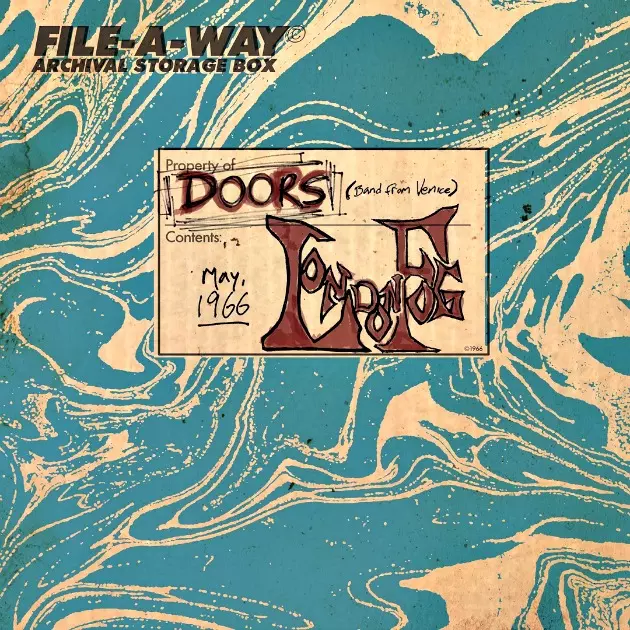 The Doors' 'London Fog 1966′ Uncovers Previously Unreleased Early Live Performances
Rhino
The Doors' 50th anniversary celebration gets off to an early start this December with the release of London Fog 1966, a collection of previously unreleased live performances from early in the band's career.
The seven-track set, due Dec. 9 and available to pre-order now, is sourced from reel-to-reel recordings conducted by audience member Nettie Peña at the titular Sunset Strip bar where the Doors were the house band in May 1966. Peña, who also contributed liner notes and previously unpublished photos to London Fog, borrowed a recorder from the school where her father worked to capture the show; as Rhino notes in its press release, she was "a pivotal force in this release coming together."
Housed in packaging designed to look like an old storage box, London Fog 1966 repeats its CD track listing on a 10" vinyl disc, both of which offer freshly mastered audio courtesy of longtime Doors engineer Bruce Botnick. The box also includes an array of memorabilia, including a gig poster, Doors drummer John Densmore's handwritten set list and a London Fog coaster, as well as additional liner notes penned by former Whisky a Go Go booker Ronnie Haran-Mellen, who lured the Doors away after seeing them perform at the London Fog.
For Elektra founder Jac Holzman, who signed the Doors to their first record deal and put them in the studio the same year London Fog 1966 was recorded, this set offers a welcome opportunity to hear the band — and some of its better-known material — in an embryonic state. "To hear 'Strange Days' that came out on their second album, in almost final shape so early on, was truly amazing."
Fans who've waited for the chance to hear this set have more to look forward to — according to the label, it's just "the first of many special activities and releases" ahead for a 50th anniversary celebration rolling out throughout 2017.
The Doors, 'London Fog 1966' Track Listing
"Rock Me"
"Baby, Please Don't Go"
"You Make Me Real"
"Don't Fight It"
"I'm Your Hoochie Coochie Man"
"Strange Days"
"Lucille"
Doors Albums Ranked Worst to Best
More From Ultimate Classic Rock