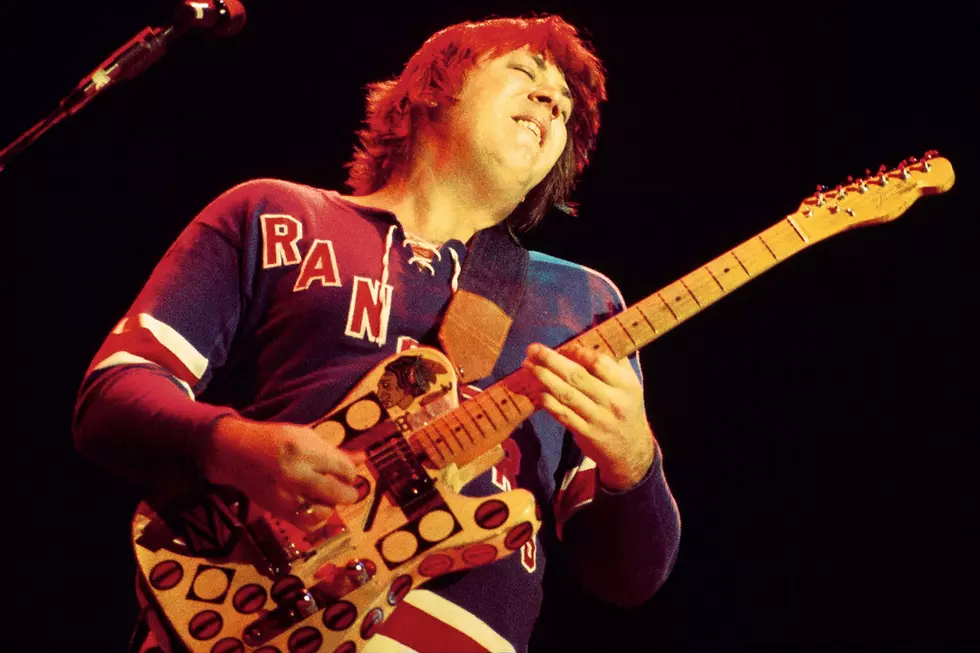 Top 10 Terry Kath Chicago Songs
David Redfern, Getty Images
Our list of Top 10 Terry Kath Chicago Songs reveals the late guitarist to be more than simply a co-founding member of the band. He was their heart and soul.
Chicago's category-smashing sound seemed to arrive fully formed, beginning with 1969's Chicago Transit Authority. Was this jazz? Was it pop? Was it rock? The answer was, of course, yes to all. Chicago were able to merge these heretofore separate sounds into something largely brand new. Al Kooper and Blood, Sweat & Tears released their debut album, Child Is The Father To Man, a year earlier – blazing a path of similar style. But it would be Chicago, propelled by the fiery guitar work and rough-hewn voice of Terry Kath, who took the ball and ran with it.
As you'll see in this list of Top 10 Terry Kath Chicago Songs, the band's jazz leanings – at least until his untimely early death – were perfectly balanced by the guitarist's hard-edged rock attack. That gave Chicago an unusual dimension, even as it revealed the depths of Kath's talent and soul.
10

"The Road"

From: 'Chicago II' (1970)

Written by Kath and sung by bassist Peter Cetera, "The Road" owes more than a passing debt to the sunny sophistication of the Beach Boys. A bright and joyous melody is married to the horn-driven sound, creating a pure pop gem.

9

"Jenny"

From: 'Chicago VI' (1973)

Buried in the middle of Chicago's sixth album, "Jenny" is simply a great pop song. There are no guitar histrionics or emphatic horns, just Kath stepping up front to deliver a somewhat cynical tune that features the classic line, "so sad but true, there's always someone waiting there to shit on you."

8

"Song of the Evergreens"

From: 'Chicago VII' (1974)

Written by Kath and sung by horn player Lee Loughnane, "Song of the Evergreens" is a beautiful piece, lyrically and musically – and one of the highlights of VII. Though the album featured the hit "Wishing You Were Here," much of the rest of it was more complex and adventurous in nature. Kath, as usual, dishes out some incredible guitar work.

7

"An Hour in the Shower"

From: 'Chicago III' (1971)

Another mini-suite of sorts, "An Hour in the Shower" was written and sung by Kath and basically describes the simple aspects of an average day. Musically, however, it takes a far less mundane path, incorporating several sections – "A Hard Risin' Morning Without Breakfast," "Off to Work," "Fallin' Out," "Dreamin' Home," and "Morning Blues Again," all of which tell the tale. Beautiful harmonies are ushered in, once again with a nod to the Beach Boys.

6

"Free Form Guitar"

From: 'Chicago Transit Authority' (1969)

Those who only know the band's late '70s and '80s pop hits and syrup-drenched ballads would probably be stunned by this track. Kicking off side three of their debut, "Free Form Guitar" is simply that: nearly seven minutes of chaos courtesy of Terry Kath, whose squalling feedback and guitar noise assault the senses. Even the Velvet Underground or the Who never took the use of feedback to this extreme on an album. From the days when everything went.

5

"Southern California Purples"

From: 'Chicago Transit Authority' (1969)

Another killer from their 1969 debut, "Southern California Purples" is a slow burning rocker. Kath's heavy riffing is blended with elements of the Doors, without ever overshadowing Chicago's own identity. His guitar work is nothing short of head spinning.

4

"Make Me Smile"

From: 'Chicago II' (1970)

This soon-to-be pop hit started out as a Kath-sung section in a larger piece titled "Ballet for a Girl in Buchannon." Written by horn player James Pankow, the entire suite clocked in at around 13 minutes. Someone had the bright idea, however, of editing down the irresistible "Make Me Smile" segment into a concise single. It shot to No. 9 in the spring of 1970, and remains one of Chicago's best loved songs.

3

"Introduction"

From: 'Chicago Transit Authority' (1969)

As soon as the needle hit the first groove on Chicago's 1969 debut, it was obvious they meant business. There was no hesitation in delivery or stance, only fully formed rock meets jazz. Others would later take that notion and morph it into a new genre called "fusion," Chicago never really fused those worlds as much as they made room for each. This first track from their debut, written and sung by Kath, underscores that agenda as they constantly change moods, direction and attack over six thrilling minutes. The soulful horns, funky groove, gritty vocals and killer lead guitar can't help but shake you awake.

2

"Oh, Thank You Great Spirit"

From: 'Chicago VIII' (1975)

By 1975, Chicago had already had a long run of hits, and they scored two more here with "Harry Truman" and "Old Days." Their sense of adventure, however, had not yet evaporated, as proved by this beautiful Kath tune. Summoning up the spirit of a lost Jimi Hendrix tune, but bathed in pure Kath style, "Oh, Thank You Great Spirit" soars lyrically and musically. Within a few years, Kath would be dead, leaving "Oh, Thank You Great Spirit" as one of his last great statements – and, perhaps, the last blast of an original Chicago model where beauty and harshness go hand in hand.

1

"25 or 6 to 4"

From: 'Chicago IV: Live at Carnegie Hall' (1971)

Written by keyboardist Robert Lamm and sung by Peter Cetera, "25 or 6 to 4" is a blast of energy. The studio version is one thing, a simply perfect record all around, but when the early-era band performed it live – as on Chicago's fourth album from Carnegie Hall – it is a monstrous tour de force. That's thanks in no small part to the blistering guitar work of Terry Kath.
More From Ultimate Classic Rock