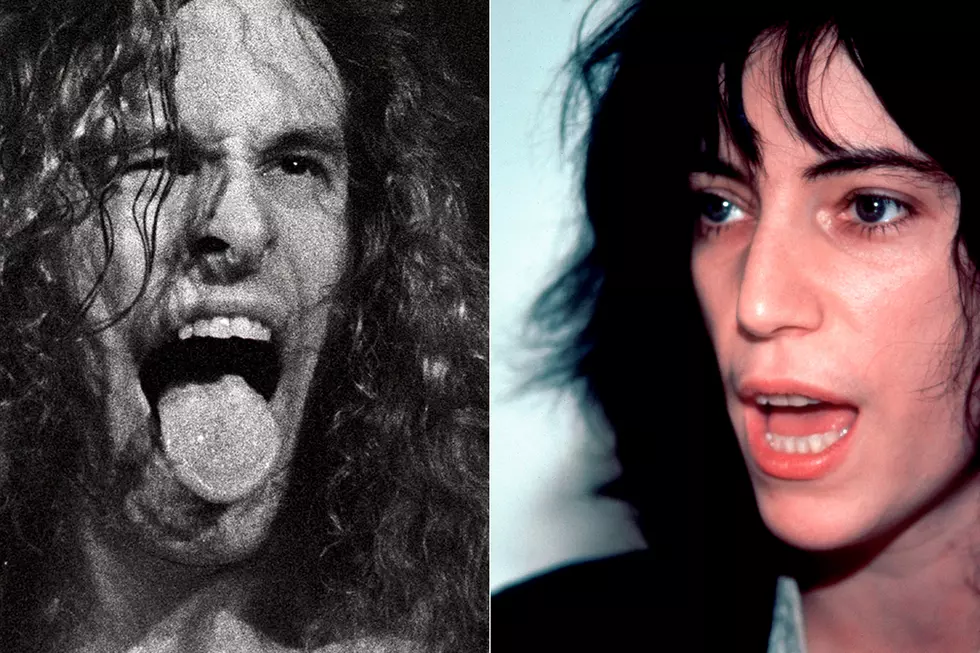 45 Years Ago: Why Patti Smith Punched Ted Nugent on Live Radio
Rob Verhorst / Richard E. Aaron, Getty Images
It's obvious that Ted Nugent and Patti Smith don't share many sociopolitical views, so disagreements between them seem very likely. One instance stands out, however, because it took place while on the air with the former WABX in Detroit.
Nugent made this June 16, 1978, appearance on the Lunch with Lubin program to discuss his new band lineup. Host Jerry Lubin asked him what the track "Snakeskin Cowboys" was about and Nugent replied with a homophobic comment, which Lubin tried to talk over. At that point, Smith caught Nugent's eye.
In the audio below, Nugent confirmed his first name was Theodore and continued: "And Theodore says 'Hi' to young Patricia, who just sleazed in the door out here. I see ya out there, Patti. Den't pretend you're not here."
Smith then entered the studio. "Here she is," Nugent said. "Have a seat. Patti's going to make a statement." Her statement to him was simple, presumably referring to the show's schedule. "Out! Out! It's one o'clock."
"One o'clock my rectum, honey," Nugent replied, as sounds of motion can be heard. "Gimme the mic!" Smith repeated her time check, and he responded: "You're from New York, I'm from Detroit," perhaps in reference to their differing time zones – but she told him she wasn't from New York. (Smith was born in Chicago and grew up in New Jersey.)
Luben interjected, trying to calm the situation, but the sounds of some kind of struggle continued. "Don't touch me! Don't touch me!" Smith yelled, to which Nugent responded: "I know – you said that last time!" She told him: "Get your fucking hands off me!" Nugent shouted: "Look at this! On the air!"
Listen to Ted Nugent and Patti Smith Fight
Around that moment, Lubin played the next track he had cued up – which, ironically, was "Cat Scratch Fever." After playback, some kind of calm seemed to have settled, but not before Smith reportedly punched Nugent in the chest after he grabbed her around the waist.
Nugent was actually in the midst of an apology, which he had to start again because Lubin hadn't turned on the mic at his seat. "I said, if somehow I have offended Patti Smith, and I wasn't aware of her change of attitude in like five minutes, I apologize," Nugent commented with a notably different tone of voice.
Lubin noted that Smith had hit Nugent "right in the plexus" and said he'd never witnessed a moment like it. "That was pretty heavy, pretty heavy … and she only weighs 60 pounds!" Nugent confirmed. "She's alright, you know? Whatever." After a little more small talk, he surrendered the studio by saying: "Patti – it's all yours."
The following year, Nugent told Rolling Stone that he wasn't expecting any kind of escalation from this battle of words, because the pair had been behaving that way backstage for years and it had been "all in good fun."
He said he made a comment about being able to smell Smith's arrival, then "Patti attacked – 'Get outta here, Nugent!' But I just called her all those famous names, like 'scum goddess' and 'sperm-bank queen,' and she stormed out and came back in with a copy of the Bible. She says, 'Here, you idiot, read Corinthians!'" He claimed he got back at her by plastering Smith's limo with his own promotional stickers.
Nugent isn't not known for forgiving and forgetting – and perhaps evidence of that exists in his 2021 reference to Smith's 2007 induction into the Rock & Roll Hall of Fame. "I'm not angry that I'm not in there," Nugent told Variety. But "why isn't a band like Triumph in there, [while] Grandmaster Flash is? That's just dishonest! Why are Patti Smith, ABBA and Madonna in … but not Styx?"
Rock's Funniest Guitar Faces
Rockers truly immerse themselves in the music, and then it gets kinda funny.
You Think You Know Damn Yankees?
More From Ultimate Classic Rock