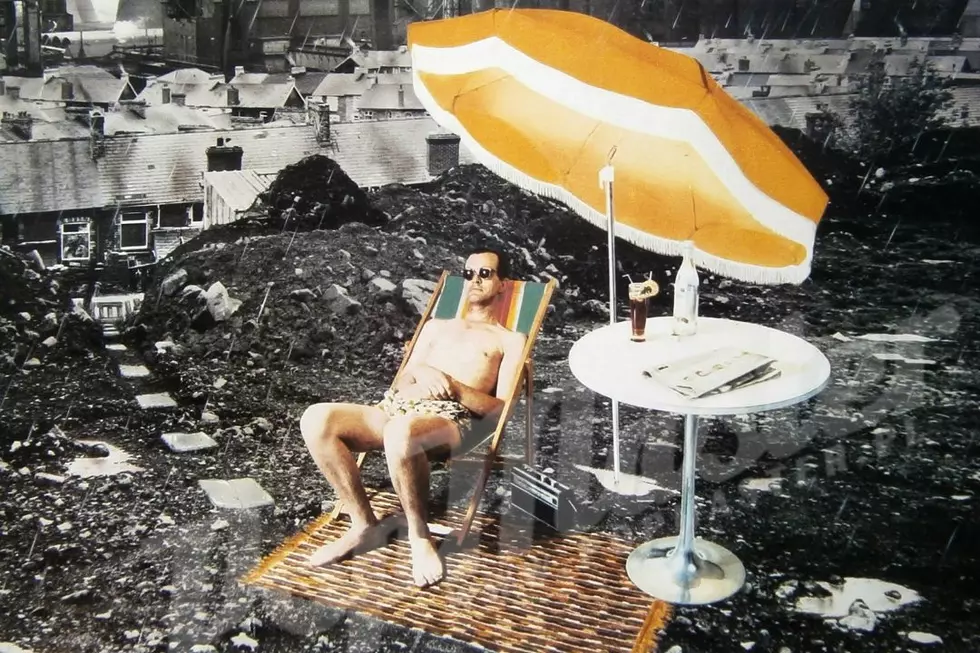 45 Years Ago: Supertramp Rushes Through 'Crisis? What Crisis?'
A&M
Supertramp experimented with a number of sounds and lineups before finally striking chart gold with their third album, 1974's Crime of the Century, but they had no such luxury when it came time to deliver the follow-up to a label hungry for another hit.
In retrospect, it's easy to understand A&M Records' insistence on a quick turnaround after Crime achieved breakout success — Supertramp had been on the roster since 1970, with precious little to show for it in terms of sales, and they likely felt the need to strike while the iron was hot — but the scheduling squeeze forced the band to re-enter the studio shortly after finishing their tour, and didn't allow much time for writing new material.
Fortunately, they gave themselves a little unplanned breathing room when guitarist Roger Hodgson suffered an injury during the Crime tour's North American leg, forcing the cancellation of a spate of dates and affording Hodgson and the band's creative co-captain, keyboard player/singer Rick Davies, a chance to refill their songwriting coffers. Still, as Hodgson later recalled, they could have used more; in fact, the band hinted at the strained atmosphere surrounding the band with the title of the next album, which they decided to call Crisis? What Crisis?
"Crisis," Hodgson told Sound, "came to mean more to us as a title than it did to other people because it was really a crisis album. We learnt how not to make an album, coming right off the road and going into the studio. It could have been much better than Crime of the Century, but it wasn't. We had a lot of bad luck in the studio. We really didn't enjoy making it and in the end it was kind of a patch-up job. A lot of people liked it, but for us it missed."
The circumstances surrounding the record may have been less than ideal, but Supertramp had a few things working in their favor, including an untapped well of unreleased material left over from previous albums and a budding relationship with engineer Ken Scott, who'd helped them polish Crime of the Century and whose presence as co-producer on Crisis helped ensure that even if it was a "patch-up job," it still sounded great — particularly given that it was recorded in a matter of weeks between a pair of studios, rather than the comparatively leisurely six months they'd been allowed to spend while working on Crime.
It all added up to a 10-song set that was undeniably a little patchier than its predecessor, but not without its strong points. Davies and Hodgson, two very different musical personalities whose creative friction helped create a sound that was often more than the sum of its parts, were still functioning as a unit here, and although Crisis doesn't unspool a cohesive narrative like Crime, that push-and-pull dynamic between the songwriters still works, seesawing the listener between earnest Hodgson fare like "Sister Moonshine" or "Two of Us" and bluesier, more cynical Davies cuts such as "Ain't Nobody But Me" and "Another Man's Woman."
Listen to Supertramp's 'Ain't Nobody but Me'
Supertramp's sense of humor also remained intact, as evidenced by the cheeky album title and cover art, which depicted a sunbather relaxing in a beach chair and enjoying the newspaper and a nice cold soda while the world goes to hell all around him — a concept Davies scribbled out in a frustrating moment during the recording sessions.
"There was a lot of pressure to come up with an album quickly and go out on tour after the success of Crime of the Century," Hodgson elaborated in an interview with Goldmine. "I knew we had the songs. I think Crisis? What Crisis is a great selection of songs, but they didn't come out as good I was hoping, anyway. And part of that was just the stressful situation we were under, so yes, the title of that album definitely suited what was going on with the band. Crisis? What Crisis? in fact came from a sketch that Rick did in the waiting room of the studio, and it reflected the stress we were under in just getting that album completed."
According to woodwinds player John Helliwell, the Crisis? What Crisis? title also seemed appropriate given the financial climate the band members found when they returned to England after spending some time recording with Scott at A&M's studios in Los Angeles. As it turned out, while the members of Supertramp were feeling pressure from the label, a number of their countrymen were under economic strain.
"It came from us going back to England last year after spending that summer in L.A.," Helliwell told Cheap Thrills. "We came back to the reality of the sinking pound and all that. That was it. We didn't know there was a crisis until we got back."
Unfortunately, rushing back into the studio failed to do Supertramp any favors on the charts. Crisis? What Crisis? arrived in record stores in September 1975, roughly a year after Crime of the Century, but instead of capitalizing on the earlier record's momentum, it handed the band a commercial setback: Where Crime had peaked at No. 4 in the U.K. and hit No. 38 in the States, Crisis rose no higher than No. 20 and No. 44, respectively; worse still, the singles "Lady" and "Ain't Nobody But Me" failed to chart, suggesting they'd stalled at radio mere months after delivering the hits "Dreamer" and "Bloody Well Right." Themainstream breakthrough they'd worked so hard to achieve seemed in jeopardy of ending before it had even really begun.
Presumably chastened after their experience with Crisis, Supertramp rode out their chart lull while taking some extra time to craft their next album, and it paid off: the band's fifth LP, 1977's Even in the Quietest Moments ... , rebounded their commercial fortunes in a big way, breaking the U.S. Top 20 and spawning the major hit "Give a Little Bit." But that was just the warm-up act for the group's biggest record, the multi-platinum Breakfast in America — but that's another story.
See the Top 100 Albums of the '70s
More From Ultimate Classic Rock