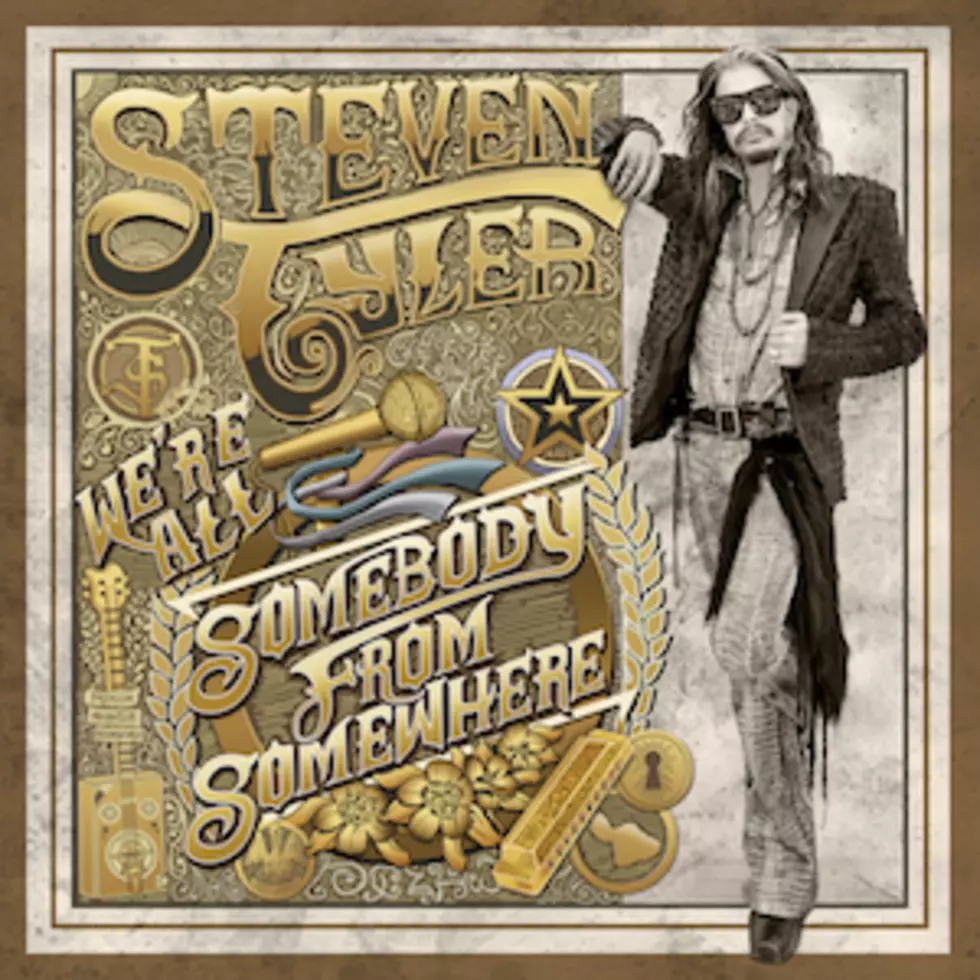 Steven Tyler, 'We're All Somebody From Somewhere': Review
Dot Records
If you're looking for a hint of the cheeky lecherousness that powered Aerosmith's best early songs, head straight for the title track. There's also a slow-burn take on the band's 1989 hit "Janie's Got a Gun," which emphasizes the song's notoriously dark subject matter. And "Only Heaven" gamely attempts to revive Aerosmith's power-ballad prowess from the same era.
Too often, though, We're All Somebody From Somewhere stumbles over Nashville's worst impulses, trading Tyler's considerable strengths for a down-home – occasionally even corn-pone – earnestness. Songs like "Somebody New," "Red, White and You" and "Sweet Louisiana," alternatively defined by heartland instrumentation and truck-commercial sentimentality, only serve to file down all of Tyler's edges. Worse are "Love Is Your Name" and "I Make My Own Sunshine," which sound like Music Row rejects. A cover of "Piece of My Heart" provides better source material, but, once again, the setting seems to push Tyler into a gravely sincere approach that drains all the drama from the song.
It's not that We're All Somebody From Somewhere isn't well presented. After all, Tyler is surrounded by seasoned vets like T Bone Burnett, Dann Huff, the Cadillac Three's Jaren Johnston and longtime collaborator Marti Frederiksen. It's just that, for most of this often over-serious project, you find yourself restlessly waiting for his deliriously uninhibited character to break free. Few are the songs that wouldn't have been improved by even one of his hiccuping, oversexed yowls.
As such, Tyler is at his best here when he focuses on blending those two impulses, adding a rootsy undertow to the familiar Aerosmith sound. "My Own Worst Enemy," the album's episodic opener, is perhaps the perfect example. He also unleashes a thunderous, blues-drenched performance on the harp during the Jeff Beck-ish "Hold On (Don't Let Go)." The former -- which includes the lyric, "I could blame Jesus, I could blame Momma, I could blame Brahma for all the bull that's in my head" -- shows Tyler has lost none of his way with a winking lyric either.
It's a fine line to walk though, perhaps especially for someone in velvet boots.
Aerosmith Albums Ranked Worst to Best
More From Ultimate Classic Rock