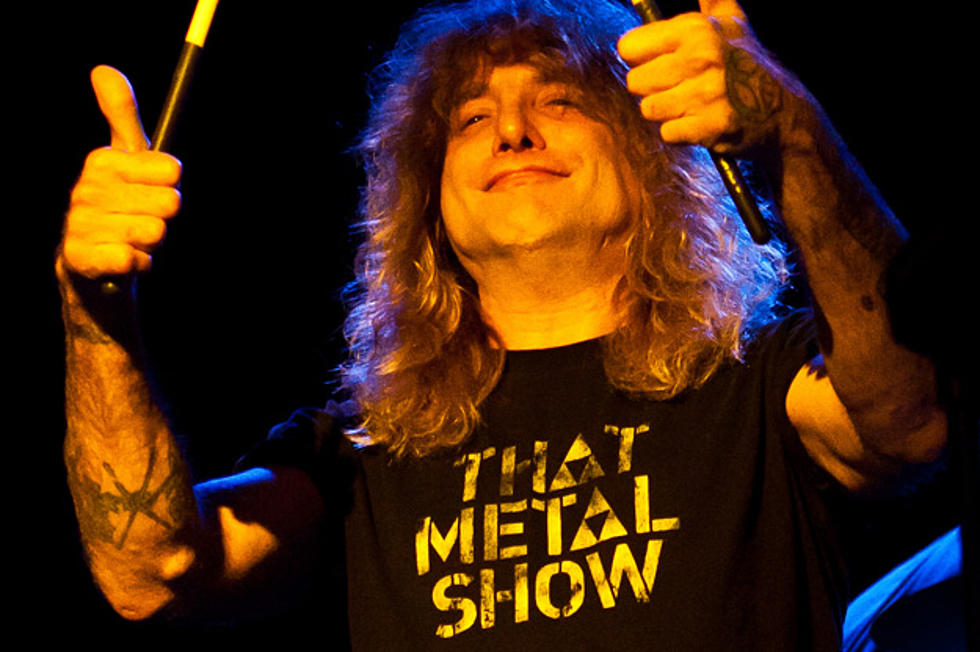 Steven Adler Labels Current Guns N' Roses Lineup 'Hacks'
We've known all along that the odds were against the classic Guns N' Roses lineup coming together for a performance at the Rock and Roll Hall of Fame induction ceremony. But that doesn't mean it shouldn't happen -- and it hasn't stopped some of the former band members from openly campaigning for a one-night-only reunion. The latest on the list: drummer Steven Adler, who seems to be opting for the "tough love" approach with his old lead singer, Axl Rose.
Responding to Slash's statements from earlier this week, when the ex-GNR guitarist said he'd "love to play" with the band at the ceremony, Adler opened up to Loudwire, saying "If it was up to me, we would have been playing for the fans a long time ago.
"Unfortunately, I have no say in that," lamented Adler, adding, "I'm behind it 100 percent … 111 percent! Put it this way; if the five original GN'R guys don't get up there and play, I'm going up there just on the drum set and playing a couple of songs from 'Appetite for Destruction.' It's for the fans. To me it's just a rock 'n' roll band, but it's a rock 'n' roll band that I've gotten so much love and respect from all over the world."
Of course, it all comes down to Axl, and Adler didn't mince words when it came to everyone else's willingness to participate. "[Slash] wants to do it. I want to do it," he reaffirmed. "Axl will probably want to play with his hack band — his band of hacks. 'Axl and His Hacks' — it shouldn't even be Guns N' Roses. He's just driving that name into the freakin' ground. 'Axl and His Hacks.'"
It's a catchy band name, no doubt, but it doesn't fit onto a poster as easily as the name of the new group Adler is fronting, which is called -- you guessed it -- Adler. The band is currently prepping its debut LP, which will include guest appearances from Slash and former Rob Zombie/Marilyn Manson guitarist John 5.
Rounded out by guitarist Lonny Paul and vocalist Jacob Bunton, Adler will release its debut single, 'The One You Hate,' on April 10. Adler talked up Adler in a press release, saying "I haven't been this excited about my band since the GN'R days. Jacob is exactly the singer I have been searching for. He has an amazing range and is a great writer and frontman. Lonny is an amazing guitarist and songwriter and the vibe is amazing! I'm so excited for everyone to hear this record!"
More From Ultimate Classic Rock