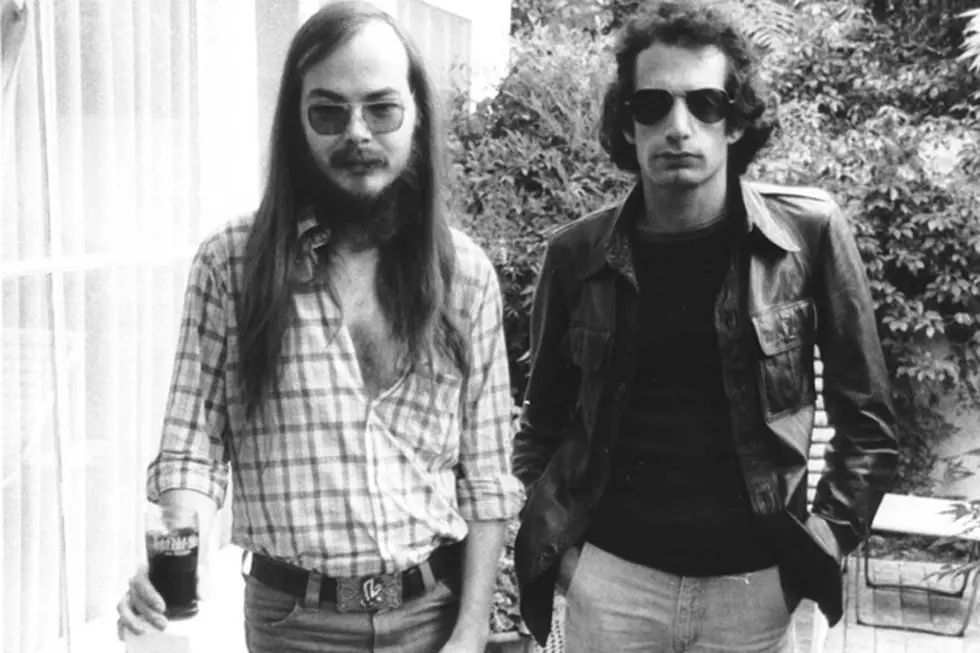 How Steely Dan Became the Definition of '70s Studio Perfection on 'Katy Lied'
Chris Walter, Getty Images
Sandwiched between Pretzel Logic and The Royal Scam, Steely Dan's 1975 release Katy Lied wasn't about breaking new ground. It was about holding on to the territory they had staked out for themselves over the past few years as one of rock's brightest, smartest and smart-assiest bands.
The previous year, Donald Fagen and Walter Becker had steered their group's sound into a jazzy realm that was as smooth as it was bookish. They didn't play like they were schooled in a garage somewhere in the middle of America; they played like they learned their chops in the smoky, dimly lit jazz clubs of the big cities on each coast.
Katy Lied stuck around and firmly grasped onto Pretzel Logic's achievements, with one big change: They employed ace studio musicians – from guitarists to horn players to backing singer Michael McDonald – who not only classed up the joint, they weren't bound to argue with Fagen and Becker's decision not to tour anymore, a move that caused a rift between the pair and the other original members of Steely Dan (only guitarist Denny Dias remained on board).
And unlike most of their contemporaries, they weren't afraid of coming off too intellectual or highbrow. Surprisingly, audiences followed. Recorded over a three-month period in late 1974 and early 1975 in Los Angeles, the album can't help but to absorb the sounds of the city where it was birthed. It's cool, it's laid back, it's impeccably played and it's kinda smarter than you, even though it may not come out and say it. Fagen and Becker played it that way from the start and were increasing these moods and feelings with each passing album.
Listen to Steely Dan Perform 'Bad Sneakers'
Katy Lied may be the showiest of these sort of recordings. Pretzel Logic and 1972's Can't Buy a Thrill are better albums (and 1977's Aja is better still), but Katy Lied is more vacuum-packed, a pristine art project for sophisticates disguised as a pop-rock record.
Early on, though, it settles into a groove that's almost as nasty as the words Fagen sings, especially on the opening "Black Friday." And "Bad Sneakers" – which features one of McDonald's earliest, most prominent vocal turns – rides a hook as slippery as the guitar solo Becker fires off midway through.
But songs like "Dr. Wu" and "Everyone's Gone to the Movies" are more representative of the album. The band – including future Toto members Jeff Porcaro and David Paich on drums and piano, respectively, as well as guitarists Larry Carlton and Rock Derringer, veteran drummer Hal Blaine and various professional jazz players – give Katy Lied a glossy coating that would earmark most Steely Dan songs for the next half-decade or so (and even their '00s comeback records and Fagen's solo work).
Unlike the previous year's Pretzel Logic, Katy Lied didn't reach the Top 10 when it was released in March 1975 (it stalled at No. 13), but it did eventually go platinum. For years, Fagen and Becker were unhappy with the sound of the album, even going as far as sort of apologizing for it on the back cover of the original album. But all these years later, it sounds as pristine as anything from the era. Still, would you expect anything less from these studio perfectionists?
Legends Who Never Had a No. 1 Single
It's all the more surprising when you consider the success so many of them had by any other measure.
More From Ultimate Classic Rock