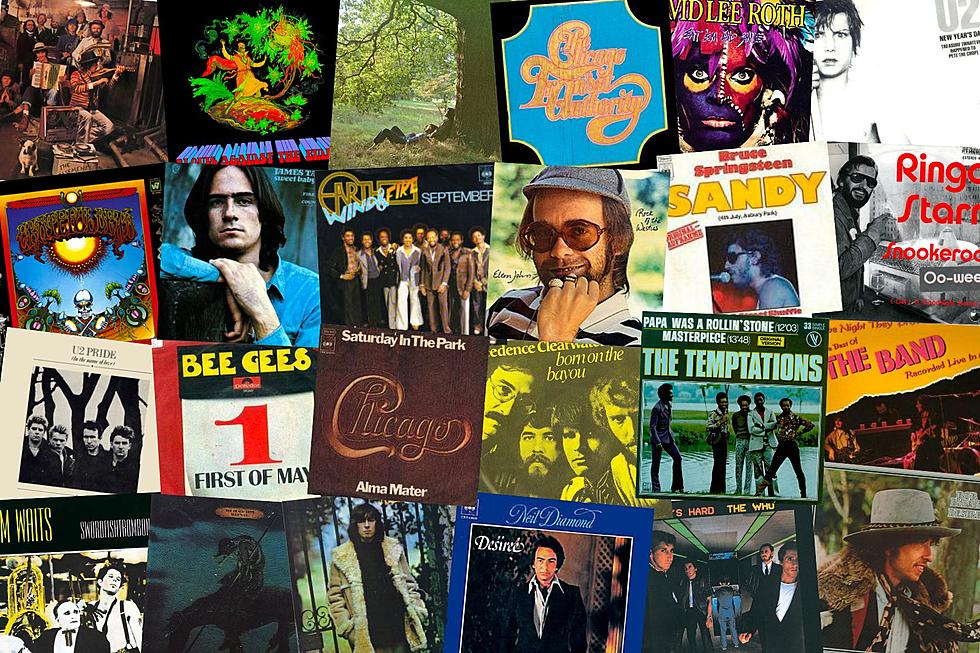 41 Songs Featuring Actual Dates
UCR
You'll often hear musicians talk about the stories their songs tell. Like any good tale, you don't necessarily have to know when they happened – but dates, like names and places, can help to drive the message home.
Many kept physical diaries, especially in the pre-internet age. Jimi Hendrix's journal, for instance, traces his life through a highly chronologically lens: On March 20, 1968, for example, he kissed Joni Mitchell goodbye in Ottawa City, and headed back for the U.S., stopping at a highway diner along the way. "I mean a real one like in the movies," he memorably wrote.
Those kind of calendar-specific memories animate so many rock songs, ranging from broader historically significant events to small, personal moments with loved ones. Here's a look back at 41 songs featuring actual dates.
1. "New Years Day," U2 (Jan. 1)
From: War (1983)
This is not your average "Auld Lang Syne." U2's "New Year's Day" actually began as a love song to Bono's wife, but then shifted topics to the Polish Solidarity movement. Bono's lyrics aren't exactly hopeful: "Nothing changes on New Year's Day," he sings. Still, the Polish government finally abolished martial law, which had been in place since the previous summer, around the time they were recording this track. "New Year's Day" went on to become U2's first major hit in the U.K. (No. 10), their first international hit, and their first single to land on the U.S. charts (No. 53).
2. "Clothes Line Saga," Bob Dylan and the Band (Jan. 30)
From: The Basement Tapes (1975)
"Clothes Line Saga" is an unhurried account of laundry day, one of several songs on The Basement Tapes with a theme of rural domesticity. Dylan delivers his lines with a sluggish drawl, making room for a lyric about the exact date: "It was January the 30th, and everybody was feeling fine." Nothing particularly notable happened on that day in 1967, the year the songs on The Basement Tapes were recorded, but it wouldn't really matter to the characters in "Clothes Line Saga" anyway. Even when a neighbor comes by to announce that the vice president has "gone mad," the real issue at hand is still the wet garments hanging out to dry.
3. "Cosmic Charlie," The Grateful Dead (Feb. 1)
From: Aoxomoxoa (1969)
Most of the songs on the Grateful Dead's Aoxomoxoa did not end up becoming staples of their live shows, including "Cosmic Charlie," which was last included in a set list in 1976. The blues-based track, in typical Dead fashion, describes a number of eclectic characters. Then, about midway through, the band drops an evidently important date: "Hung up waiting for a windy day / Kite on ice, since the first of February."
4. "Town With No Cheer," Tom Waits (March 21)
From: Swordfishtrombones (1983)
Tom Waits' "Town With No Cheer" is based in a rustic Down Under place called Serviceton. "It's about a miserable old town in Australia that made the news when they shut down the only watering hole," he said in 1983's A Conversation With Tom Waits. "We found an article about it in a newspaper when we were over there [touring] and hung on to it for a year." The bar had been open for 65 years, Waits sings, "now it's boilin' in a miserable March 21st" with nothing to quench the locals' thirst.
5. "Ballad of Mott the Hoople," Mott the Hoople (March 26)
From: Mott (1973)
Mott the Hoople performed on March 24, 1972, in Zurich, Switzerland, followed the next day by a show in Bern. By then, the band was considering their future – or lack thereof. "We did split up in 1972, in Switzerland," Ian Hunter told Uncut in 2008. "We were at the bottom of the ladder playing in a converted gas tank [on March 25] and we didn't see the point any more." Some of that exasperation was put into a song with a title that included the date that followed their Switzerland shows, March 26: "You know all the tales we tell, you know the band so well. Still I feel, somehow, we let you down. We went off somewhere on the way." (Mott the Hoople eventually got back together and found belated success, with the help of David Bowie.)
6. "Nothing Happened Today," The Boomtown Rats (March 28)
From: The Fine Art of Surfacing (1979)
The title might indicate otherwise, but that's not how Bob Geldof remembered it. Even mundane things — sleeping, having a headache, watching the television — are recounted in "Nothing Happened Today," a track from the Boomtown Rat's third album, The Fine Art of Surfacing. "Tomorrow's Wednesday / Today was Tuesday," Geldof dutifully reports, "and this is the date, March 28th."
7. "Pride (In the Name of Love)," U2 (April 4)
From: The Unforgettable Fire (1984)
U2 once again started out with one topic idea in mind, but ultimately switched to another. "Pride (In the Name of Love)" was initially going to be about President Ronald Reagan, condemning him for excessive use of military power. Somewhere along the way, however, Bono was given a book about Martin Luther King Jr., and the slain civil rights leader ended up as subject of the song. The lyrics mention April 4, the date that King was assassinated in Memphis, Tenn., though there's a historical error — King was shot around 6 p.m. that day, not "early morning," and in live performances Bono often changes the lyric to "early evening."
8. "April 5th," Talk Talk (April 5)
From: The Colour of Spring (1986)
Talk Talk's "April 5th" is an ode to the passing months — "youth takes its bow before the summer the seasons bring" — on which Robbie McIntosh of Pretenders fame plays Dobro. Curiously, the date isn't actually mentioned in the lyrics for "April 5th." The Colour of Spring featured more acoustic instrumentation than much of Talk Talk's previous music, and became one of their most successful releases with a No. 8 finish on the U.K. albums chart.
9. "4/20/02," Pearl Jam (April 20)
From: Lost Dogs hidden track (2003)
If you turn off the second disc of this 2003 compilation album too quickly, you'll miss the hidden track attached at the very end. Titled "4/20/02," the song is a tribute to Alice in Chains frontman Layne Staley, who died on April 5, 2002, but whose body was not discovered until April 19. Eddie Vedder heard the news in the early hours of April 20, while Pearl Jam was recording 2002's Riot Act, and immediately wrote and recorded "4/20/02." "I think he was just so angry and he wanted to get it out," Mike McCready later told Billboard. "I think the reason it's hidden is because he wouldn't want it to be exploitative. I think he wants it to be hidden so you have to find it and think about it."
10. "April 29, 1992 (Miami)," Sublime (April 26 and 29)
From: Sublime (1996)
In "April 29, 1992," Sublime singer Bradley Nowell actually describes April 26 as the day riots erupted in Los Angeles following the beating of Rodney King by law enforcement. The mistake was kept in the final take, even though the riots actually began on April 29 after four accused LAPD officers were acquitted. "Homicide, never doin' no time," Nowell sings in a track that also includes samples of LAPD radio communications. "Miami" refers to one of the many U.S. cities in which rioting occurred.
11. "May 1, 1990," Adrian Belew (May 1)
From: Here (1994)
The leadoff track from Here refers to the night Adrian Belew met his wife Martha in Orlando, Fla., following a show he'd just played with David Bowie on the Sound + Vision Tour. "On May 1, 1990, something changed inside me," he sings, "and I saw the stars align and I knew that it was meant to be." "May 1, 1990" begins, as Belew later noted, with the "rather spooky sound of my GR-700 synthesizer playing itself!"
12. "First of May," The Bee Gees (May 1)
From: Odessa (1969)
The title refers to the birthday of one of Barry Gibb's pets. "When [Gibb's wife] Linda and I first moved into an apartment near St. Paul's Cathedral, we got ourselves a Pyranian mountain dog and named him Barnaby," he wrote in the liner notes for the 1990 box-set compilation Tales From the Brothers Gibb. "The idea came from then. Sad to say, Barnaby's gone but the song lives on." "First of May" was released as a single from 1969's Odessa, and became a Top 40 hit.
13. "Night of the 4th of May," Al Stewart (May 4)
From: Orange (1972)
Like a great many romantics, Al Stewart could recall specific dates relating to the birth, evolution and ultimate demise of his relationships. "Night of the 4th of May" seems to suggest that Stewart and his girlfriend at the time, Mandi, had an open partnership. Regardless, it's clear that the party Stewart took her to on May 4 was merely a stepping stone toward their inevitable split: "A strange and growing restlessness," Stewart sings, "had hung in the air all day." Stewart wasn't left completely alone: Orange included contributions from guitarist Brinsley Schwarz, Rick Wakeman of Yes and Bruce Thomas, future bassist for Elvis Costello and the Attractions.
14. "Student Demonstration Time," The Beach Boys (May 4)
From: Surf's Up (1971)
Neil Young's "Ohio" is the most famous track focusing the tragic killing of four students at the hand of the National Guard. The Beach Boys touched on the topic, as well, with "Student Demonstration Time": "America was stunned on May 4th, 1970, when rally turned to riot up at Kent State University." This rocking blues number is based on a 1954 song recorded by the Robins, "Riot in Cell Block #9," with newly written lyrics by Mike Love. Other members of the beach Boys were reportedly less than enthused with "Student Demonstration Time," but it nevertheless made the cut for Surf's Up.
15. "Isis," Bob Dylan
From: Desire (1976)
This collaboration with Jacques Levy mentions marrying a "mystical child" on the 5th day of May, "but I could not hold on to her very long." "Isis" ended up sparking an album-length collaboration with Levy, a theatrical director and clinical psychologist who had previously worked with Roger McGuinn of the Byrds. When introducing "Isis" during his Rolling Thunder Revue tour, Dylan told audiences: "This is a song about marriage."
16. "You Don't Even Know Me," Al Stewart
From: Orange (1972)
Al Stewart clearly has a penchant for dates – and a lot apparently happened in May. "You Don't Even Know Me" is another autobiographical song about his relationship with Mandi, whom Stewart met in the summer of 1967 before she inspired a number of the tracks on Orange. This time, there's an intersection with a musical legend of the era: "All right I took you to the Hendrix concert on the seventh day of May."
17. "The Night They Drove Old Dixie," The Band (May 10)
From: The Band (1969)
Robbie Robertson spent around eight months working on "The Night They Drive Old Dixie Down," completing the music long before the lyrics. He broke the creative logjam while doing some research with drummer Levon Helm, the only American member of the Band. The song details the experience of a poor white southerner named Virgil Kane as the Civil War comes to a bloody end around him. "By May the 10th, Richmond had fell," Helm sings in reference to the main capital of the Confederacy, though the Virginia city was actually captured in April 1865.
18. "I've Known No War," The Who (May 19)
From: It's Hard (1982)
"I've Known No War" references composer Pete Townshend own birthday. Townshend was born nearly four months prior to the official end of World War II in 1945 — and about a month after the last major conflict took place. The song's lyrics note how his generation didn't have to grapple with the horrors of combat. "As soon as the battle was over," Roger Daltrey sings, "I was born in victorious clover." Townshend, however, also accounted for the nuclear threat which defined the Cold War that followed: "If I ever know it, the glimpse will be short."
19. "The Loner," Ian Hunter and Mick Ronson (June 3)
From: YUI Orta (1989)
"I was born on the 3rd of June / hard labor, Gemini moon," Ian Hunter announces at the top of "The Loner." He insists "it's alright to be a loner," though the album on which the song appears features a reunion with longtime collaborator Mick Ronson. YUI Orta was initially proposed as a comeback of sorts for both Hunter and Ronson, but was scarcely promoted by the record company. They performed live together one more time at the Freddie Mercury Tribute Concert in April 1992, before Ronson died of liver cancer a year later.
20. "Desiree," Neil Diamond (June 3 and 4)
From: I'm Glad You're Here With Me Tonight (1977)
Neil Diamond cuts right to the chase at the beginning of "Desiree," declaring that "I became a man at the hands of a girl almost twice my age" on June 3. The relationship seemed to be over just as quickly as it began: "Then came the fourth of June. On that sleepless night, well I tossed and I turned while the thought of her burned up and down my mind." "Desiree" would reach No. 16 on the Billboard Hot 100.
21. "The Last Day of June 1934," Al Stewart (June 30)
From: Past, Present and Future (1973)
You may need to pick up a history book in order to fully grasp the scene being set in "The Last Day of June 1934," but the most important detail is the date itself. Adolf Hitler ordered a murderous filtering of Nazi Party leaders on June 30, 1934, in a days-long operation that became known as the Rohm Purge – or "Night of the Long Knives." Among those killed was Ernst Rohm, the chief of staff for Hitler's Storm Troopers. In "The Last Day of June 1934," Al Stewart imagines glimpsing Rohm off in the distance: "I thought I saw him cross over the hill, with a whole ghostly army of men at his heel."
22. "4th of July, Asbury Park (Sandy)," Bruce Springsteen (July 4)
From: The Wild, the Innocent & the E Street Shuffle (1973)
There are a number of songs that mention the Fourth of July – many of them have little if anything to do with the actual holiday. Bruce Springsteen's "4th of July, Asbury Park (Sandy)" presents as a song about a pretty girl who's walking beneath the fireworks by the water, but it's more than that. Springsteen says this track actually serves as a jumping-off point for the characters and themes that would appear again and again in his work. "That's the guy and he's on the boardwalk and I guess that was me then, when I was still around Asbury," he said in Dave Marsh's Glory Days. "This is the beginning of the whole trip that's about to take place."
23. "Saturday in the Park," Chicago (July 4)
From: Chicago V (1972)
At a certain point in Chicago's "Saturday in the Park," Robert Lamm stops pondering whether or not it's actually the Fourth of July and proclaims that, in fact, "every day's the Fourth of July." The band had been in New York City on July 4, 1970, recording what would become their third album, but had taken some time away from the studio to enjoy the outdoor celebration. Bandmate Walter Parazaider later recalled how "Robert came back to the hotel from Central Park very excited after seeing the steel drum players, singers, dancers and jugglers. I said, 'Man, it's time to put music to this!'"
24. "Born on the Bayou," Creedence Clearwater Revival (July 4)
From: Bayou Country (1969)
CCR's John Fogerty was born and raised in California, but that didn't stop him from setting "Born on the Bayou" deep in the American south, "about a mythical childhood and a heat-filled time, the Fourth of July." Despite having never lived in any such swamp land, Fogerty gave a convincing performance. "Born on the Bayou" channeled old blues legends like Muddy Waters and Howlin' Wolf, both Mississippi natives, right down to the "old hound dog barkin,' chasin' down a hoodoo there." The song was later covered in 1971 by another bonafide man of the south, Little Richard.
25. "Yankee Rose," David Lee Roth (July 4)
From: Eat 'Em and Smile (1986)
The persistent theme in David Lee Roth's "Yankee Rose" is patriotism, albeit applied to the pursuit of an attractive woman: "When she walks, watch, the sparks will fly – firecrackin' on the fourth of July." There are also lyrical references to the U.S. national anthem and Irving Berlin's "God Bless America." "I pictured the Statue of Liberty as if she was a real live fox," Roth told Rolling Stone in 1986. "And she's walking in front of the candy store, and I'm out front as usual, being lewd towards her. So what we have here is that sexy kind of patriotism."
26. "Jack Straw," The Grateful Dead (July 4)
From: Europe '72 (1972)
There's nothing really celebratory about the context of "Jack Straw," even though the Grateful Dead mention the Fourth of July. Instead, it's the day the narrators leave Texas – and where they are heading is anyone's guess. The song was loosely based on Of Mice and Men, which Bob Weir happened to catch on TV one night. "I was mesmerized. We were coming out of the Workingman's Dead phase, and [Dead collaborator Robert] Hunter had this lyric," Weir told Uncut. "I grabbed it, and we came with a little sketch of heartland Americana – a ballad about two ne'er-do-wells. It was patterned on Of Mice and Men, but we tried to put a twist or two on it. Same story, different context."
27. "4th of July," X (July 4)
From: See How We Are (1987)
Dave Alvin wrote "4th of July" before he joined X, presenting the song to producer Nick Lowe and his bandmates in the Blasters. Lowe told Alvin that he should sing it himself – but there was one problem. "I said, 'Well, I can't sing," the guitarist later recalled telling Lowe. "Then he gave me my motto for the rest of my career, when he said, 'I can't sing either, but I've somehow made a living doing it' – and that registered." "4th of July" eventually became an X song when Alvin replaced Billy Zoom.
28. "4th of July," Soundgarden (July 4)
From: Superunknown (1994)
With Soundgarden, a familiar celebratory occasion takes on an ominous overtone: "I thought it was the end; I thought it was the 4th of July." That's because Chris Cornell wrote it about a bad trip where he thought he was being followed, Cornell later explained to RIP magazine. "It was kinda like a dream, though, where I'd wake up and look and focus once in a while and realize there was no one there. I'd go, 'Oh, fuck, I'm hearing voices,'" Cornell said. "'4th of July' is pretty much about that day. You wouldn't get that if you read it."
29. "Medley: Yell Help / Wednesday Night / Ugly," Elton John (July 13)
From: Rock of the Westies (1975)
This medley, co-written with Davey Johnstone and Bernie Taupin, leads off Rock of the Westies. Elton John drops an evidently important date in "Wednesday Night," the second portion of the medley. "I wish it wasn't the 13th of July," John sings. Backing vocals were provided by Labelle.
30. "The First Day of August," Carole King (Aug. 1)
From: Rhymes & Reasons (1972)
Carole King employs a familiar plea in "The First Day in August," as she did on "Will You Love Me Tomorrow." Above all, she simply hopes her lover stays with her through the evening: "On the first day in August, I want to wake up by your side – after sleeping with you, on the last night in July." Rhymes & Reasons reached an impressive No. 2 on the Billboard 200 chart.
31. "Rainmaker," Harry Nilsson (Aug. 1)
From: Harry (1969)
The first line in "Rainmaker" notes that even though it's the first day of August, there hasn't been any rain since May. Co-written with William Martin in 1968, "Rainmaker," has been covered by Bobbie Gentry, Mike Nesmith, the 5th Dimension and others. Its opening drum beat has also been sampled by a variety of artists, including Cypress Hill, RZA and the Roots. Harry was Nilsson's first album to make the Billboard 200, reaching No. 120.
32. "Who Killed Marilyn?" Misfits (Aug. 5)
From: 1981 Single
Glenn Danzig immediately sets the scene in "Who Killed Marilyn?": "5:25, August 5th, 1962." This is the date and time that the body of Marilyn Monroe was discovered in her Los Angeles home, after what was ruled a probable suicide. Danzig, however, has questions about the incident: "Could it have been the [Rat] Pack? Could it have been the Kennedys? Or was it LAPD?" "Who Killed Marilyn?" wasn't the first time Danzig wrote about tragic female characters: There are references to Jackie Kennedy and Patty Hearst on the first Misfits album, 1978's Static Age.
33. "August 7, 4:15," Jon Bon Jovi (Aug. 7)
From: Destination Anywhere (1997)
"August 7, 4:15" paints a heartbreaking picture of a real-life six-year-old who was killed in 1996. The child, Katherine, was the daughter of Jon Bon Jovi's former personal manager, Paul Korzilius. The Korzilius family became concerned when Katherine did not return after being entrusted to walk home by herself from a trip to the mailbox. She was found gravely injured in the street, and died later that evening. At first, it was assumed to be a hit-and-run accident, but further investigation led authorities and the family to believe foul play may have been involved. The case has never been solved.
34. "Friday Night, August 14th," Funkadelic (Aug. 14)
From: Free Your Mind ... and Your Ass Will Follow (1970)
"Friday Night, August 14th" was the second song from Funkadelic's second album – and it commemorated a very good day: "Old lady luck smiled down on me, my income tax return came through." George Clinton revealed in the liner notes for a reissue of Free Your Mind ... and Your Ass Will Follow that Funkadelic had decided to stage an experiment to see if it was possible to record an entire LP while tripping on acid. Turns out they could.
35. "Someday (August 29, 1968)," Chicago (Aug. 29)
From: Chicago Transit Authority (1969)
There's a prologue before "Someday" begins that features close to a minute of audio from the 1968 Democratic National Convention in Chicago, where the crowd can be heard chanting "the whole world is watching." Law enforcement confronted anti-war demonstrators outside the convention venue on Aug. 29, in an event that would later be described as a "police riot." This compelled the band to write about what happened in their own hometown: "Do you feel the rumblings as your head comes crumbling down?"
36. "Papa Was a Rollin' Stone," The Temptations (Sept. 3)
From: All Directions (1972)
"It was the third of September," the Temptations sing on "Papa Was a Rollin' Stone." "That day I'll always remember, yes I will – 'cause that was the day that my daddy died." (Singer Dennis Edwards' father actually died on an Oct. 3.) The Temptations' recording of this song not only went to No. 1 on the Billboard Hot 100, but also won three Grammy Awards in 1973.
37. "September," Earth, Wind & Fire (Sept. 21)
From: The Best of Earth, Wind & Fire, Vol. 1 (1978)
One might assume there was some kind of significance behind Sept. 21, but according to Earth Wind and Fire collaborator Allee Willis, it was simply the number that sounded right. "We went through all the dates: 'Do you remember the first, the second, the third, the fourth ... ' and the one that just felt the best was the 21st," she told NPR in 2014. "I constantly have people coming up to me and they get so excited to know what the significance was. And there is no significance beyond it just sang better than any of the other dates. So ... sorry!"
38. "Snookeroo," Ringo Starr (Oct. 30)
From: Goodnight Vienna (1974)
"I was born on the eve of Halloween," Ringo Starr declares in "Snookeroo," a song written specifically for him by Elton John and Bernie Taupin. "He said, 'Listen, make it nice and commercial,' so we did," John told Rolling Stone in 1974. "Bernie wrote really simple lyrics, very Ringo-type lyrics, and I tried to write a simple sort of melody to it – and I play piano on it." Elsewhere, Taupin has described the song as "a simple, biographical thing," but Starr was actually born on July 7.
39. "Remember," John Lennon (Nov. 5)
From: John Lennon/Plastic Ono Band (1970)
John Lennon only makes a brief mention of Nov. 5 in the outro of "Remember," followed by the sound of an explosion. He was referring to Guy Fawkes Night, a holiday in which the British commemorate the survival of King James I after a failed plot to blow up the House of Lords in 1605. Turns out, including the date was all a matter of happenstance. "We started ad libbing and goofing about, but then I cut it there and just exploded," Lennon told Rolling Stone in 1970. "It was a good joke."
40. "Hijack," Paul Kantner and Jefferson Starship (Nov. 23)
From: Blows Against the Empire (1970)
The 23rd of November gets a mention in a Jefferson Starship concept album that involves overtaking a spacecraft in order to establish a happier existence elsewhere, though the exact significance of the date is unclear. "Hijack" was written by Paul Kantner, Grace Slick, Marty Balin and Gary Blackman. Graham Nash was also credited for playing congas on the track. Other guests on the LP include David Crosby, Jerry Garcia and Mickey Hart.
41. "Sweet Baby James," James Taylor (Dec. 1)
From: Sweet Baby James (1970)
"The first of December was covered with snow," James Taylor sings on the title track from Sweet Baby James. This was the first single from the album and Taylor always ranked it highly throughout his career, though "Sweet Baby James" never made the charts. The track was written for the son of Taylor's older brother Alex, who was named after his uncle James. "It gets pretty spiritual by the end," Taylor told Rolling Stone in 2021. "I think it's my best song."
60 Actual Dates When Hollywood's Biggest Moments Take Place
Elton John's Terrifying First U.S. Concert
More From Ultimate Classic Rock