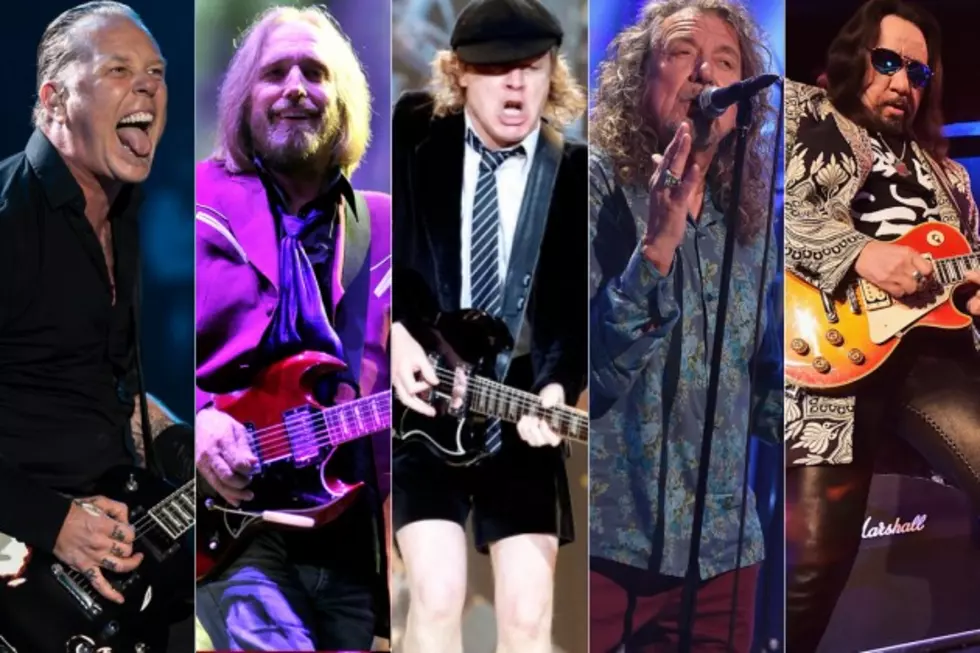 Ian Gavan / Jerod Harris / Hulton Archive / Theo Wargo, NBC / Michael Loccisano, Getty Images
The best songs of 2014 find rock's biggest names successfully treading the difficult line between revisiting past glories and keeping things fresh. It's a tricky balance: if you go too far one way you'll be labeled a derivative nostalgia act, and if you reach too far in the other direction you'll notice a whole lot of people suddenly heading to the beer lines when you break out the new songs in concert.
Luckily, these 12 artists (forgive us, we couldn't cut it down to just 10) have found ways to expand their legacies with exciting and sometimes surprising new songs. And then, there's AC/DC -- luckily for us, they don't seem to waste a single moment thinking about such things. In that same spirit, let's stop worrying about the introduction and get right to our countdown of the 12 Best Songs of 2014.
12

'Gotta Get It Right'

Sixx: A.M.

From 'Modern Vintage'

Together with bandmates DJ Ashba and James Michael, Nikki Sixx gave fans the strongest reason yet to be hopeful about his post-Motley Crue future with the debut single from Sixx: A.M.'s third album. It's as anthemic and catchy as you'd expect, and its upbeat and downright uplifting tone made for one of the year's best surprises.

11

'Everything Matters'

Ted Nugent

From: 'Shutup & Jam'

2014 marked yet another year where Ted Nugent made more headlines for his views on politics and hunting than for his music. And that's too bad because his slyly titled new album -- an appealingly stripped-down collection of soul-infused rock riffing -- deserved more attention. Start with this infectious little number, which finds the one and only Derek St. Holmes returning to the pack on lead vocals.

10

From: 'The Endless River'

In one of the biggest surprises of the year, Pink Floyd ended two decades of studio silence by unearthing the ambient, largely instrumental 'Endless River.' The album's stately, reflective tone serves as an oddly fitting farewell for one of rock's most storied bands. But the real fun comes on this bonus track, as David Gilmour twists his amplifier knobs a bit further to the right and cuts loose over a heavy, lurching beat.

9

From: 'Live in Tokyo'

8

'High Hopes'

Bruce Springsteen

From: 'High Hopes'

By all rights, this nearly two-decades-in-the-making track from Bruce Springsteen's 2014 collection of re-works and cover songs should be a dry, overcooked slice of turkey. Instead, thanks to help from unlikely guest guitarist Tom Morello, it's one of the most exciting, appealing and passionate songs the Boss has delivered in years.

7

From: 'Songs of Innocence'

Even if you weren't too thrilled with having an entire unwanted U2 album in your iTunes library, this cut from 'Songs of Innocence' is a keeper -- the sort of big, anthem-sized midtempo rocker the group perfected back in the day. In fact, 'Every Breaking Wave' even recalls 'With or Without You' in sound, scope and emotional pull.

6

'Postcards From the Past'

Billy Idol

From: 'Kings & Queens of the Underground' (2014)

Many of the best songs on Billy Idol's first new album in nearly a decade find this highly underrated songwriter successfully exploring new ground. So we feel a little guilty spotlighting this pulsing, dramatic rocker, the most obvious throwback to his 'Rebel Yell' glory days on our list of 2014's best songs. But if the old leather pants, peroxide and snarl still fit this well, who are we to lie about it?

5

'Inside the Vortex'

Ace Frehley

From: 'Space Invader'

It feels weird to say this about an artist who has released just three albums in 25 years, but Ace Frehley is actually on quite a roll with his solo career. 'Space Invader' improves on 2009's already very good 'Anomaly' by featuring deeper, more idiosyncratic grooves and surprising new levels of depth and texture. Plus, at least half of the songs -- this one chief among them -- sound absolutely perfect for surfing the galaxy aboard a comet.

4

'Ronnie Rising Medley'

Metallica

From: 'Ronnie James Dio This Is Your Life'

It's official -- Metallica are the best cover band in the world. Yes, we liked 'The Lords of Summer' just fine. But their contribution to the Ronnie James Dio tribute album 'This Is Your Life,' which finds the band stitching together four different songs from Dio's years in Rainbow, blows it away. There's a loose, fun and aggressive spirit in this performance that has us more excited for the band's next 'Garage Days' session than for their long-gestating next studio album.

3

'Fault Lines'

Tom Petty & the Heartbreakers

From: 'Hypnotic Eye'

After focusing on the blues with 2010's 'Mojo,' Tom Petty and the Heartbreakers returned to more familiar turf with 'Hypnotic Eye.' Happily, it never sounded like a retreat. Petty's famously rebellious spirit remains intact and as magnetic as ever, and as this song demonstrates, the band's craftsmanship and chemistry are still his perfect match.

2

'A Stolen Kiss'

Robert Plant

From: 'Lullaby ... and the Ceaseless Roar'

This warm, spare and surprisingly traditional piano ballad is an odd choice to represent 'Lullaby and ... the Ceaseless Roar,' which mostly finds Robert Plant exploring African beats and instrumentation with yet another new band. But it is perfectly representative of his consistently restless nature, and it's perhaps the best example yet of how he's learned to use his voice in completely different, more sophisticated ways than he did with Led Zeppelin.

1

From: 'Rock or Bust'

There's very little not to love about AC/DC's new record -- which, after all, topped our Best Albums of 2014 poll. Either of the two singles, 'Rock or Bust' and 'Play Ball,' would make great choices for our Best Songs of 2014 list as well. But 'Sweet Candy' is the one we can't stop playing. Like much of the band's finest early work, it features a perfect blend of R&B-influenced boogie and hard-rock crunch.

Bonus

You Think You Know AC/DC?
More From Ultimate Classic Rock