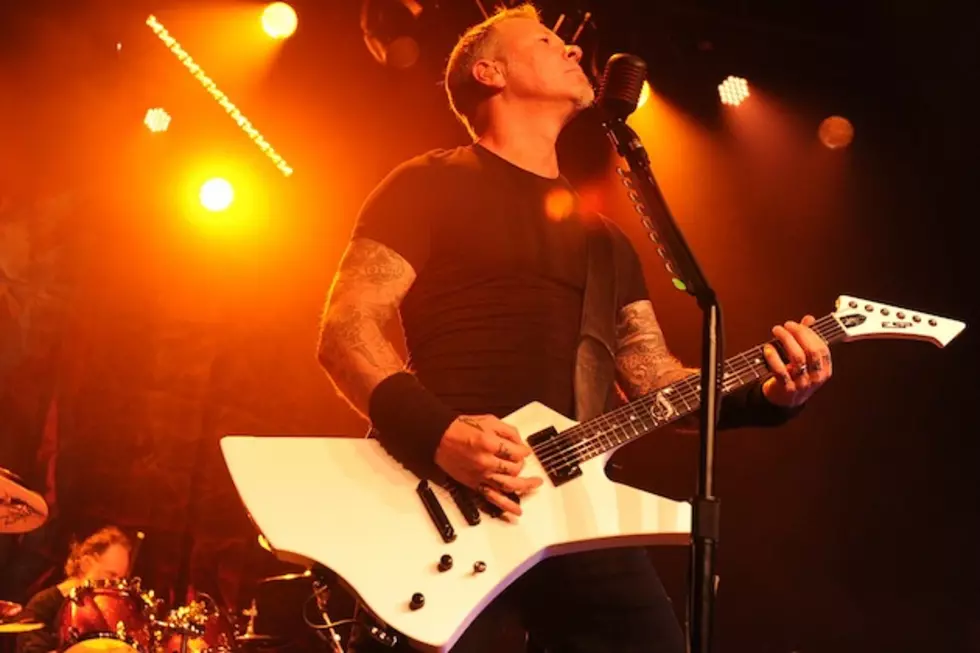 Top 10 Metallica Cover Songs
Kevin Winter, Getty Images
Metallica's remarkable career was constructed on top of an incredible body of work created by the group. But the band has also invested heavily in covering other artists' songs -- probably because they're really, really good at it. Any cover band can copy someone else's songs, but only the greats can make them their own or breathe new life into forgotten classics. Metallica have done that time and time again throughout their long career, as you'll see on our list of the Top 10 Metallica Cover Songs.
10

'Blitzkrieg'

Original Artist: Blitzkrieg

One measure of a truly great band is its ability to transform, or even improve, the work of those who inspired them. There's nothing wrong with New Wave of British Heavy Metal favorites Blitzkrieg's deliciously raw original recording of their namesake tune, itself adapted from Focus' 'Hocus Pocus,' if you listen closely to the chord progression. But Metallica's tribute truly elevates the song to an entirely new level of powerful precision, capped by a sizzling Kirk Hammett solo.

9

We're still not really sure that we entirely condone Metallica's decision to overlook a huge number of great songs actually written (not just performed) by Thin Lizzy that might have put some much-needed royalties into a few classic rockers' 401ks. But there's no denying Metallica did a bang-up job revisiting Lizzy's version of this popular Irish folk ditty, complete with the band's patented twin guitar harmonizing and James Hetfield gamely emoting the quaint lyrics.

8

Another measure of a great band is its willingness to go out of its way to acknowledge its musical forefathers, and probably no artist has been as openly revered by Metallica – and deserving of this honor – as Motorhead and their immortal leader Lemmy Kilmister. In 1995, on the occasion of the metal icon's 50th birthday, all four members of Metallica donned mirror shades and mutton chops to perform several 'head classics as the Lemmys. Three years later they slapped four Motorhead covers – including their rip-roaring 'Overkill' – onto the 'Garage, Inc.' comp. That's respect.

7

'Crash Course in Brain Surgery'

Original Artist: Budgie

Besides Diamond Head, no relatively unknown band has benefited (and profited) more from Metallica's belated patronage than Welsh heavy-prog mad scientists Budgie. While most folks in the know would agree that there's no way to improve on the original vintage edition of 'Breadfan' (nice try, though, boys!), Metallica arguably did improve on the incredibly clever but relatively mundane (by Budgie's adventurous standards) 'Crash Course in Brain Surgery,' which was exposed to millions on the metal gods' 1987 collection 'The $5.98 EP: Garage Days Re-Revisited.'

6

'Mercyful Fate Medley'

Original Artist: Mercyful Fate

When a fledgling Metallica were first making headway during the period between 'Kill 'Em All' and 'Ride the Lightning,' they became friends with the influential Danish occult metal ensemble Mercyful Fate (Lars Ulrich's Danish roots didn't hurt). More than a decade later, Metallica paid tribute to their old pals (and covered some of their overdue bills while they were at it) by crafting a five-song medley out of such MF staples as 'Satan's Fall,' 'Curse of the Pharaohs,' 'A Corpse Without Soul,' 'Into the Coven' and 'Evil.' The message: "Listen and learn, kids."

5

'The Wait'

Original Artist: Killing Joke

Perhaps more than anything else, 1987's acclaimed '$5.98 EP' revealed the unexpected range of Metallica's musical influences (supposedly expanded in large part by the eclectic musical tastes of bassist Cliff Burton), automatically broadening their fans' own listening horizons in the process. Among the striking cover versions driving their agenda was the memorable reworking of Killing Joke's 'The Wait,' where proto-industrial mechanics were replaced by post-thrash aggression while losing none of the song's disturbing, dystopian tension. You can almost hear the pow! of minds being blown.

4

Metallica recorded this pre-thrash onslaught in 1991 for Elektra Records' 40th-anniversary compilation 'Rubaiyat,' simultaneously resurrecting Queen's oft-forgotten contribution to heavy rock and anticipating Freddie Mercury's tragic death later the same year. Amazingly, Queen's original may have clocked in a tiny bit faster than Metallica's rendition, but who's measuring? The bottom line is 'Stone Cold Crazy' seems to have been made to be covered by Metallica, making it an obvious choice on our list of Top 10 Metallica Cover Songs.

3

'So What?'

Original Artist: Anti-Nowhere League

Here's another obscure little gem that Metallica made so thoroughly their own – both onstage and on record – you could almost believe they wrote it themselves. Well, except for the telltale lyrics ("I've even sucked a … WHAT???") and all manner of similarly insulting offenses spread over the Anti-Nowhere League's signature rant 'So What?' Needless to say, the 1981 original was far too obnoxious and risque to score the London punks anything but public notoriety, scorn and outright banishment, but the song would duly reach millions of listeners thanks to Metallica.

2

'Last Caress' / 'Green Hell'

Original Artist: The Misfits

Yes, we're cheating a little in order to squeeze in two amazing Metallica covers. But in our defense, as far as we can remember, Metallica never performed 'Last Caress' or 'Green Hell' independently of each other. They've always jammed together these two gloriously perverted creations (sprung from the twisted minds of seminal horror punks the Misfits) into a unified, vicious sonic blast – just like they did to conclude the '$5.98 EP.'

1

'Am I Evil?'

Original Artist: Diamond Head

If you, like many people, can hardly believe Metallica didn't write this song themselves, that's because the band essentially appropriated, energized and then repurposed so many of its elements when shaping their own style. Just listen to the acrobatic fusion of wildly different musical passages converging so fluidly within this incredible song, and you'll hear the makings of Metallica's greatest epics: 'The Four Horsemen,' 'Master of Puppets,' etc. But as we pointed out earlier, it takes an incredibly gifted band armed with uncommon vision to transform raw materials into entirely new creations -- a band like Metallica.
More From Ultimate Classic Rock