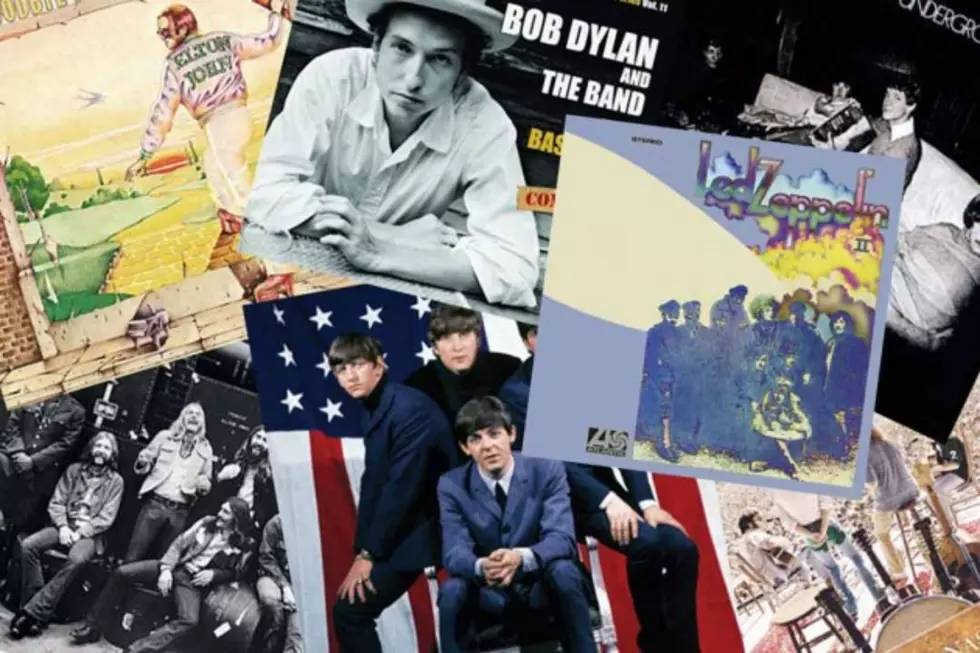 Thirty years after the advent of CDs brought a wave of reissued albums available in all shapes and sizes -- boxed! remastered! loaded with bonus tracks! -- the golden age of repackaging old material may be over. But that doesn't mean record companies aren't looking for new ways to sell you old albums again. The best reissues of 2014 expanded classic artists' legacies and somehow found new ways to make familiar material exciting again.
10

'The Album Collection Vol. 1, 1973-1984'

Bruce Springsteen

On the surface, there's nothing too remarkable about a box set that collects Bruce Springsteen's first seven albums, especially one that includes no bonus tracks. But under the hood are sterling new remasters, with five of the albums getting their first-ever(!) face lifts on CD and revealing the bouncing folk urgency of 'Greetings From Asbury Park, N.J.,' 'The Wild, the Innocent & the E Street Shuffle''s budding band fusion and the bedroom intimacy of 'Nebraska.'

9

'The U.S. Albums'

The Beatles

The 13 albums in this box set were a main source of Beatlemania's power fuel in the '60s. Millions of U.S. fans were introduced to the Beatles on records like 'Meet the Beatles!' and 'Rubber Soul,' which were sometimes vastly different from their original U.K. counterparts. The original dozen U.K. LPs are now considered canon, but there's no escaping the historical significance of the alternate U.S. albums, gathered here in both stereo and mono mixes.

8

'The 1971 Fillmore East Recordings'

The Allman Brothers Band

The Allman Brothers' 1971 breakthrough live album 'At Fillmore East' is one of rock's all-time greatest concert souvenirs. This sprawling box chronicles the band's shows at the fabled New York venue, collecting four complete concerts on six CDs. Every single one of them contains some electrifying moments onstage. This is the birth of the jam-band movement, and a dynamic document of one of the era's greatest groups at its absolute peak.

7

'Superunknown: 20th Anniversary'

Soundgarden

Soundgarden's grunge milestone celebrates its 20th anniversary with a five-disc set that adds demos, remixes, live versions and other odds and ends to it legacy. 'Superunknown' has aged better than most of its contemporaries, its muddy guitars sealing a template that can still be heard in modern rock. The bonus tracks may be a tad overkill, but they trace the line from formation to classic.

6

'CSNY 1974'

Crosby, Stills, Nash and Young

Crosby, Stills, Nash and Young's 1974 tour was a notoriously prickly affair, with backstage bitterness, onstage sloppiness and general rock-star egos running rampant. But some great music came out of it, as documented on this set. Neil Young was the star, but the entire group occasionally locks into a groove that proves why they were such a big deal at the time. It would be years before they all worked together again; 'CSNY 1974' is a staggering finale to an era.

5

'Definitely Maybe' / '(What's the Story) Morning Glory?'

Oasis

Oasis are celebrating their 20th anniversary with extensive reissues of their albums. The first two -- 1994's debut 'Definitely Maybe' and 1995's breakthrough '(What's the Story) Morning Glory?' -- were released this year and are packed with rarities like B-sides, outtakes, demos, live versions and more. Unlike some similarly padded reissues, there's some great material buried in Oasis' vaults, especially during the 'Morning Glory' sessions, where songwriter Noel Gallagher was brimming with super-catchy hooks.

4

'The Velvet Underground: 45th Anniversary Super Deluxe Edition'

The Velvet Underground

After two albums of increasingly noisy and abrasive art rock, the Velvet Underground scaled back on their third record, a self-titled masterpiece of late-night folk songs. This 45th-anniversary edition of the 1969 classic includes six discs of various album mixes, outtakes, discarded tracks for another LP and a live show highlighted by a searing 36-minute version of 'Sister Ray' that returns the band to its noisy, abrasive art-rock roots.

3

'Goodbye Yellow Brick Road (Super Deluxe)'

Elton John

You can skip the newly recorded cover versions of classic Elton John songs here, but everything else on this five-disc box adds to 'Goodbye Yellow Brick Road''s legacy, especially the 1973 concert recorded in London and loaded with John hits. He's at the height of his fame here, basking in the spotlight. Plus, the original album hasn't aged a bit in 40 years.

2

'I', 'II', 'III', 'IV', and 'Houses of the Holy'

Led Zeppelin

Overseen by Jimmy Page, the deluxe reissues of Led Zeppelin's catalog offer miniscule revisions to the original albums, the first five of which -- 1969's self-titled debut and second album, 1970's 'III,' 1971's untitled classic and 1973's 'Houses of the Holy' -- are available now (the remainder will be released in 2015). But the bonus discs include outtakes, live tracks and alternate versions. They may not be as monumental as we had hoped, but any new old Zeppelin at this point is worth celebrating.

1

'The Basement Tapes Complete: The Bootleg Series Vol. 11'

Bob Dylan

For nearly 50 years, the mythical recordings made by Bob Dylan and the Band in the basement of their New York house have been passed around, bootlegged, scattered about and even officially released in bits and pieces. This six-disc box pulls together every known song they recorded during a very productive few months in 1967, and it's a fascinating, essential document of a mostly lost and mysterious period in Dylan's long history. Great originals, so-so originals, faithful covers and casual goofs chart the course of American music during the 20th century.

BONUS

You Think You Know Led Zeppelin?
More From Ultimate Classic Rock