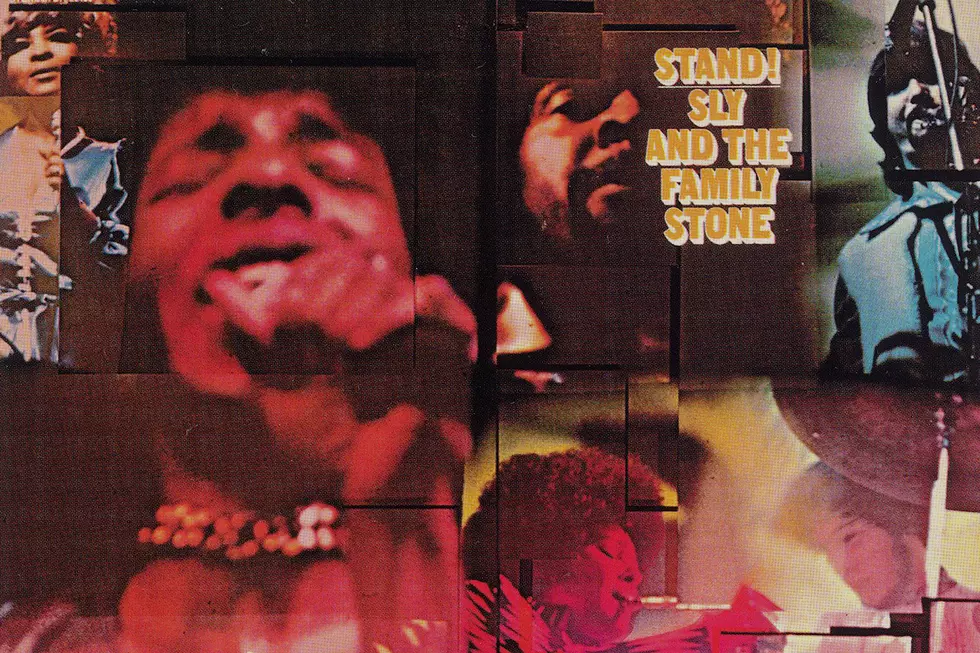 50 Years Ago: How Sly and the Family Stone Defined an Era With 'Stand'
Epic
There was nothing like Sly and the Family Stone – not then, and not now. At their late-'60s best, this expectation-confounding group boasted the rhythmic ferocity of R&B, but none of its quickly devolving formulaic Motown tics. At the same time, they had a distinctly rock 'n' roll character. That meant no small amount of screw-you attitude, an exhilarating focus on hooks, some seriously weird outfits and a tendency toward hedonism.
Fans got a taste of this groundbreaking, genre-jumping amalgam on 1968's Dance to the Music, but it all really came together with Stand, released on May 3, 1969. This was the sound of the '60s, in perhaps its purest form. They made ideal-based music, deftly blending thoughts on peace and love ("Everyday People," "I Want to Take You Higher," "Sing a Simple Song") with of-the-moment calls to purpose (the title song, "You Can Make It If You Try"). Everything about Stand! was out-sized, in both presentation and narrative heft, and very much of its moment.
Credit band leader Sly Stone's wit and an outsider's attitude, which were in keeping with his former life as a a San Francisco disc jockey. He never really accepted the generally accepted rules. "I was into everyone's records," he once told Rolling Stone. "I'd play [Bob] Dylan, [Jimi] Hendrix, James Brown back to back, so I didn't get stuck in any one groove."
Neither did Stand!, which moved beyond the pigeonholing designation of psychedelic soul with chart-breaking ease. Five of the eight songs on this funk-rock masterpiece ended up on Sly and the Family Stone's subsequent greatest-hits compilation. They defined a group that had been gaining momentum since the title track from Dance to the Music broke in 1967.
"For me, Stand! was where we reached our peak as a group," guitarist Freddie Stone told WaxPoetics in 2014. "Stand! was the album that said, 'This is what we've been wanting to tell you in the other albums, and we're at a place now where we can' – plus things were happening in our country at that time. We felt like we were taking a stand, and we wanted to encourage our fans to do the same, hence 'Sing a Simple Song,' and we wanted people to remember who they were with a song like 'Everyday People.'"
By the time they got to Woodstock that August, bassist Larry Graham said it felt like Sly and the Family Stone had "tapped into a new zone" with their audience. "It's like when an athlete like Michael Jordan realizes the extent of his gifts" Graham told Vanity Fair in 2007, "and goes, 'Oh, I can do that.'"
Listen to Sly and the Family Stone's 'Everyday People'
The mercurial Sly Stone stood at the center of this intoxicating gumbo of sounds, a galvanizing figure with the vision to see an African-American as a rock guitarist, a female as a front-line horn player and a white guy as a funk drummer. Stone's brother Freddie and Cynthia Robinson, the trumpeter, were part of his earliest singles, but Stone was building toward something bigger. He found it with the additions of Graham, sax player Jerry Martini, drummer Greg Errico and a rollicking group of singers that included his siblings Rose and Vet Stone.
"We were different. We were a rainbow," Graham told the Tulsa World in 1999. "The music was a combination of all types of music. You could hear R&B, jazz, rock, even country. Plus, it was a self-contained band. We played the instruments as well as singing all the parts. There was male and female, black and white – mixed up every kind of way you could think of."
Their aesthetic read like a template for Sly and the Family Stone's best album. "He made things very simple: to stand for what you believe in," the late Robinson told Morning Edition in 2013. "That could be in any culture; you're going to need to do that. So, he knew how to touch upon subjects that meant something to masses of people."
The seeds of "Everyday People," a gospel-inflected call for understanding tucked away in a dance song, were sewn. "What I write," Stone would later plainly argue, "is people's music." And it was sung just that way, with Sly, Rosie, Freddie and Larry taking turns at the mic – each distinct, yet very much part of a larger, more dynamic whole. This allowed the group to pioneer in ways both big and small, as Graham set a template for a new slap-style on the bass. "It's one of the things I really admire about Sly," Graham told Vanity Fair. "We were all allowed to use our creativity, to have freedom of expression in how we played."
They emerged with more than a career-best platinum-selling Top 20 smash. "The album Stand! summed up the times, with the humanitarian sentiments, in a perfect sloganeering way," Joel Selvin, author of Sly and the Family Stone: An Oral History, told the Washington Post in 2006. "And Sly's statements last. They sound as good today as they did when they were recorded. There's really nobody like Sly Stone in the history of black music."
Listen to Sly and the Family Stone's 'Stand!'
The group looked, to this point, like an unstoppable juggernaut of flashy clothes-wearing, peace and love-espousing, dance floor-filling funk. But just as the music-buying public caught up with the layered genius of Sly Stone, just as he found all of the fame that he so richly deserved, he seemed to become disillusioned with the meat-grinder process of hit-making. A subsequent stop at the Isle of Wight Festival in 1970 marked the symbolic end of that period.
Stone sought to address darker concerns on 1971's There's a Riot Goin' On, but ended up in a two-year struggle to complete the project. Buffeted by his own idiosyncratic perfectionism, and no small amount of substance abuse, Stone traced the dying of a decade's kaleidoscopic light as surely as his party records had embodied its horizon-free promise just a few years before. But something was lost: The follow-up to Stand! was less approachable, less band-focused. Not long after, Stone descended into an increasingly secluded life governed by tabloid headlines, and the Family Stone scattered.
His brief but powerful message of transcendence over boundaries both musical and social seemed to vanish for a time too. "Sly made a big contribution to music, but I don't feel he is given his righteous props," Robinson argued in a talk with Ebony. "But Sly isn't the type to brown nose for props. He's always known what he had, what he was capable of; I'm just proud that he took the time and effort to put it to music."
Only later did Stone's role in defining that era, not to mention pushing his contemporaries toward a deeper sense of social conscience, become more widely recognized. "He's my idol; forget all that peer stuff," Funkadelic and Parliament leader George Clinton subsequently gushed. "I heard Stand!, and it was like, man, forget it! That band was perfect. And Sly was like all the Beatles and all of Motown in one. He was the baddest thing around."
By the '90s, Sly and the Family Stone could be found in the Rock and Roll Hall of Fame – even if Sly Stone himself remained a shadowy figure. His former bandmates eventually reunited, but without their enigmatic frontman. They never stopped preaching his gospel.
"When people ask me questions about what was going on behind the scenes and how did you make such great music," Freddie Stone told WaxPoetics, "I tell them it was Sly writing what was coming out of his heart and soul. He is a true genius. I just tell people to do what they love doing. That's what we did."
 
 
Sly and the Family Stone Albums Ranked
More From Ultimate Classic Rock