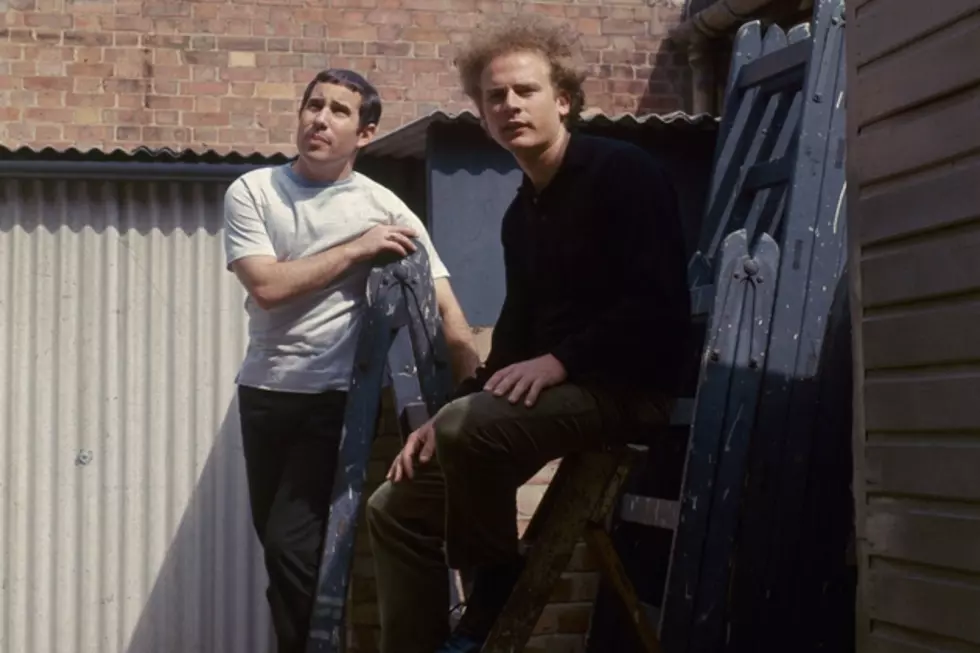 Top 10 Simon & Garfunkel Lyrics
Keystone, Getty Images
Simon & Garfunkel rose to prominence in the mid-'60s as part of the folk-rock movement, but by the time the duo ended their run in 1970, they had created a body of work that touched on pop, rock, country, gospel and world music. Their clean productions and pristine vocal harmonies made their records among the best-sounding albums of that era. But it was the quality of the songs that truly helped make some of those records into timeless classics. In Paul Simon, the duo had one of the better songwriters of their generation, especially as a lyricist. The best of Simon & Garfunkel's work is informed by a lyric quality that marries a poetic sensibility with an eye for detail that can turn the mundane minutia of daily life into a universal observation. Those qualities are very much in evidence in the following Top 10 Simon & Garfunkel Lyrics.
10

'Bleecker Street'

From: 'Wednesday Morning, 3AM' (1964)

Simon & Garfunkel's debut album is a wildly uneven, not-terribly-original effort that mainly reiterates a mix of traditional and contemporary folk songs with sparse acoustic accompaniment. The album introduced the world to 'The Sound of Silence' in an early version; its other standout is 'Bleecker Street,' which contains an early example of Simon's distinct and compact lyrical sense: "The poet reads his crooked rhyme / Holy holy is his sacrament / Thirty dollars pays your rent on Bleecker Street."

9

'Old Friends'

From: 'Bookends' (1968)

While other rock acts of the era were sneering at the older generation, Simon & Garfunkel produced a wistful portrait of the permanent bond between two lifelong friends with this standout track from the perfectly produced 'Bookends' album. The titular friends "sat on their park bench like bookends" looking back on decades of friendship, but also knowing that time is drawing to a close: "Old friends / Memory brushes the same years / Silently sharing the same fears."

8

'Homeward Bound'

From: 'Parsley, Sage, Rosemary and Thyme' (1966)

Simon wrote 'Homeward Bound' during a tour of European folk clubs while waiting for a train to return to London and his girlfriend Kathy, who also figures prominently in two other songs in our list of the Top 10 Simon & Garfunkel Lyrics. The song describes the grind of club touring succinctly, and we're also starting to see the world-weary cynicism that would characterize much of Simon's later solo work: "Tonight I'll sing my songs again, I'll play the game and pretend / But all my words come back to me in shades of mediocrity."

7

'My Little Town'

Single (1975)

Five years after their breakup, Simon & Garfunkel recorded 'My Little Town,' which ended up being a latter-day Top 10 hit for the duo. Simon originally wrote the song as a darker piece for Garfunkel, who he felt sang too many light ballads as a solo artist. But they recorded the song together, and it wound up being included on both of their solo albums. The song paints a portrait of a young man eager to escape his humble roots: "In my little town / I never meant nothing, I was just my father's son / Saving my money, dreaming of glory / Twitching like a finger on the trigger of a gun / Leaving nothing but the dead and dying back in my little town."

6

'America'

From: 'Bookends' (1968)

Paul Simon took a dramatic step forward as a writer with 'America,' for which he dropped his carefully crafted approach to modern folk-rock in favor of a pell-mell unrhymed structure that's the musical equivalent of free verse. The song details a bus trip he undertook with his then-girlfriend Kathy. What makes it one of the Top 10 Simon & Garfunkel Lyrics is the climactic stanza: "'Kathy, I'm lost,' I said, though I knew she was sleeping / 'I'm empty and aching and I don't know why' / Counting the cars on the New Jersey turnpike, they've all come to look for America."

5

'A Simple Desultory Philippic'

From: 'Parsley, Sage, Rosemary and Thyme' (1966)

Simon showed his caustic wit early on with what was essentially a solo track from 'Parsley, Sage, Rosemary and Thyme.' Subtitled 'Or How I Was Robert McNamara'd Into Submission,' the song is a zany sendup of '60s pop culture icons, including Bob Dylan ("I've lost my harmonica, Albert"), Norman Mailer, Andy Warhol and many more. He doesn't spare his producer or his partner form his wit: "I've been mothered, fathered, aunt and uncled / Been Roy Haleed and Art Garfunkeled / And I just discovered somebody's tapped the phone."

4

'A Most Peculiar Man'

From: 'Sounds of Silence' (1966)

Another song that originally dates back to Simon's tenure in the U.K. folk scene, 'A Most Peculiar Man' was a standout from the hastily arranged 'Sounds of Silence' album that was rushed together to capitalize on the surprise runaway success of Simon & Garfunkel's first hit single. What makes it one of the Top 10 Simon & Garnfunkel Lyrics is its bleak portrayal of a lonely man so alienated from the world that he takes his own life: "And all the people said, 'What a shame that he's dead / But wasn't he a most peculiar man?'"

3

'The Boxer'

From: 'Bridge Over Troubled Water' (1970)

One of Simon & Garfunkel's greatest musical achievements, 'The Boxer' (from their final, Grammy-winning album) begins as a plaintive acoustic ballad. But it builds to a soaring crescendo of strings, horns and multiple vocal overdubs. The lyric perfectly portrays the loneliness and desperation of a man living in poverty in New York City, "Laying low, seeking out the poorer quarters where the ragged people go / Looking for the places only hey would know." He comes to view himself as being on the losing end of an ongoing fight with the entire world, but vows to fight on in the epic final verse, one of the best pieces of songwriting Simon ever achieved.

2

'Bridge Over Troubled Water'

From: 'Bridge Over Troubled Water' (1970)

'Bridge Over Troubled Water' was both Simon & Garfunkel's masterwork and the final straw in their heated working relationship. The epic title track is perhaps Simon's best-known song, for which he borrowed a bit from a gospel song titled 'Mary Don't You Weep.' Highlighted by a stellar vocal performance by Garfunkel, the song is almost musical poetry in its lyrical simplicity: "If you need a friend, I'm sailing right behind / Like a bridge over troubled water I will ease your mind."

1

'The Sound of Silence'

From: 'Sounds of Silence' (1966)

'The Sound of Silence' was a surprise No. 1 hit for Simon & Garfunkel in 1966 after producer Tom Wilson overdubbed electric instruments onto the existing acoustic track from their failed debut album. The single launched not only S&G, it also became one of the definitive folk-rock anthems of the era, featuring a lyric that could have only come from Simon: "And the sign said, 'The words of the prophets are written on the subway walls / And tenement halls / And whispered in the sound of silence.'"
More From Ultimate Classic Rock