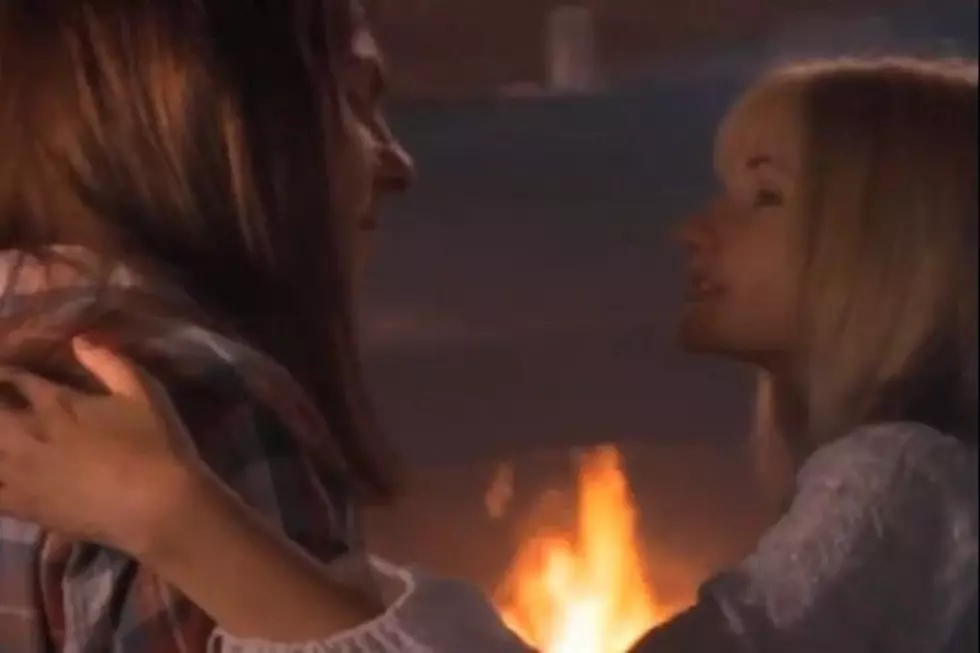 Most Romantic Rock Music Videos
YouTube
As this collection of the most romantic rock music videos proves, music and romance go hand-in-hand. There's nothing quite as sweet as a nice candlelit dinner, a little wine, and some beautiful tunes. And if music helps to set that romantic mood, then videos are even better, with their elaborate settings and happily-ever-after storybook endings.
From overwrought, lighter-waving stadium anthems to simple, heartfelt pleas and everything in between, take a look at our list of the most romantic rock music videos and prepare to be swept away to a land of enchanted amour, where fairytales come true.
One of the greatest power ballads of all time, Journey's "Faithfully" tells the timeless story of true love from the perspective of a touring musician who is facing long periods of separation from his wife while out on the road.
Keyboardist Jonathan Cain wrote the song from personal experience, and the video perfectly reflects both the aching sadness of being apart and the joyous moments of everyday life on tour. The clip is emotionally affecting with its depiction of the power of true love to get the musicians through the hard times – especially one sweet moment where a couple take time for a brief slow dance backstage while the band is playing.
Queen, 'You're My Best Friend'
Queen aren't exactly the first band you think of when it comes to romance, but their 1975 album Night at the Opera contained one of classic rock's greatest love songs. "You're My Best Friend" is built around the simple, enduring premise that a partner for life should not only be one's lover, but their closest confidante as well.
Bassist John Deacon wrote the song, and Queen's seemingly simple (but deceptively complex) recording made it a classic. But the song's video features the band performing the tune in a room softly lit by a multitude of flickering candles. The result is like having Queen play the track at your cozy romantic Valentine's Day dinner.
Kiss have actually recorded quite a few ballads in their long career. 1990's hit single "Forever" is a prime example: Written by Paul Stanley with pop/soul crooner Michael Bolton, the song has become one of the biggest wedding songs of the last several decades with its theme of undying love.
The video for the track isn't romantic in the most obvious sense. It simply features the members of Kiss performing the song in a room together. The clip is shot with interesting mood lighting and with muted colors that produce a romantic overall mood. It makes us wonder, did Gene Simmons and Shannon Tweed have this song played at their long-awaited wedding?
Paul McCartney & Wings, 'Silly Love Songs'
Paul McCartney is responsible for some of the greatest love songs of all time – so many, in fact, that his former Beatles band mate John Lennon slammed him in an interview, saying that all Macca ever wrote anymore were silly love songs.
McCartney responded by writing "Silly Love Songs," another in a long line of odes to his wife Linda. The couple's marriage was a literal 'til death do us part rock and roll love story, and the video for the tune features some very sweet scenes of the happy couple just goofing around. McCartney acting like a lovestruck kid just to try and get the missus to laugh qualifies it as one of the Most Romantic Rock Music Videos.
Rolling Stones, 'Wild Horses'
The members of the Rolling Stones have a longstanding penchant for marrying models, so it's no wonder the guys are inspired to write such great love songs. "Wild Horses" is a prime example of a track that shows the Stones' more sensitive side -- especially this live-in-the-studio acoustic rendition that shows just how good the band really are when you take away all of the flash of their arena shows.
The video might not be specifically romantic, but it conveys more pure emotion than a thousand videos of chicks writhing on the hoods of cars. Of course, if you woke up next to some of the women Mick Jagger has, you wouldn't want wild horses to drag you away, either.
The Honeydrippers, 'Sea of Love'
Who would have guessed that underneath Robert Plant's hyper-sexualized persona beat the heart of a soul crooner? The former Led Zeppelin front man surprised everyone with the 1984 release of a band called the Honeydrippers -- actually Plant and an all-star cast of friends that included Jimmy Page and Jeff Beck, among others.
The group's biggest hit was a faithful remake of the R&B classic "Sea of Love," whose video was a mini-epic travelogue of seaside romance and adventure to rival some grand adventure movie. We'd say that readily qualifies it as one of our Most Romantic Rock Music Videos.
Neil Young, 'Harvest Moon'
It turns out that Neil Young is really just a good old-fashioned romantic at heart. Best known for railing against politicians, corporations and  ... well, just about everything, Young also has a softer side that comes out in his music from time to time. "Harvest Moon" is a straight, no-frills country ballad that could have come from the pen of someone like Willie Nelson.
The song is perfectly understated, and accompanied by an equally simple video whose magic is in its no-frills depiction of love in the real world. This is a clip for everyone whose idea of a romantic night out is a few beers at some local joint with your lady love. Oh and while we're at it: Who knew Neil Young could dance?
George Harrison was somewhat of a late bloomer as a songwriter, but he made a number of important contributions to the Beatles. "Something" is widely considered not only one of the Beatles' greatest love songs, but also one of the greatest love songs ever written. Even Frank Sinatra covered the tune.
The video clip for the song shows the members of the Beatles just enjoying quiet, everyday time with their wives. It's a simple, yet romantic look at their real lives, and it just goes to show you the universal appeal of a video like this one – because in the end, iconic, culture-shifting rock stars just need someone to hold, too.
Rod Stewart, 'You're In My Heart'
No list of the Most Romantic Rock Music Videos would be complete without at least one entry from Rod Stewart. The shaggy-haired rocker is a renowned ladies man, and part of why women love him so much is his way with a ballad.
Stewart's 1978 hit "You're in My Heart (The Final Acclaim)" was reportedly written about a longtime female friend of his. The song's video clip was filmed in a fancy restaurant, and the candlelit setting certainly sets a romantic mood. It's like having the rocker serenade you tableside during Valentine's Day dinner. It evidently worked for Stewart – over and over again, if his autobiography is to be believed.
Joe Cocker, 'You Are So Beautiful'
There are plenty of elaborately staged videos that try to create some kind of soft-focus romantic mood, but sometimes simplicity is the best approach. Nowhere is that more apparent than with Joe Cocker's classic "You Are So Beautiful."
The song's sentiment couldn't be any more direct, using a straight melody, simple chords and a bare minimum of words to convey its message of love. The video is equally stark, and Cocker's not exactly anyone's idea of a Hollywood leading man, but his gritty vocal performance so effectively conveys the song's central theme that it doesn't matter. Hey, twitchy guys need love, too.
Rocking Valentine's Day Cards
More From Ultimate Classic Rock