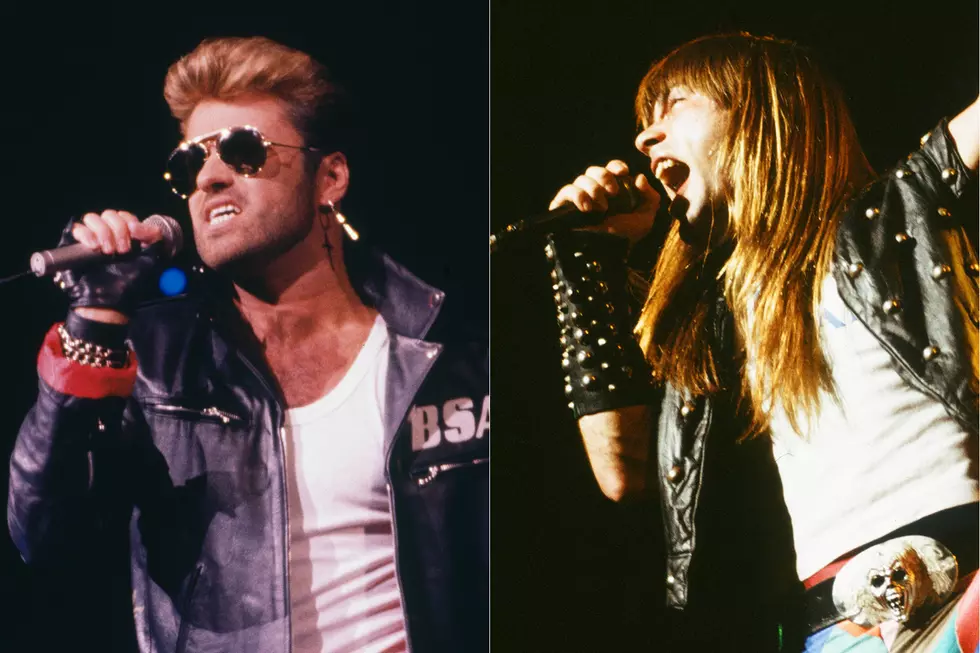 Classic Rock Bands Trailing Rock Hall Fan Vote With One Week Left
Michael Putland / Koh Hasabe, Getty Images
With one week to go before the Rock & Roll Hall of Fame public voting ends, it looks like the only classic rock bands that will be represented are Iron Maiden and Soundgarden.
They're in fourth and fifth positions, respectively, with George Michael, Cyndi Lauper and Warren Zevon all comfortably ahead – and the only ones to collect more than 500,000 votes – after 5.3 million nominations of up to five acts of their choice. Willie Nelson, Kate Bush, Joy Division and New Order, Sheryl Crow, the Spinners and Rage Against the Machine make up the Top 10, with nearly 750,000 votes splitting Michael's top placing with RATM's bottom position. The regularly updated figures are available on the Rock Hall website, with the most recent numbers outlined below.
Each voter is allowed to cast a vote every day until April 28. The top five artists will gain one extra vote added to the official votes cast by members of the Rock Hall, which includes musicians, business leaders and other industry professionals. While leading the fan vote carries no guarantee of induction, it's always worked out that way since the public poll was introduced.
Among the celebrity voters who've publicized their choices (via FutureRockBands.com) Howard Stern revealed he voted for Lauper, Soundgarden, Crow, Nelson and RATM. Fellow broadcaster Eddie Trunk went for almost the same selection, preferring Maiden to Lauper.
Speaking just as voting began, Rock Hall CEO Greg Harris celebrated the 14 wide-ranging nominations for 2023, saying, "It's just a great group. It underscores the diversity of what we think of as rock 'n' roll -- and really it's not just one sound, it's many sounds – it's an attitude and a spirit."
Rock & Roll Hall of Fame 2023 Fan Vote (As of April 21, 2023)
1. George Michael: 904,680
2. Cyndi Lauper: 823,376
3. Warren Zevon: 569,007
4. Iron Maiden: 401,791
5. Soundgarden: 379,118
6. Willie Nelson: 360,130
7. Kate Bush: 311,987
8. Joy Division / New Order: 301,765
9. Sheryl Crow: 299,990
10, The Spinners: 275,313
11. Rage Against the Machine: 249,871
12. The White Stripes: 182,975
13. Missy Elliott: 132,723
14. A Tribe Called Quest: 114,519
137 Artists Not in the Rock and Roll Hall of Fame
Many have shared their thoughts on possible induction.
More From Ultimate Classic Rock