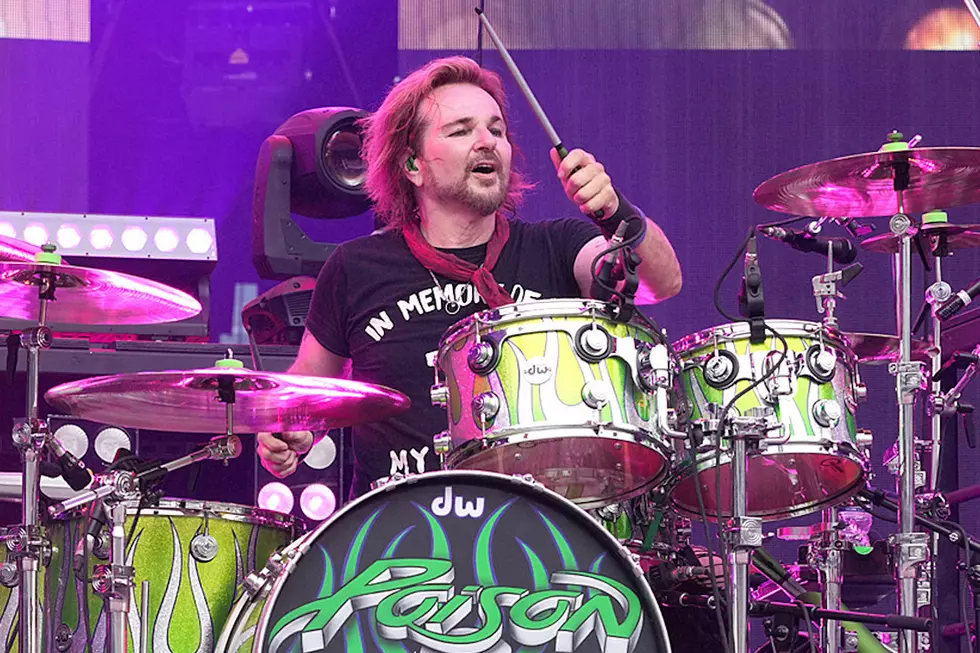 Rikki Rockett Decries 'Incredibly Homophobic' Rock Culture
Kevin Mazur, Getty Images
Rikki Rockett has expressed exasperation for what he perceives as widespread homophobia within the rock industry. The Poison drummer was a guest on the Totally '80s podcast and fondly remembered the era's gender-bending trends.
"What we were doing was a social, cultural movement," Rockett recalled. "It really set America and the world on fire in a lot of ways.
"What's crazy is that even though so many people in our era wore makeup back then – the older I get, the more I need it – it's amazing how many rock people are homophobic," the drummer noted. "It's an incredibly homophobic genre. It's very weird."
READ MORE: Top 30 Glam Metal Albums 
Rockett further suggested that homophobia has led to rock's declining popularity with modern music listeners. "It's part of why rock's struggling right now," he declared, adding that "there is a contradiction" between some rock stars' conservative viewpoints and the genre's boundary-stretching past.
Rock Stars Who've Been Accused of Homophobia
Over the years, several notable classic rock stars have been accused of making homophobic remarks. Ted Nugent's career has been littered with such occurrences, including an infamous 1978 radio appearance, for which he was later punched by Patti Smith. More recently, the Motor City Madman had a 2023 concert canceled after online protesters labeled him "homophobic, transphobic and misogynistic."
Alice Cooper - a star known for pushing boundaries - came under fire in August when he referred to gender-affirming care as a "fad." Likewise, Kiss' Paul Stanley and Twisted Sister's Dee Snider – two rockers who have been known to wear plenty of makeup and flashy outfits – outraged fans with similar viewpoints. Even though those instances would seemingly back Rockett's assessment of the rock world, the Poison drummer's interview reportedly took place before any of those occurrences.
Poison's Famous 'Look What the Cat Dragged In' Pictures
One of the most memorable examples of '80s androgyny was the cover of Poison's 1986 debut album, Look What the Cat Dragged In. All four members of the band – Bret Michaels, C.C. Deville, Bobby Dall and Rockett – were shown on the cover, layered in makeup and hair products.
READ MORE: How Poison's 'Look What the Cat Dragged In' Helped Define Hair Metal
"We looked like porcelain dolls," Rockett admitted, noting that it was Tommy Lee's sister Athena who handled the makeup for the shoot. The Poison drummer further recalled that Deville had a "horrible breakout" that day, which required more and more layers to hide.
Afterward, the band's label hired an airbrush artist. "Now, at the time, there was no Photoshop; they literally airbrushed it," he recalled. "So, if you airbrush one guy, you've got to airbrush all the guys, or it won't work together." Although Rockett admitted the cover was not exactly what the band wanted, they recognized the image's galvanizing effect.
"We just rolled with it. We're like, 'Wow, this is so impactful.'"
Top 100 '80s Rock Albums
UCR takes a chronological look at the 100 best rock albums of the '80s.
More From Ultimate Classic Rock