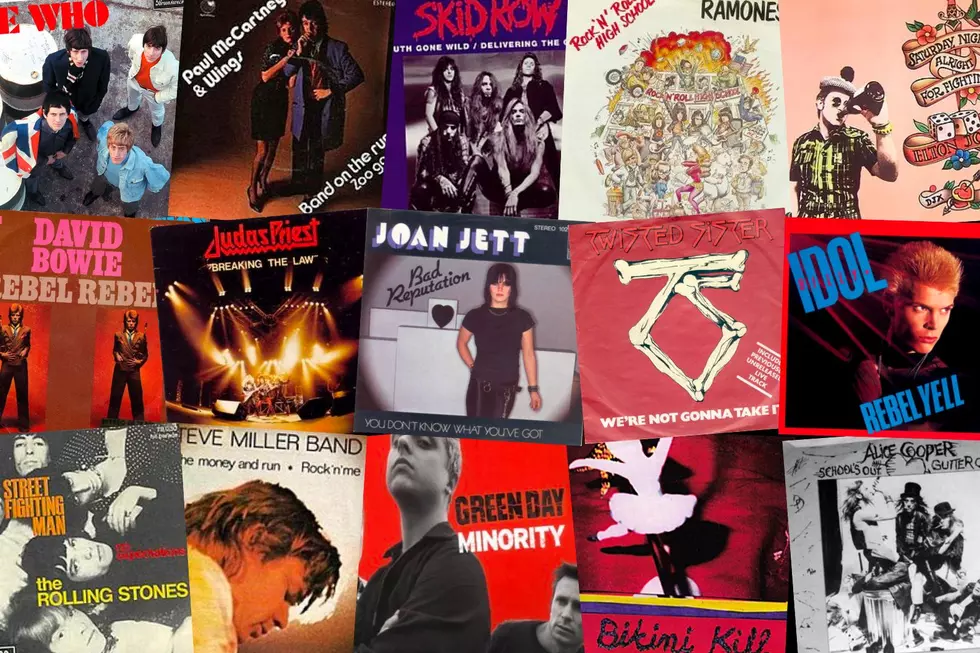 UCR
For as long as it has existed, people have attempted to define rock 'n' roll.
"I don't think anyone can really explain rock 'n' roll,'" says the character Jeff Bebe in Almost Famous. "Maybe Pete Townshend, but that's okay. Rock 'n' roll is a lifestyle and a way of thinking and it's not about money and popularity – although some money would be nice. But it's a voice that says, 'Here I am — and fuck you if you can't understand me.'"
Townshend, as it happens, also can't really explain it. He attempted to in 2019. "Rock 'n' roll was a celebration of congregation," he told The New York Times Magazine. "A celebration of irresponsibility."
"Irresponsible" is one word to have been associated with rock over the years. So is "rebel," both a noun and a verb. Much of rock 'n' roll, as a genre, has been based around the idea of going against the grain, standing out from the crowd and just plain doing things a different way.
Sometimes, it results in protest songs, written and often performed for the purpose of taking a stand against injustice or fighting for the side of the oppressed. Other times, though, the sentiment is more general. We're taking a look at the Top 30 Rebel Songs, written about rule-breaking and the overall joy of dissidence.
30. Steve Miller Band, "Take the Money and Run"
From: Fly Like an Eagle (1976)
Steve Miller's Bonnie and Clyde-style saga details the dirty deeds of Billy Joe and Bobbie Sue, two young lovers who get fed up with watching TV and getting high all day and decide to spice up their lives with a little armed robbery and capital murder. Their exploits land them on the radar of Billy Mack, a woefully inept detective who swears he won't let them escape justice and then proceeds to do exactly that. With its iconic drum intro, infectious "hoo-hoo!" chants and one of the greatest rhymes in rock history ("facts is" / "taxes"), "Take the Money and Run" has all the ingredients of a road-trip staple. It might have worked as a cautionary tale about the dangers of having too much free time, if only it didn't make breaking bad sound so damn fun. (Bryan Rolli)
29. Judas Priest, "You've Got Another Thing Comin'"
From: Screaming for Vengeance (1982)
Judas Priest has only had one song land on the Billboard Hot 100, and this is it. Regardless of chart status, however, "You've Got Another Thing Comin'" would have probably become a set list staple – because the song echoes and amplifies a tenacious attitude that the band shares with its fans, according to Rob Halford. "We've always had our personal way of dealing with issues that are sent to challenge us," he told Songfacts in 2020. "It's also wrapped up in the heavy metal community culture of the way we support each other with our metal. It's very much a song of hope and rising above the issues or difficulties that come your way. It's a song of resilience, as well." (Allison Rapp)
28. Green Day, "Minority"
From: Warning (2000)
Green Day dipped their toes into the waters of rebellion on "Minority," the lead single from Warning, some four years before they became the patron saints of widescreen political punk with American Idiot. The Berkley pop-punk revivalists expanded their palette on this jangly folk-punk number, employing acoustic guitars and harmonica that sound more akin to Bob Dylan and the Kinks than Buzzcocks and Operation Ivy. Singer Billie Joe Armstrong bristles against the "moral majority" and "pledge[s] allegiance to the underworld, one nation under dog," proof that his developing social conscience didn't preclude a juvenile sense of humor. (Rolli)
27. Bikini Kill, "Rebel Girl"
From: Yeah Yeah Yeah Yeah (1993)
Bikini Kill were rebels themselves, as pioneers of the riot grrrl movement in the '90s. Their anthem back then was "Rebel Girl," a rowdy ode to female liberation and unbridled passion that turned heteronormative tropes upside down. This was one of the first songs Bikini Kill wrote, and it's credited to all four members of the band — one for all, all for one. "The power of 'Rebel Girl' is that it's about being a feminist pirate, being an adventurer," singer Kathleen Hanna told Uncut in 2022. "It's not about standing at the back and not participating. It's about loving and defending your friends and the confusion between friendship and sexuality." (Rapp)
26. Grateful Dead, "Friend of the Devil"
From: American Beauty (1970)
Rebels love the road. Grateful Dead's "Friend of the Devil" describes the life of an outlaw with no home in sight, wives in multiple places and a sheriff hot on his trail. (The lyrics were written by the Dead's longtime collaborator, Robert Hunter.) When "Friend of the Devil" debuted on American Beauty in 1970, it was an instant hit with fans and, like many Grateful Dead songs, took on various forms when played live – from an up-tempo, bluegrass number, to a slower, piano-centric requiem. In the end, we don't know if the outlaw in "Friend of the Devil" outruns his troubles, but it might not matter anyway: "A friend of the Devil is a friend of mine." (Rapp)
25. T. Rex, "Children of the Revolution"
From: 1972 Single
Marc Bolan was the master of rebellious swagger, something which is present in ample amounts in T. Rex's "Children of the Revolution." Check the choice lyric, "I drive a Rolls-Royce, 'cause it's good for my voice." Five stars. Recorded during the sessions for The Slider, "Children of the Revolution" clocks in at a tight and majestically glam-filled two-and-a-half minutes. But a longer rehearsal take stretches out well past the 12-minute mark and shows the excess T. Rex started with. Even though it was only a one-off single, this song found plenty of fans who grew up to make records. "Children of the Revolution" has been covered by several acts over the years, including Violent Femmes and U2's Bono – whose Moulin Rouge soundtrack version demonstrated how much love he had for Bolan. (Matt Wardlaw)
24. Ramones, "Rock 'n' Roll High School"
From: 1979 Single
One of the great Ramones war stories involves the last call at a local bar in Norfolk, Va. As Joey Ramone received the word from the cranky bartender that it was almost lights out, he returned fire, ordering 40 Budweisers. So rebellious songs like "Rock 'n' Roll High School" didn't come out of thin air. The Ramones lived it. Originally penned for the movie of the same name, "Rock 'n' Roll High School" quickly lays out how they felt about the curriculum, expressing an immediate disdain for history. As for the staff? That's a big shrug too. "I hate the teachers and the principal / Don't wanna be taught to be no fool." Luckily for the Ramones, they didn't have to rely on whatever it was they learned in school. Rock 'n' roll took care of everything. (Wardlaw)
23. Tom Petty and the Heartbreakers, "Rebels"
From: Southern Accents (1985)
There is more to Tom Petty's "Rebels" than meets the eye. As emphasized in the 2005 book Conversations With Tom Petty, he did not write this to serve as any sort of anthem for the South and its checkered history. Instead, it was simply meant to introduce a character whose roots are not doing him any favors at all. "It's a story song, about a guy being arrested for being drunk and disorderly," Petty explained, "and his frustration at basically what a screw-up he is – and he's trying to blame it on his heritage. And it's not really working." Petty hung a Confederate flag on stage when he took "Rebels" on tour in the mid-'80s, but said that was meant to represent the character in the song – not his views. Petty soon realized that it was leading fans to bring Confederate-themed banners to shows. Petty took down the flag and asked fans to stop bringing their own. "This is not who we are," he told Rolling Stone. (Rapp)
22. Skid Row, "Youth Gone Wild"
From: Skid Row (1989)
Toms River, N.J. has been ranked in multiple surveys as one of the safest cities in the U.S., but that didn't stop hometown heroes Skid Row from fronting like they were outrunning the strong arm of the law. "Youth Gone Wild," the lead single off their self-titled debut album, established Skid Row's reputation as pretty bad boys with an ax to grind. The stakes are relatively low — misfit kids, a burned-out town, a preachy boss with a "three-piece Wall Street smile" — but Skid Row milks them for all they're worth with monstrous riffs, squealing solos and stadium-ready gang vocals. With his soaring, multi-octave screams, Sebastian Bach sounds ready to marshal troops into war, even if he was probably more concerned with shoplifting from the local Sam Goody. (Rolli)
21. Ramones, "Sheena Is a Punk Rocker"
From: Rocket to Russia (1977)
The Ramones scored their first hit on the Billboard Hot 100 with "Sheena Is a Punk Rocker," setting off a career that few can rival in terms of unbridled rebellion. "To me 'Sheena' was the first surf punk-rock teenage rebellion song," the late Joey Ramone later argued. "I combined Sheena, Queen of the Jungle with the primalness of punk rock. Then Sheena is brought into the modern day. … It was funny because all the girls in New York seemed to change their name to Sheena after that. Everybody was a Sheena." (Corey Irwin)
20. Billy Idol, "Rebel Yell"
From: Rebel Yell (1983)
An entire generation of rock fans will gleefully chant "more, more, more," using Billy Idol's "Rebel Yell" as their battle cry. Lyrically, the song has more to do with sex than rebellion. So where'd the name come from? "I was hanging out with Ronnie Wood of the [Rolling] Stones, and he had a party," Idol said on Storytellers "It was Mick Jagger's birthday, and he had a party for Mick Jagger. Keith Richards was there, and they were standing in a line just in front of me. They were drinking this bottle of something, and as they were drinking it, I was trying to follow it up to see what it was called." The brand of whiskey the Stones were swigging was called Rebel Yell, and the phrase stuck with Idol. (Irwin)
19. Bob Dylan, "Maggie's Farm"
From: Bringing It All Back Home (1965)
For most of his career, Bob Dylan has not played by the rules, consistently reshaping his sound and hardly ever bending to the wishes of his fans, record label or any others. "I ain't gonna work on Maggie's Farm no more," he defiantly declares at the top of this song. It wasn't an unreasonable statement, given that he's being made to scrub the floor and has cigars being put out in his face. "I try my best to be just like I am," he laments, "but everybody wants you to be just like them." Dylan recorded "Maggie's Farm" in one take, then included it on his half-electrified Bringing It All Back Home album. Along the way, he offers a litany of absurdities, but the main message is entirely clear: Think for yourself. (Rapp)
18. Guns N' Roses, "Out ta Get Me"
From: Appetite for Destruction (1987)
Before they became the biggest band in the world, Guns N' Roses were a gang of five against the world, and their debut album crackled with anti-authoritarian rage. Nowhere is that rage more evident than in "Out ta Get Me," which is full of firecracker riffs and Axl Rose's scathing disavowals of the people who tried to keep him down. His introduction to the song at the group's legendary 1988 Ritz gig is notable for both its bluster and its paranoia. "We wanna dedicate this song to the people that try to hold you back, the people that tell you how to live, people that tell you how to dress, people that tell you how to talk, people that tell you what you can say and what you can't say," Rose seethed. "I don't need that shit in my life. Those are the kind of people that have been getting me down. They make me feel like somebody out there is out ta get me!" (Rolli)
17. Bruce Springsteen, "Growin' Up"
From: Greetings From Asbury Park, N.J. (1973)
The narrator of Bruce Springsteen's "Growin' Up" is like a bratty child who antagonizes just to see how far he can push someone: "When they said sit down, I stood up," "when they said come down, I threw up," "when they said pull down, I pulled up." This isn't rebellion; this is just being a dick. Springsteen has often framed the song in concert with a lengthy narrative about his teen years in New Jersey and how his music dreams were often a source of conflict between himself and his dad. "Growin' Up" is a key early song in Springsteen's development as a writer, though he'd soon trade empty rebellion for bigger goals. (Michael Gallucci)
16. Crosby, Stills, Nash & Young, "Almost Cut My Hair"
From: Deja Vu (1970)
David Crosby was not necessarily the first person to talk about letting his freak flag fly. (Jimi Hendrix did so, for example, in his 1967 song "If 6 Was 9.") Still, Crosby's "Almost Cut My Hair" represented a sense of independence and non-conformity that a wide population of young Americans identified in the late '60s and early '70s. From the moment the Beatles debuted their mop tops to the world at the beginning of the '60s, having long hair was an instant symbol of resistance to the establishment for men of a certain age. "It was the most juvenile set of lyrics I've ever written," Crosby would later admit, "but it has a certain emotional impact, there's no question about that." (Rapp)
15. John Mellencamp, "Authority Song"
From: Uh-Huh (1983)
John Mellencamp's relationship with authority and the powers that be is long and complicated. "Authority Song" appeared on the first LP credited to his real surname instead of simply "John Cougar," the moniker that had been thrust upon him. "I did what I had to do. I did what people told me," Mellencamp explained to the Chicago Sun-Times in 2010. "There was no way those folk songs were ever going to get anywhere unless I had hit records." In time, he grew brave enough to follow the message found inside this modern update of "I Fought the Law": There is a might in standing up for oneself, even if you don't always succeed. (Rapp)
14. Twisted Sister, "We're Not Gonna Take It"
From: Stay Hungry (1984)
Twisted Sister's timeless anthem about fighting back against authority was vague regarding who the antagonist is, but that was a purposeful move by Dee Snider to make "We're Not Gonna Take It" all-encompassing. "Whether I was singing about my parents, my teachers, my bosses, my peers, people around me, I felt it was important not to define it by actually naming names and singing, 'Dad, you're so trite and jaded, I hate my teachers, too,'" Snider later told Songfacts. "And thus, the song has had a life in sporting events, at political rallies, at protests, pretty much anybody who's not taking something from somebody else, they're going to break into 'We're Not Gonna Take It' all over the world." (Irwin)
13. Elton John, "Saturday Night's Alright for Fighting"
From: Goodbye Yellow Brick Road (1973)
Elton John's "Saturday Night's Alright for Fighting" certainly makes a great soundtrack for those heading out to raise a bit of a ruckus. Lyrically, the track was an ode to collaborator Bernie Taupin's earlier days at the pub, and it crackles with that weekend energy. The music was reportedly laid down in a single take, which John's guitarist Davey Johnstone said was hardly unusual. "I've seen him write songs in the time that it's taken me to make a chicken sandwich," Johnstone once marveled, adding that John and the band could easily complete the resulting track in another 15 minutes. That goes a long way toward explaining how realistic the rowdy vibes of "Saturday Night's Alright for Fighting" sound in its finished form. (Wardlaw)
12. The Who, "Won't Get Fooled Again"
From: Who's Next (1971)
There's a lot of depth within "Won't Get Fooled Again," though that's hardly surprising with a Pete Townshend composition. In its simplest form, he once said the song was inspired by "the power of music and congregation." Townshend spent countless hours putting together the first demo, which found him digging deep into a new-found curiosity regarding synthesizers, which were still quite new at the time. "Won't Get Fooled Again" was then slated to become part of Townshend's scuttled Lifehouse rock opera, which followed the central character Bobby as he faced off against an oppressive government using music as its weapon. "Won't Get Fooled Again" instead eventually emerged as the closing track on Who's Next and one can argue that Bobby's rebellious spirit was ultimately preserved – captured perfectly in the sound of Roger Daltrey's closing scream. (Wardlaw)
11. David Bowie, "Changes"
From: Hunky Dory (1971)
David Bowie set a career course with another flop single, and the first verse of "Changes" made it clear that he was starting to feel beat up in the process. Then he bravely charged into a second verse that revels in youthful individuality. He wasn't giving up, and he wasn't giving in. It just took time for the world to catch up. The Rise and Fall of Ziggy Stardust and the Spiders from Mars hit a few months later, and "Changes" was eventually given proper due, peaking just outside the Top 40 in 1975 – then becoming a deeply representative radio staple. Just weeks after that, Young Americans found Bowie digging into R&B before introducing an entirely new persona, the Thin White Duke. Changes, indeed. (Nick DeRiso)
10. Joan Jett, "Bad Reputation"
From: Joan Jett (1980)
Some rebel songs offer quiet disobedience, while others kick down the door, spit in your face and throw up two middle fingers. Joan Jett's "Bad Reputation" is the latter. The tune was inspired by the former Runaways star's wild past, which initially made it difficult to land a record deal when she decided to go solo. "I always wore it as a badge of honor," Jett told Rolling Stone in 2022, "because what people were saying to me was I had a bad reputation because I played an electric guitar and I had black hair and a leather jacket, and maybe I swore. ... So I turned around the meaning of it, and I'm proud of my bad reputation." (Irwin)
9. Paul McCartney & Wings, "Band on the Run"
From: Band on the Run (1973)
George Harrison muttered something that stuck with Paul McCartney during one of the Beatles' interminable late-period business meetings: "If we ever get out of here." McCartney returned to the quip when trying to piece his successor band Wings back together after its lineup imploded. After all this time, he was still grasping for solo success. So the phrase fit perfectly as McCartney weaved a desire to break free of the Beatles into an outsider mythology. This sense of destiny unfulfilled pushed McCartney to new creative places – and he took advantage of every tool in his pop-music shed, skillfully combining three song fragments into a mini-symphony about searching and possibility. (DeRiso)
8. Judas Priest, "Breaking the Law"
From: British Steel (1980)
Judas Priest had spent nearly a decade paying their dues before shooting to global stardom with British Steel, and they were still in touch enough with their roots to channel the working-class disenfranchisement of their native England on "Breaking the Law." "I tried to put myself in the mind of a jobless young bloke at his wits' end," Rob Halford wrote in his 2020 memoir Confess. It's a tale as old as time, set to the tune of wrecking-ball riffs and an urgent, punk-metal beat. When Halford wails, "You don't know what it's liiiiike!" he's drawing a line in the sand, separating the privileged and the clueless from the listeners who know his anguish all too well. (Rolli)
7. Alice Cooper, "School's Out"
From: School's Out (1972)
Alice Cooper's 1972 summertime anthem comes with little of the baggage of Pink Floyd's "Another Brick in the Wall Part 2," another song about how much school sucks. The latter hit points to the education system as having a scarring effect on The Wall's protagonist, leading to a lifetime of social and personal problems. Cooper's Top 10 hit "School's Out," on the other hand, is more about celebrating the start of three months without pencils, books and glaring teachers. Sure, the school gets "blown to pieces" at one point, but it's all in good fun (and probably metaphorical). And is there a more casually rebellious line in all of rock 'n' roll than "We can't even think of a word that rhymes"? (Gallucci)
6. The Bobby Fuller Four, "I Fought the Law"
From: 1964 Single
It's not clear what the narrator of "I Fought the Law" specifically did to receive the back-spraining punishment of "breakin' rocks in the hot sun," but it probably had something to do with "robbin' people with a six-gun." Someone was presumably hurt, if those drum hits doubling as bullet shots are any indication. Either way, "I Fought the Law" – penned by Sonny Curtis, an original member of Buddy Holly's Crickets, and made famous by Bobby Fuller, who died under mysterious circumstances not long after his band's biggest hit – is a classic tale of a law-breaking rebel doing time for his crime. More than a dozen years later, the Clash resurrected the song as a punk anthem. (Gallucci)
5. Pink Floyd, "Another Brick in the Wall, Part 2"
From: The Wall (1979)
"Another Brick in the Wall, Part 2," one of three cornerstone songs sharing that title on Pink Floyd's epic 1979 concept LP, comes at a pivotal point in the young protagonist's life. He'd later be chewed up and spit out by duplicitous record companies, misunderstanding fans and smothering loved ones, but it's here where many childhood traumas shaped his troubled adult life. "We don't need no education," school kids chime in unison before zeroing in on their real point: "We don't need no thought control." Somehow this slice of anti-authoritarian rebellion resulted in Pink Floyd's only No. 1 single. (Gallucci)
4. The Rolling Stones, "Street Fighting Man"
From: Beggars Banquet (1968)
"Street Fighting Man" was always going to have an aggressive tone, even if its subject matter changed with the times. Any song titled "Did Everyone Pay Their Dues" isn't set up as a romantic ballad. They'd already constructed the music when Mick Jagger became engrossed in the turbulent protests erupting worldwide in 1968, including a march on the American embassy in London and student rioters in Paris. A harder-edged rewrite brought in images of revolution, uprising and palace coups. Jagger ends up shrugging it all off – "what can a poor boy do, except to sing for a rock 'n' roll band?" – but U.S. radio stations banned it anyway. "Street Fighting Man" would become the Stones' lowest-charting single since their debut. (DeRiso)
3. Sex Pistols, "Anarchy in the U.K."
From: Never Mind the Bollocks, Here's the Sex Pistols (1977)
The released version ended up suturing take three with take five, as "Anarchy in the U.K." was overseen by a trio of producers. Sex Pistols' soundman Dave Goodman kept telling them to play faster and faster and faster until everything began to break apart. Bill Price did some work, then Chris Thomas ultimately saved the song – by, yes, slowing it down. All three ultimately got the credit. Now they had to find Johnny Rotten to do the vocals. "You can't play. You've been in there for weeks," co-writer Glen Matlock later remembered Rotten saying. "And we said, 'No, we've done it!'" It really was anarchy. (DeRiso)
2. David Bowie, "Rebel Rebel"
From: Diamond Dogs (1974)
Given his refusal to abide by society's cultural norms, there's no doubt David Bowie would be considered a rebel. It's an ingredient he tapped into for this 1974 glam rock classic. With its distinctive vocals and unmistakable guitar riff, "Rebel Rebel" was a commercial and critical success, reaching No. 5 in the U.K. It somehow stalled at No. 64 in America. No matter. In the decades that followed, "Rebel Rebel" has been regularly ranked among the greatest songs of Bowie's career. (Irwin)
1. The Who, "My Generation"
From: My Generation (1965)
Is there a better, more sharply pointed song about sticking it to the old squares than the Who's 1965 classic "My Generation"? "People try to put us down," Roger Daltrey stutters at the onset, before spitting out the song's eternally quotable line with barely disguised scorn: "I hope I die before I get old." It's rebellion from a young person's perspective, with no specific purpose in mind. Writer Pete Townshend, getting older but still alive, has changed his position on the issue over the years, but "My Generation" remains a foundational rock 'n' roll anthem – proto-punk and youth-defining in its directness – generations after it was released. (Gallucci)
Rock's 100 Most Underrated Albums
You know that LP that it seems like only you love? Let's talk about those.
Why the Who Hated One of Their Albums
More From Ultimate Classic Rock