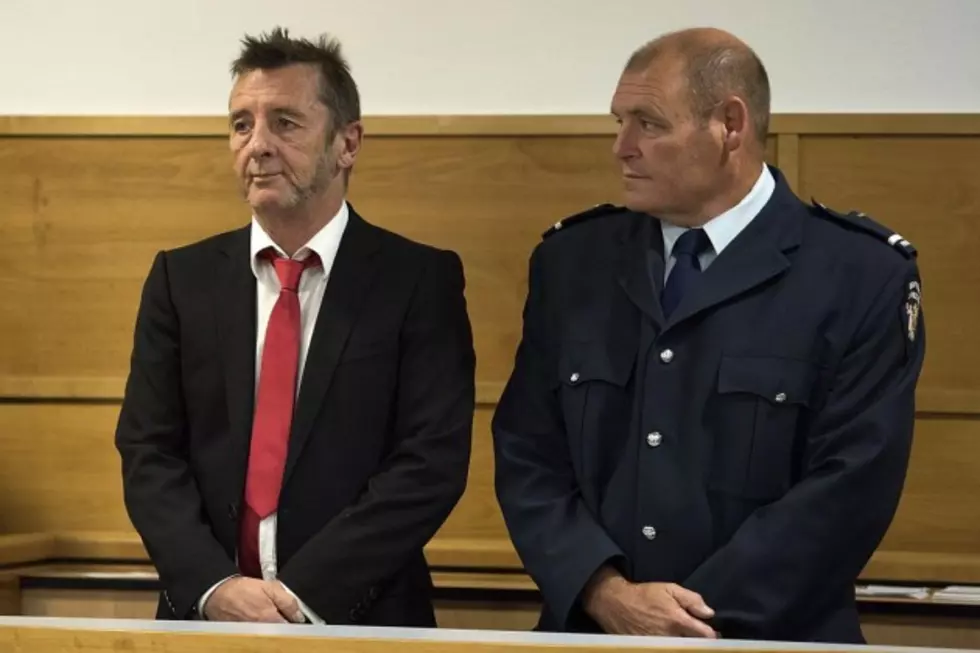 Marty Melville, Getty Images
Rudd had been hoping for a discharge without conviction, with his lawyer Craig Tuck arguing that his client was basically only guilty of making an angry phone call to an employee following the commercial failure of his 2014 debut solo album Head Job.
"That resulted in police getting a search warrant for, believe it or not, possession of cannabis own use and possession of a cellphone," Tuck told Sun Media. "They turned up at his home – nine police officers, a dog and the media. Police charged him with attempting to procure murder, which was immediately dropped."
However, an investigation revealed that Rudd reportedly called an associate and offered "200,000, a motorbike, one of his cars or his house" for that associate to murder the employee in question. Rudd reportedly later made his own threatening calls to the same employee. He initially denied the accusations, and as noted above, the attempting to procure murder charge was almost immediately dropped.
But in April of 2015 Rudd plead guilty to the drug possession and threatening to kill charges. He received his sentence in July of 2015. In denying the appeal today, Justice Raynor Asher dismissed Rudd's contention that the sentence was causing the musician an undue financial penalty by keeping him off the road with AC/DC.
"First, the band would have to want him to play with them," Asher noted, alluding to the band's 2014 declaration that Rudd's participation would not affect their tour plans. "Second, the convictions would have to operate as a barrier to him traveling with them on tour. Neither are certain. It is far from clear that, at the time when the offending took place, there was any place in the band available to Mr. Rudd, given his drug addiction and state of mind."
AC/DC Albums: Ranked Worst to Best
This Day in Rock History: October 5
More From Ultimate Classic Rock