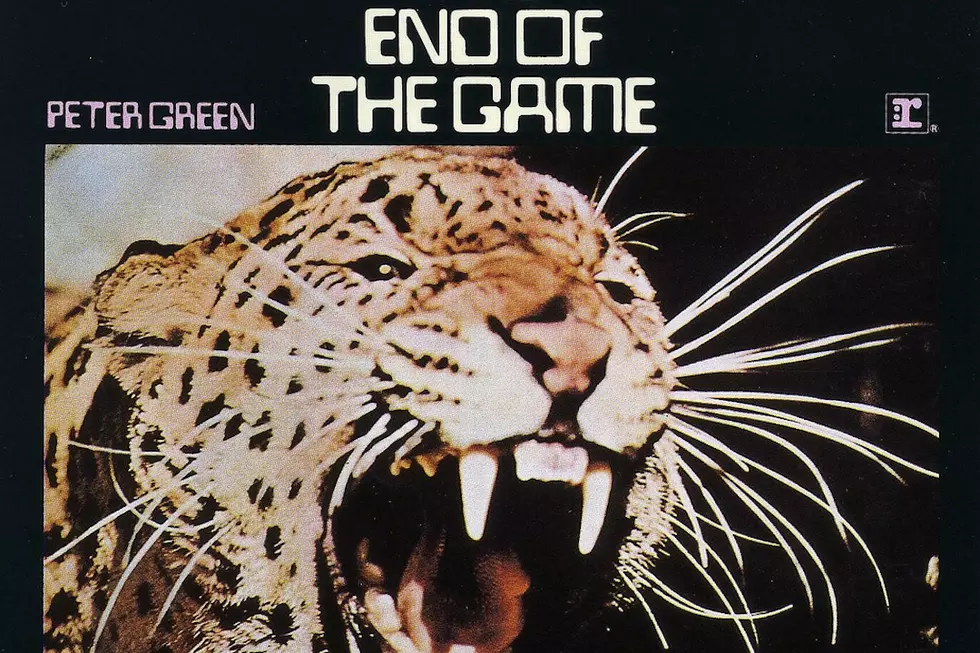 When Peter Green Exited Fleetwood Mac With His Debut Solo LP
Reprise
The legend of Peter Green looms large, not just within tales of Fleetwood Mac but in rock and roll in general. First, it was because of his outsized talent, then because of the way he left the band he co-founded in 1970 amid a haze of drugs, religion and mental instability.
There remains much mystery and confusion surrounding this time, which preceded the release of Green's solo debut The End of the Game in December 1970. A dreamlike period produced a decidedly dreamlike album.
The roots of his exit from Fleetwood Mac, Green has said, could be found in an innocent enough setting – at a party. "I took some mescaline, only a small amount," Green told Guitar Player in 1994. "I had a vision, a definite vision, of an angel. She was sitting right there in the chair in front of me. She was glowing. And then a child, one of the starving children in Biafra, appeared in her arms. And the message was that I should help. I gave 12,000 pounds [roughly $112,000 in 2015 dollars, when accounting for inflation] to the charity. I wanted the band to give our royalties to this charity."
He said the other members of Fleetwood Mac agreed to go along, save for fellow co-founder (and namesake drummer) Mick Fleetwood, and that created a rift. Legend tells us that drugs played a major role in Green's departure and subsequent health issues, as well.
Now a solo act, Green elected to continue a path he'd recently begun with Fleetwood Mac that took him away from strictly blues-based material. Final recordings with the band, including the singles "Oh Well" and "The Green Manalishi," found Green expanding musically, sonically and lyrically. The End of the Game took things several steps further, however, as Peter Green threw all convention to the wind.
Listen to Peter Green Perform 'End of the Game'
Green essentially did away with song structure and, for that matter, songs. In their place is an album of sonic experimentation. Improvisational instrumentals veer from avant garde to ambient wonder, only occasionally settling into a faint blues bedding. Highlights include the nine minute-plus opener "Bottoms Up," which creeps in slowly with a jazz-based rhythm section holding things together while Green is free to roam. Despite his fragile mental state and any difficulties with drugs, Green is able to summon some of his best guitar work here.
Rather than explicitly recalling Fleetwood Mac, however, the free-form nature of The End of the Game had more in common with the expansive improvisational style of German bands of the era like Can and Ash Ra Tempel. In fact, these songs were all born out of an open-ended jam session and assembled as individual pieces after the fact.
Green was joined by bassist Alex Dmochowski, drummer Godfrey Maclean, keyboardist Nick Buck and U.K. blues legend Zoot Money on piano. Together, they take fans on an intriguing journey from the brief, yet hypnotic "Timeless Time," to the spine shivering title cut.
Sadly, that was almost all we would hear from Green in the decade to come. He followed this album's release with two singles, released in 1971 and '72, but Green's solo career was then put on hold because of his faltering mental state. He was committed to a psychiatric hospital after a series of incidents, one of which found him pulling a gun on his accountant.
Green's next album, In the Skies, wouldn't surface until 1979.
Fleetwood Mac Solo Albums Ranked
There have been more than 40 of these outside projects, which deepen and add to the band's legacy.
Stevie Nicks Talks About Life After Music
More From Ultimate Classic Rock