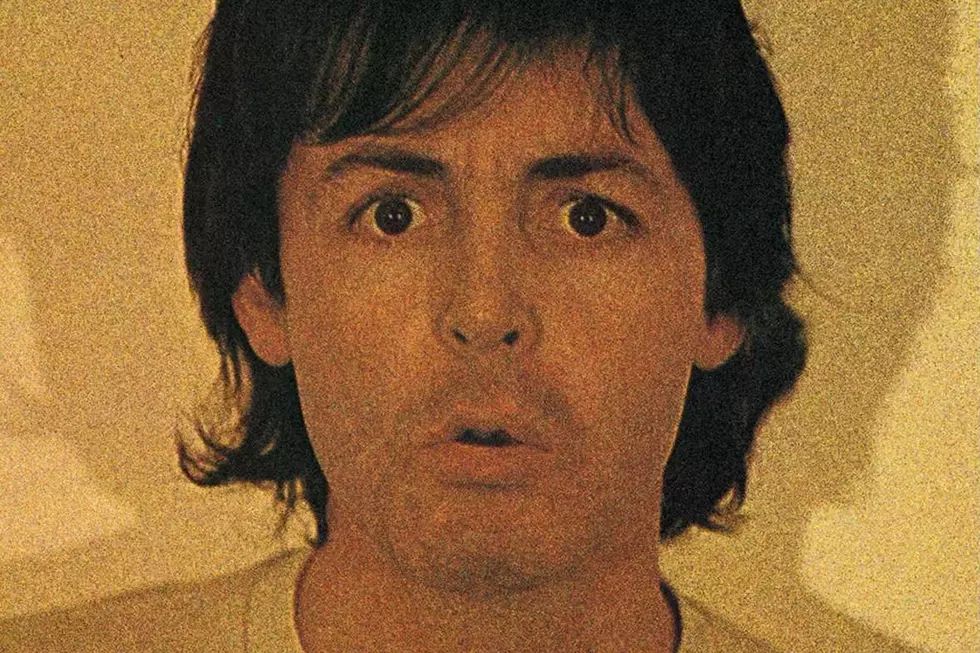 When Paul McCartney Went It Alone Again on 'McCartney II'
Parlophone / Columbia
For two months in the summer of 1979, shortly after Wings' seventh and final album Back to the Egg was released, McCartney retreated to his farm in Scotland and began working on some songs all by himself. Just like he did on his debut solo album, 1970's McCartney.
And like that nearly decade-old LP, which effectively ended the Beatles, the new album would be released under a simple, stripped-down title – McCartney II – and include tracks written, performed, recorded and produced by McCartney. And, also like McCartney but very much unlike most of his work with Wings, the record was more experimental than commercial, a playful and occasionally complicated piece that didn't even yield a hit, a rarity for McCartney in the '70s.
There was a single released from McCartney II, "Coming Up," which was slowly climbing the charts when disc jockeys turned over the record and started playing a live version recorded by Wings in Glasgow in December 1979. That take eventually reached No. 1, the last Wings song to hit that position in the U.S.
But McCartney II, even coming from an artist with one of the most bulletproof track records of the 20th century, wasn't an easy sell. The last two Wings albums – 1978's London Town, which stalled at No. 2, and Back to the Egg, which didn't make it past No. 6 – broke a five-LP No. 1 streak. And those records at least sounded somewhat commercial. McCartney II didn't.
Listen to Paul McCartney's 'Coming Up'
But that may not have been McCartney's original intention. During his summer 1979 recording spree in Scotland, he laid down 20 songs and then promptly shelved them. (One of the songs he recorded, "Wonderful Christmastime," was released in November, with a leftover 1975 Wings song, "Rudolph the Red-Nosed Reggae," on the flip.) Then he went on a U.K. tour with Wings, with plans to play Japan for the first time since the Beatles performed there in 1966.
For years, McCartney's visa was refused in Japan because of his arrests for possession of marijuana. On Jan. 16, 1980, before he even got settled, McCartney was arrested in Tokyo for – wait for it – possession of marijuana. He spent nine days in jail and canceled the tour. With time now on his hands, he revisited the songs he recorded the previous summer and decided to release them as his second solo album, McCartney II.
And he pretty much left those sparse recordings – mostly just McCartney and some synths, and not much else – as they were. Many of the songs, just as they did on his first solo outing in 1970, sound like sketches for more filled-out pieces to come later. Simple, repetitive synth riffs form the basis of many of the tracks, with double-tracked, sped-up or otherwise altered vocals laid on top. The few cuts that managed to stand out – "Coming Up," "Temporary Secretary," "Waterfalls" – still fell short of the pop expectations McCartney had set more than 15 years earlier with the Beatles.
As a weird, and occasionally wooly, work that defies those expectations and flaunts McCartney's experimental side (it was his idea for the Beatles to use the studio as a playground in the first place), McCartney II glides along a New Wave course that would have fit squarely into that genre had the artist not been Paul McCartney.
The album reached No. 3, most likely propelled somewhat by buyers hoping to get the live version of "Coming Up" that was currently atop the charts. Once they got into its minimalist groove, McCartney II provided an often-fascinating peek into the workings of one of the era's most successful artists. But that's not why the record stands as a significant part of Paul McCartney's post-Fab history. Instead, McCartney II is important for launching his third career arc as a solo artist, with no band attached.
Paul McCartney Albums Ranked
More From Ultimate Classic Rock