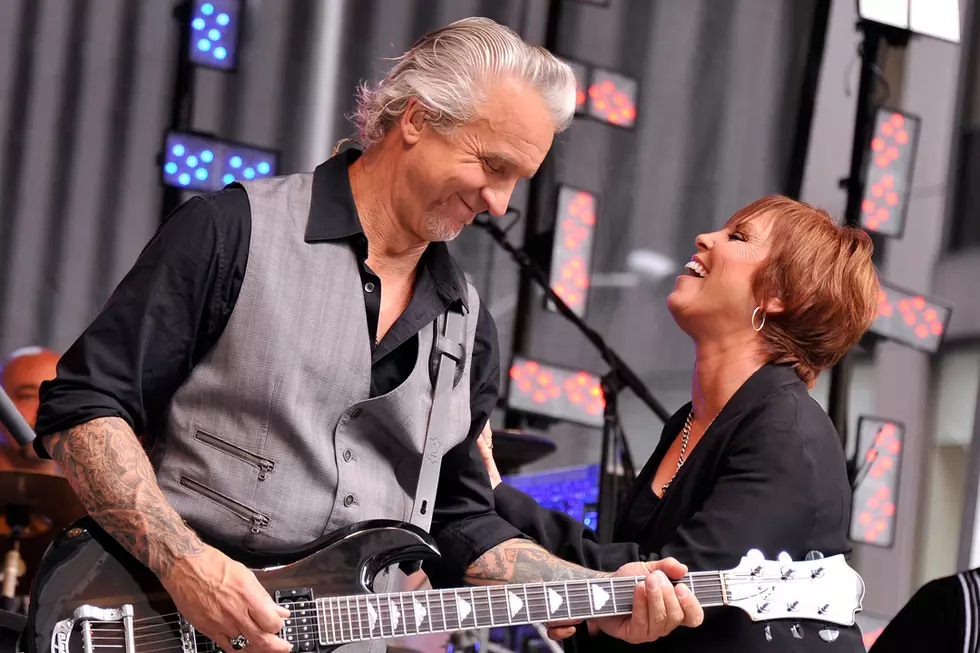 Pat Benatar and Neil Giraldo Announce 35th Anniversary Tour
Stephen Lovekin, Getty Images
The personal and professional partnership of Pat Benatar and Neil Giraldo is one of classic rock's great love stories. Now, the two of them are celebrating their life together with their 35th anniversary tour this spring.
Beginning on April 10 in Jackson, Calif., the six-week stretch will conclude May 21 in Hollywood, Fla. Two other dates -- Newport News, Va and Durham, N.C. -- have been scheduled for June 30 and Juiy 1, with more expected to be announced soon. The tour schedule can be found below; additional information is available at their website.
Benatar and Giraldo met when she was looking for a guitarist to help on the sessions for her Chrysalis debut, In the Heat of the Night. That album contained the hit single "Heartbreaker," which started them on the path to multi-platinum stardom. A relationship quickly bloomed, and the couple was married in late 1982.
"Thirty-five years ago, 'Heartbreaker' was the catalyst for it all," Benatar says in a news release. "It's hard to believe that so much time has passed. We're excited to be celebrating this personal and musical milestone. The tour should be an incredible, shared experience with the audience."
To coincide with the tour, the duo are releasing a CD/DVD compilation, Pat Benatar & Neil Giraldo: The 35th Anniversary Tour, that contains 14 of their biggest hits.
"From the very beginning our chemistry was undeniable," adds Giraldo. "This is the driving force behind everything we do. After 35 years of playing together, we're looking forward to the spring and summer leg of the tour and the future, which will surely be adventurous."
Pat Benatar and Neil Giraldo 35th Anniversary Tour Dates
4/10 – Jackson, CA
4/11 – Temecula, CA
4/14 – San Diego, CA
4/16 – Bakersfield, CA
4/17 – Beverly Hills, CA
4/18 – Las Vegas, NV
4/21 – Springfield, MO
4/22 – St. Charles, IL
4/24 – Northfield, OH
4/26 – Lancaster, PA
4/28 – Zanesville, OH
4/29 – Albany, NY
5/1 – Hampton Beach, NH
5/2 – Portland, ME
5/3 – Lynn, MA
5/5 – New Bedford, MA
5/6 – Englewood, NJ
5/8 – Port Chester, NY
5/9 – Ocean City, MD
5/10 – Morristown, NJ
5/13 – Nashville, TN
5/15 – Richardson, TX
5/16 – Baton Rouge, LA
5/19 – Saint Petersburg, FL
5/21 – Hollywood, FL
6/30 – Newport News, VA
7/1 – Durham, NC
See the Yearbook Photos of Pat Benatar and Other Rockers
The 10 Worst Rock and Roll Hall of Fame Snubs
More From Ultimate Classic Rock