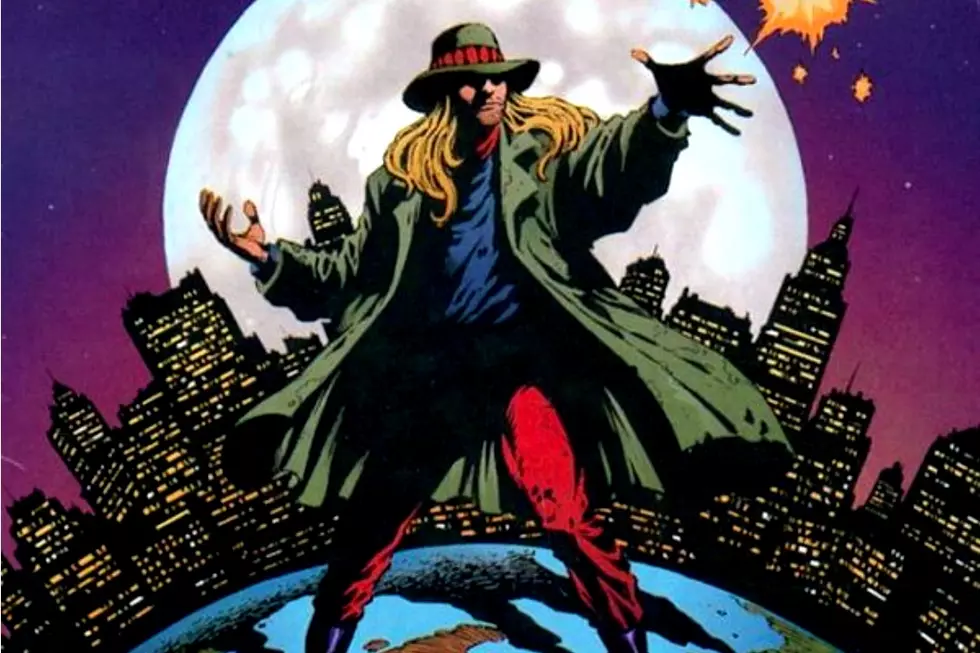 When Night Ranger (Sort of) Reunited for 'Feeding Off the Mojo'
Drive Entertainment
After taking some time away, drummer/vocalist Kelly Keagy and guitarist Brad Gillis decided to reunite Night Ranger — to a point. Keyboardist Alan Fitzgerald had departed the lineup before the band dissolved, and after the split, guitarist Jeff Watson went on to join Mother's Army with ex-Rainbow singer Joe Lynn Turner, former Ozzy Osbourne bassist Bob Daisley, and ex-Vanilla Fudge drummer Carmine Appice. Blades, meanwhile, was already selling millions with Damn Yankees.
"I remember playing the last [Night Ranger] show in Philadelphia and saying, that's it. I'm done. You all just do whatever you want to do and I'm going to do my thing," Blades told UCR. "When we split up, everyone wanted to write the songs; everybody wanted to do their own thing. 'I can do my own thing. I can do it better!'"
Opting to forge ahead as a trio, Keagy and Gillis enlisted Gary Moon, a former member of Three Dog Night whose band the Pack had seen a number of potential record deals go belly-up in the late '80s. By the time Moon met up with the reanimated Night Ranger, he was ready to make a change.
"In 1989, I was approached by a friend of mine who knew Brad and Kelly," Moon later explained. "They were wanting to bring Night Ranger back into the studio and reclaim the harder-rock sound they were known for earlier in their career. I came to a session and jammed with Brad and Kelly, and it was magic."
The new lineup set about writing new material, which they slowly tested through a series of live dates that started in the fall of 1991, when they supported Foreigner — themselves touring with new lead singer Johnny Edwards, who'd stepped in for Lou Gramm on the then-recent Unusual Heat — at the Greek Theatre in Los Angeles. Over the next several years, Night Ranger continued to play the club circuit, delivering new versions of their greatest hits while road-testing songs for an eventual album.
Along the way, their paths couldn't help but cross with Blades, who remained on friendly terms with Keagy and Gillis. Blades even caught a show when he happened to be in town one night while on tour with Damn Yankees.
"Tommy and I went and saw them at a club somewhere while we were on tour," Blades told Michael Cavacini, insisting he bore the new lineup no ill will. "I was doing my thing. I was in the Damn Yankees. What did I care what they were doing? I mean, I think it wasn't truly – everybody's gotta do what they've gotta do. They were doing their thing and I was doing my thing with Damn Yankees, and that's how it was."
Night Ranger were a multi-platinum band at their mid-'80s peak, but by the early '90s, the musical landscape had changed a great deal. Given the struggles they'd faced after being pigeonholed as power balladeers following the massive success of their hit single "Sister Christian," they weren't overly eager to sign with a major label even if one came knocking. Night Ranger ended up contracting with Drive Entertainment, a new veteran-focused indie founded by longtime record exec Don Grierson. They entered the studio with David Prater, whose previous clients included Firehouse and Dream Theater.
The results, released Oct. 17, 1995 and titled Feeding Off the Mojo, were unsurprisingly quite a bit heavier than the last few albums from Night Ranger's previous incarnation. The new record's darker vibe was partly the result of Keagy and Gillis' eagerness to prove their band had always had sharper teeth than people might have been willing to admit, and partly a reflection of the trying times they'd endured since pulling the plug on the group six years before.
"It is moody," Keagy conceded in an interview with Melodic Rock. "We were moody. The moodiness probably comes through as a reflection of our own personal growth. Rather than just fast cars, girls, and how we can rock, we were motivated by a more spiritual side."
Given Feeding Off the Mojo's indie distribution, the band's altered sound, and the uphill battle faced by many acts in Night Ranger's peer group, they knew they had their work cut out for them in terms of scoring any hit singles from the new album — even if those who heard it tended to be pleasantly surprised. "Getting airplay has been frustrating," Keagy admitted back then. "However, we have been gratified by the reviews. It seems the consensus is it's a great record, and it will be a shame if it doesn't get the proper attention."
Ultimately, Feeding Off the Mojo failed to chart — and unfortunately for Moon, the record's dismal commercial reception unfolded just as Blades was wrapping up his commitment to Damn Yankees. They went on hiatus while Nugent returned to active duty as a solo artist. By 1996, the original Night Ranger lineup had reunited, leaving Moon on the outs.
His time with the band seemed to be a failed experiment in many respects, but years later, he insisted he had no regrets. "I thought it was in my best interest to become a partner with a group that had a following to further my plan to get my songs out to my fans," Moon explained. "Brad and Kelly loved my songs, so we went out as Night Ranger, did the Mojo record and toured for three years. I'm still really proud of that record."
Feeding Off the Mojo has become something of a footnote in the band's discography, but Gary Moon isn't the only Night Ranger vet willing to stick up for the album. Keagy, who enlisted Moon's support for his 2001 solo album Time Passes, looks back on it as a solid collection of songs that was largely the victim of bad timing.
"At the end of the day, we've got to be proud of it, and I was," Keagy insisted in a 2011 interview with UCR. "I never try and downplay that record at all, because I think it was just [hurt by] the times when it came out. We didn't have a big record company behind it to push it, but I think it probably could have made a dent."
That being said, Keagy seemed to understand the writing was probably always on the wall for the Blades-less version of Night Ranger, if for no other reason than that the hardcore fans who'd turned out for Feeding Off the Mojo were the same ones who'd notice and care which musicians were or weren't still in the lineup.
"When you have that kind of history and you try to do that, it's hit or miss," Keagy pointed out. "I know that Journey has had their bouts with it and their fans a lot of times don't like that idea. You know, how can you replace Jack Blades, or how can you replace Steve Perry in a band that's had a large amount of success? It's kind of a crapshoot.
"But you want to keep working," Keagy added, "and you want to move ahead and keep growing, so sometimes you just have to throw opinions aside, follow your instincts and follow your heart."
 
 
The Top 100 Albums of the '90s
More From Ultimate Classic Rock