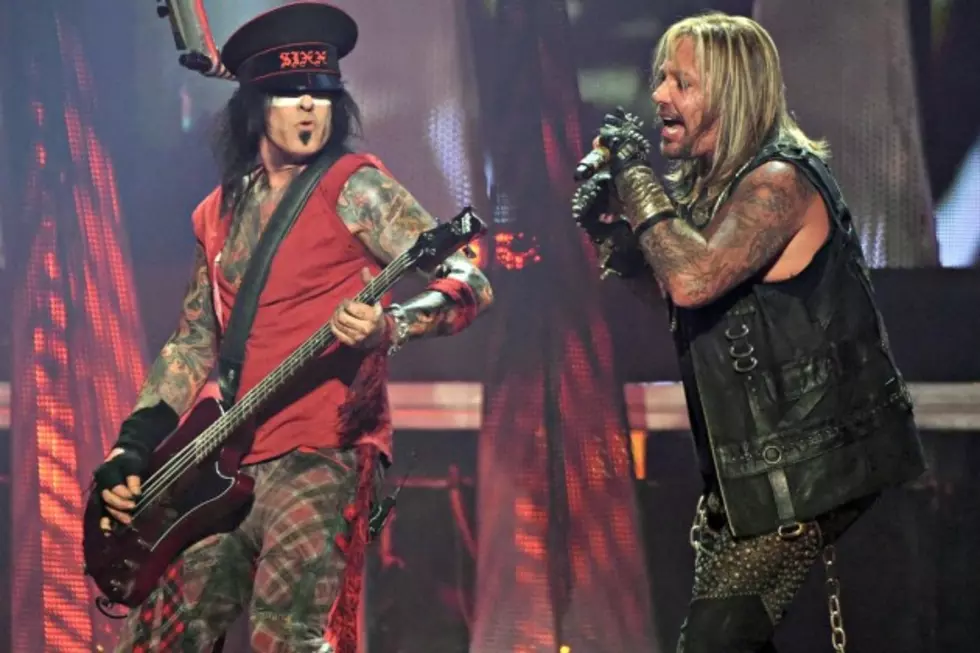 Motley Crue's Farewell Tour to End in Los Angeles?
Ethan Miller, Getty Images
They've said for months that they had every intention of wrapping up their farewell tour in Los Angeles, and it looks like the guys in Motley Crue are making that happen with a pair of shows at the Staples Center.
The Las Vegas Sun reports that the band has booked the L.A. arena for Dec. 30 and 31, 2015 -- shows that the Sun's Robin Leach hastens to remind readers will be preceded by a gig at the MGM Grand Garden Arena in Vegas. Of course, nothing is confirmed, and this tidbit is buried in a look at singer Vince Neil's Arena Football League team, the Las Vegas Outlaws, and includes a few words from Neil hinting that the band may take a smaller stage for one last show after they exit the Staples Center.
"I hope we can have our final after-party at the Whisky a Go Go on the Sunset Strip where we began 34 years ago if it hasn't been torn down by then," mused Neil. "It would be a fitting place to celebrate the beginning and the end."
That echoes sentiments Neil expressed last fall, when he told the Sun, "We wanted to end in 2016 in Los Angeles where we started. After New Year's, we'll do three nights at one of the arenas in L.A., and then do a special show at the Whisky a Go Go on our 35th anniversary."
"There's talk of a couple of nights at Staples or the Forum," added drummer Tommy Lee. "Afterwards, there might be a 1AM show at the Whisky, where we really started this s—. I mean, f—, we all lived around the corner from that piece-of-s— club. It would real nice to finish off there."
The band's 'Final Tour' picks up again in February, when they head to Japan for a short run of shows; in April, bassist Nikki Sixx will use the downtime between tour legs to head out on a headlining jaunt with his group Sixx:A.M.
You Think You Know Motley Crue?
Nikki Sixx's and Other Rockers' Yearbook Photos
More From Ultimate Classic Rock