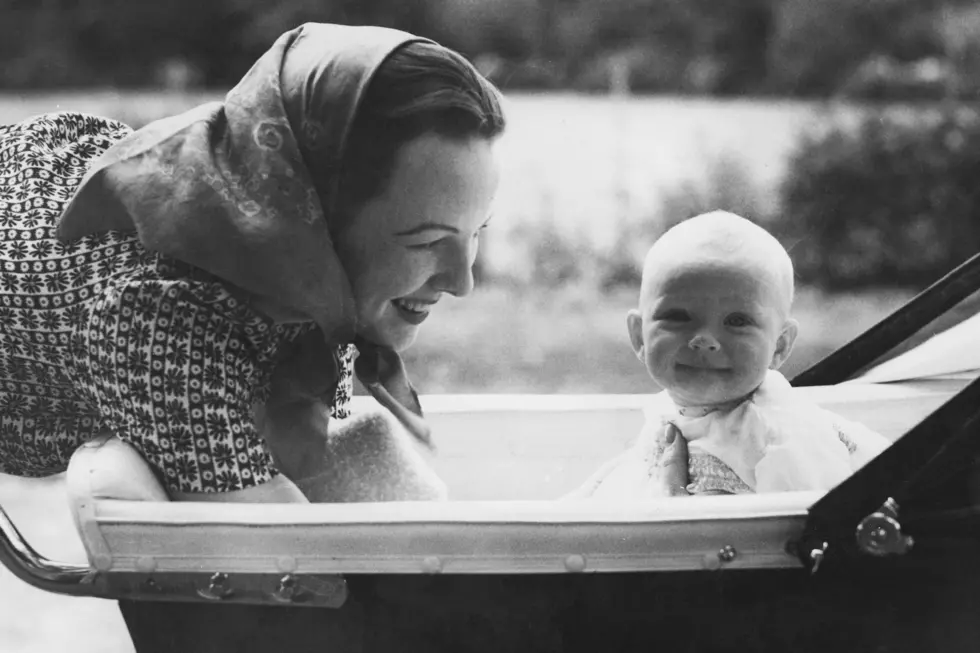 Hulton Archive, Getty Images
There are many mother songs written by classic rockers, and – how do we put this gently? – some, but definitely not all of them, present the most healthy, balanced perspective on parent-children relationships.
You'll find the proper amount of love, respect and admiration for dear old mom expressed on many of the tracks below, but you'll also find betrayal, sexual confusion and even drug abuse as well. We could have further tipped the scales towards the dark side by including Jim Morrison's oedipal musings from "The End" by the Doors, but we decided to try and keep things at least a bit more respectful for all the hard-working and loving mothers out there.
10. Queen, "Tie Your Mother Down"
From: A Day at the Races (1976)
As we warned you, don't expect a complete collection of sweet-intentioned mother songs on this list. In fact, this Brian May-written rocker by Queen finds Freddie Mercury insisting the object of his desire not only ignore her mom's "be a good girl" advice, but literally restrain the mother from doing anything about it: "It's gotta be tonight my little schoolbabe, your momma says you don't / And your daddy says you won't / And I'm boilin' up inside / Ain't no way I'm gonna lose out this time / Tie your mother down."
9. Genesis, "Mama"
From: Genesis (1983)
Now, many of us have more than one motherly figure in our lives – a strong, caring older woman who's taught us important life lessons and earned our eternal love. Ideally, the prostitute who introduced you into the ways of lovemaking shouldn't fall into that category, but that's exactly the confused mess an overly possessive Phil Collins of Genesis finds himself in here: "You listen, you teach me, mama / And I know inside you care / So get down, down here beside me / Ooh, you ain't going nowhere / No, I won't hurt you, mama / But it's getting so hard, ooh..."
8. The Beatles, "Your Mother Should Know"
From: Magical Mystery Tour (1967)
OK, here's the first song on our mother list that actually features a well-adjusted, pro-mom message, and it's by the Beatles. On the surface, Paul McCartney's extremely lyrically simple song seems to endorse nothing more than the power of music to entertain different generations: "Let's all get up and dance to a song that was a hit before your mother was born / Though she was born a long, long time ago / Your mother should know." However, there was reportedly an underlying message at work as well: "I was basically trying to say your mother might know more than you think she does," McCartney said. "Give her credit."
7. Aerosmith, "Mama Kin"
From: Aerosmith (1973)
Aerosmith's typically unique and slightly warped take on a mother song finds Steven Tyler giving thanks to the maternal creative spirit surrounding the world, while also reminding others how important it is to stay connected to their own version of that power: "Keepin' touch with Mama Kin / Tell her where you've gone and been / Livin' out your fantasy / Sleeping late and smoking tea." The lyrics contrast the struggles he's gone through to make his dreams come true with a buddy who seems to have made a safer but less rewarding choice: "You're as bald as an egg at 18 / And workin' for your dad is just a drag."
6. The Beatles, "Julia"
From: The Beatles (1968)
John Lennon, performing alone on a Beatles record for the first and only time, combines a lovely finger-picked acoustic guitar with seemingly stream-of-consciousness lyrics evoking his love both for his own mom Julia (tragically killed in a car accident when he was just 17), and for the future mother of his second son Sean, Yoko Ono. Although he claims right up front that "Half of what I say is meaningless," the message within lyrics such as "Julia, sleeping sand, silent cloud, touch me" comes through very clearly.
5. Rolling Stones, "Mother's Little Helper"
From: Aftermath (1966)
What a drag it is getting old, especially for the mother featured in this Rolling Stones classic, trapped in an unfulfilling suburban world of hyperactive kids, frozen steaks and instant cakes. Luckily (at first), she's got the finest barbiturates the mid-'60s can offer: "And though she's not really ill / There's a little yellow pill / She goes running for the shelter of a mother's little helper / And it helps her on her way, gets her through her busy day." Of course, what seems like a short-cut often ends up taking a much higher toll further down the road...
4. Paul Simon, "Mother and Child Reunion"
From: Paul Simon (1972)
Although Paul Simon has said his first post-Simon & Garfunkel solo single was inspired by the death of a beloved pet dog, and the title came from the name of a Chinese restaurant's chicken-and-egg dish, the lyrics can easily be interpreted to reflect the loss of a loved one such as a mother. Simon offers comfort to the bereaved, and faith that someday they'll meet again: "No I would not give you false hope / On this strange and mournful day / But the mother and child reunion / Is only a motion away."
3. John Lennon, "Mother"
From: John Lennon/Plastic Ono Band (1970)
Just a couple of years after exploring the happier memories of his departed mother on "Julia" (see No. 6 on the Top 10 Mother Songs), Lennon unleashed a musical howl of pain over their short time together. The lyrics and raw vocal delivery reveal his pain at her early death and sense of betrayal over the fact that she relegated much of his childhood care over to her sister Mimi: "Mother, you had me but I never had you / I wanted you, you didn't want me / So I, I just got to tell you / Goodbye, goodbye."
2. Pink Floyd, "Mother"
From: The Wall (1979)
Sometimes a mother's love can be a bit overwhelming and suffocating. Particularly when the time comes for a young man to begin his romantic life, and especially if the mom's main goal is to not let "anyone dirty get through." Although Roger Waters of Pink Floyd is quick to explain that his own mother is nothing like the monstrous shrew portrayed in the film version of The Wall, he did tell Mojo that this song is about, "The idea that we can be controlled by our parents' views on things like sex. The single mother of boys, particularly, can make sex harder than it needs to be."
1. Ozzy Osbourne, "Mama I'm Coming Home"
From: No More Tears (1991)
OK, yes, we all know this mother song was actually written by Ozzy Osbourne about his wife Sharon. But the type of love he's singing about in this song – specifically, her support and insistence that he clean up his harmful drug and booze habits – definitely veers on maternal territory. Besides, lyrics such as "I've seen your face a hundred times / Every day we've been apart / I don't care about the sunshine / Cause mama, I'm coming home" definitely capture the feelings garnered when one travels far to visit their dear mother.
More From Ultimate Classic Rock