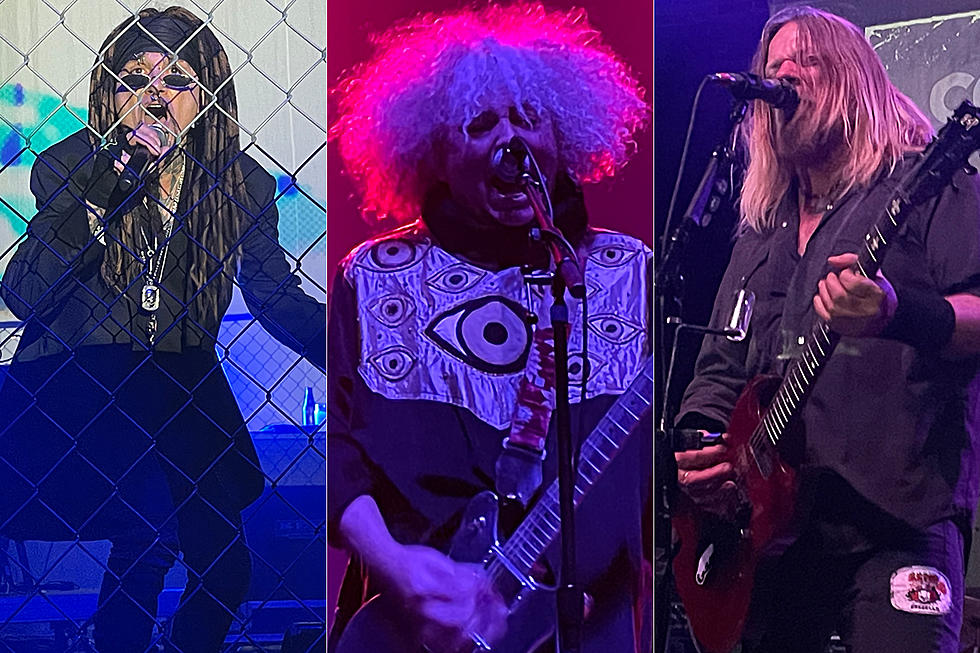 Ministry, Melvins and C.O.C. Kick Off 2022 Tour: Video, Set Lists
Matthew Wilkening, UCR
Ministry, Melvins and Corrosion of Conformity kicked off the Industrial Strength tour in Columbus, Ohio last night.
You can see exclusive photos, fan-shot videos and set lists from the show below.
With the exception of a one-off Melvins show last in Chicago last October, all three bands had been off the road for at least two years. At several points during his group's swaggering opening set C.O.C. frontman Pepper Keenan expressed his joy at being back on stage: "I'm not going to quit saying thank you, because it's such a big deal."
Melvins frontman Buzz Osbourne didn't waste any time addressing the crowd. Instead he restlessly stalked the stage while the band tore through a powerful 12-song set. Highlights included the debut of a particularly heavy new song named "Never Say You're Sorry" and the show-closing trio of "Hooch," "Honey Bucket" and "The Bit."
Performing from behind a chain link fence that ran the length of the stage, Ministry leader Al Jourgensen was also clearly happy to be back in action, noting that the band's planned 30th anniversary celebration of 1989's The Mind is a Terrible Thing to Taste was "delayed two years by the plague."
In addition to dedicating a big chunk of the set list to that album, Jourgensen revisited songs from two of his other late '80s / early '90s side projects, performing two songs from his short-lived Ian MacKaye collaboration Pailhead and the 1000 Homo DJs version of Black Sabbath's "Supernaut."
The fence came down for Ministry's encore, which featured two songs from their 2021 Moral Hygiene album and a cover of Iggy and the Stooges' "Search and Destroy." Near the end of "Good Trouble," Jourgensen indicated his displeasure with our current political climate with a repeated "We want our country back" chant.
The Industrial Strength tour featuring Ministry, Melvins and Corrosion of Conformity is scheduled to conclude on April 18 in Seattle. You can get show and ticket information at Ministry's official website.
Watch Ministry Perform 'Stigmata'
Ministry, Kemba Live!, March 2, 2022
1. "Breathe"
2. "The Missing"
3. "Deity"
4. "Stigmata"
5. "Supernaut" (Black Sabbath cover, 1000 Homo DJs song)
6. "Don't Stand in Line" (Pailhead song)
7. "Man Should Surrender" (Pailhead song)
8. "Burning Inside"
9. "N.W.O."
10. "Just One Fix"
11. "Thieves"
12. "So What"
13. "Alert Level"
14. "Good Trouble"
15. "Search and Destroy" (Iggy and the Stooges cover)
Watch Melvins Perform 'The Bit'
Melvins, Kemba Live!, March 2, 2022
1. "The Kicking Machine"
2. "It's Shoved"
3. "Anaconda"
4. "Queen"
5. "Charlie" (Red Kross cover)
6. "Billy Fish"
7. "Civilized Worm"
8. "Never Say You're Sorry"
9. "Evil New War God"
10. "Hooch"
11. "Honey Bucket"
12. "The Bit"
Watch Corrosion of Conformity Perform 'The Door'
Corrosion of Conformity, Kemba Live!, March 2, 2022
1. "Paranoid Opiod"
2. "Shake Like You"
3. "Diablo Blvd."
4. "The Door"
5. "Vote With a Bullet"
6. "Who's Got the Fire"
7. "Clean My Wounds"
Ministry, Melvins and C.O.C. Opening Night
The three bands kicked off their 2022 tour in Columbus, Ohio
More From Ultimate Classic Rock