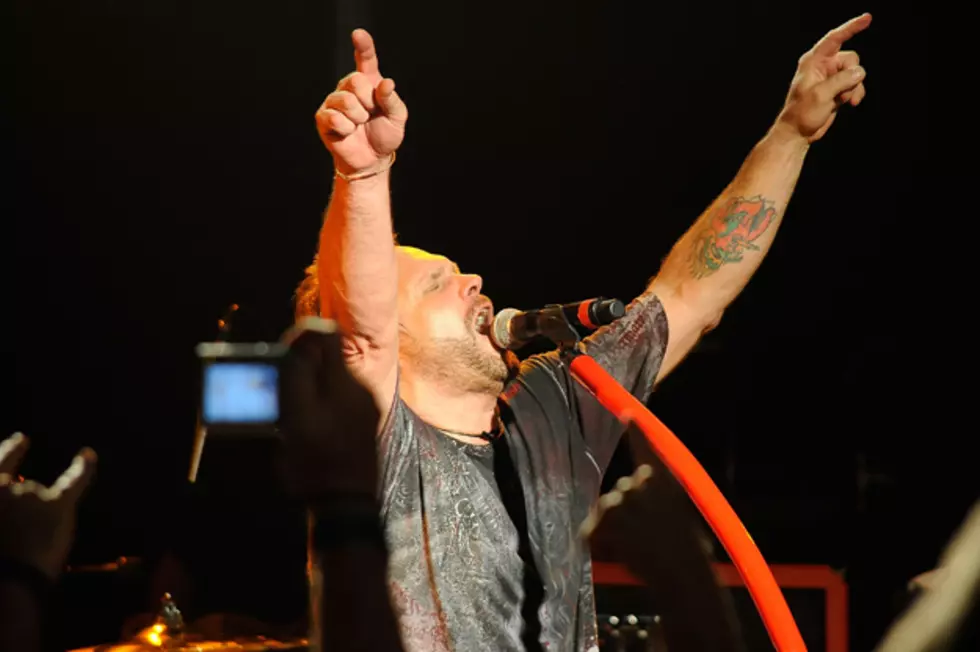 Michael Anthony 'Curious' About New Van Halen Album, 'Proud' of Chickenfoot
Michael Anthony of Chickenfoot admits he's curious about the new record his former bandmates in Van Halen are reportedly putting out shortly, but in a soon-to-be-published interview with Ultimate Classic Rock, he convincingly states that he's happily moved on, and is completely focused on the fun he's having in his new group.
"That's the rumor, anyway!" is the bass player's good-natured first response to questions about his old group's album, which, after many reported stops and starts, would be their first since 1998's critically panned 'Van Halen III.' "Well, you know what, as far as people saying, 'Do you miss Van Halen?' or any of that kind of stuff, I've totally moved on. Man, I am just in my total happy place right now."
Despite being busy finalizing the release details for his second album with Chickenfoot -- which also features Van Halen's second lead singer, Sammy Hagar, guitarist Joe Satriani and Red Hot Chili Peppers drummer Chad Smith -- Anthony admits to Ultimate Classic Rock that he has a healthy interest in the VH project: "Yeah, I'm curious to see what they come out with, but there's no type of competitive type thing."
It seems he's also unconcerned about any future comparisons between the two bands: "It's funny, I go online, and see what the fans are saying, you know, 'Oh my God, it's gonna be Van Halen against Chickenfoot this year, both things coming out, and what's going to be better' and blah blah blah. If they out put out a great album, that's great. I just know that ours is great, and I'm really proud of it."
Check back soon for the rest of our exclusive interview with Michael Anthony, where he talks a lot more about that new Chickenfoot record and his time with Van Halen. If you want to be the first to read his thoughts, you can also sign up for our newsletter, which delivers our top stories straight to your inbox every day.
Watch Michael Anthony's 1982 Bass Solo