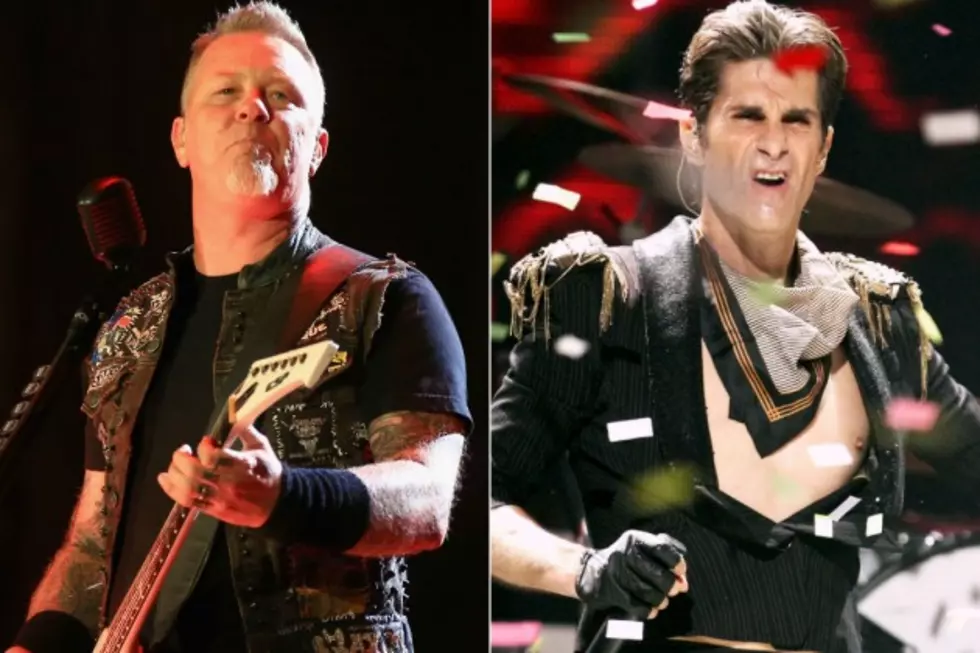 Metallica's First Lollapalooza Appearance Made Perry Farrell 'Very Angry'
Christopher Polk, Getty Images
Perry Farrell created the Lollapalooza festival, but he doesn't always approve of every act on the bill. Case in point: Metallica's first appearance on the tour, in 1996.
"I was very angry the first time they played Lollapalooza," the Jane's Addiction frontman tells Rolling Stone. "I helped create the genre alternative, and alternative was against hair metal, teased-out hair, spandex, bulls--- rock music. Metallica, in my estimation at that time, wasn't my thing. I was into alternative and punk and underground. My friends were Henry Rollins and Gibby Haynes and Ice-T."
He admits that Metallica weren't the first act he didn't want as part of Lollapalooza, but seems to have singled them out for particular disdain because of what he believed the band stood for. "I'm all about genuine, authentic, heartfelt, the real deal. So I was not sure about Metallica back in those days. It's my f---ing party and I'll have who I want."
Time, however, appears to have mellowed Farrell's stance on Metallica, which he now admits was "kind of harsh." In fact, he's actually become a fan — as he puts it, "I like their music."
Metallica will make their return to Lollapalooza this summer when the festival sets up shop once again in Chicago between July 31 and August 2. The band, part of a huge lineup that also includes Paul McCartney, expressed its excitement in a press release that reads in part, "It's been nearly 20 years since we've been lucky enough to take the stage at Lollapalooza, so we are over the top that we've been asked to play this year at the now annual extravaganza held at Grant Park in Chicago. We'll be hitting the stage on Saturday, Aug. 1st."
See Metallica and Other Rockers in the Top 100 Albums of the '80s
Metallica Albums Rated From Worst to Best
More From Ultimate Classic Rock