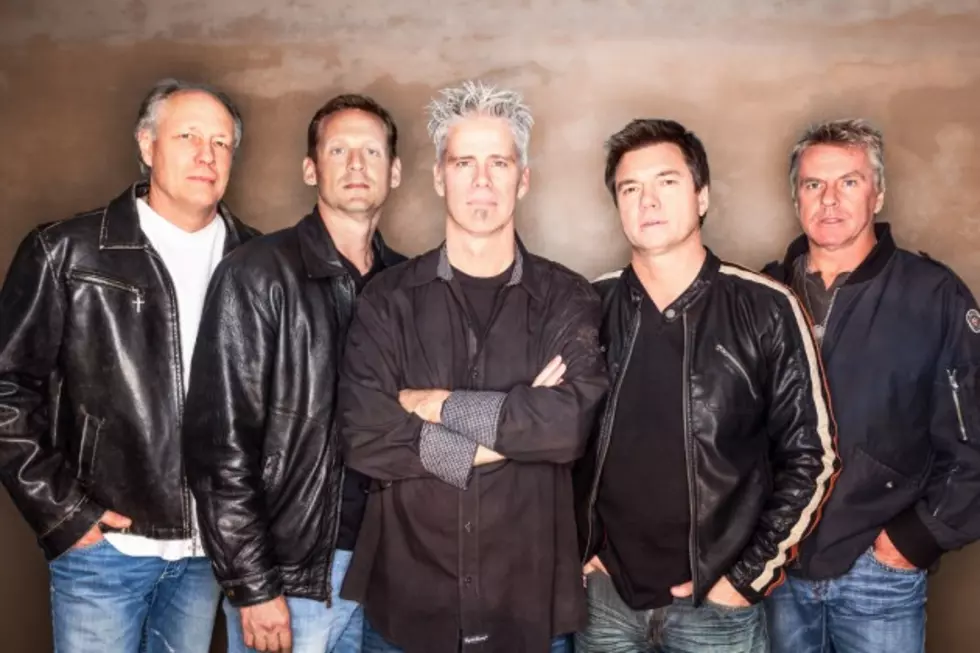 Little River Band's Wayne Nelson Talks About 'Tonight Show' Appearance – Exclusive Interview
Frontiers
Little River Band will perform on 'The Tonight Show With Jimmy Fallon' on Monday, Jan. 12*, kicking off a year's worth of activities celebrating the group's 40th anniversary. But there have been a few raised eyebrows regarding the 'Tonight Show' booking, due to the fact that there are no original members in the current Little River Band lineup.
1/9 UPDATE: Little River Band will no longer be performing on 'The Tonight Show.' A representative for the group said that they were unable to obtain sync rights for the song they hoped to perform, 'Reminiscing.'
The group's name is owned by guitarist Stephen Housden, who joined the group in 1981, but he doesn't tour with the group these days. Bassist Wayne Nelson, who's been a member of the group since 1980 and now handles vocals, talked about the lineup changes over the years. "When the guitar player left, we replaced him with a great guitar player that had something to add," Nelson explains. "When the singer left, we replaced him with a singer who was just a monumental singer. When the next guitar player left, we replaced him with a keyboard player who was a monumental keyboard player. The drummer? We replaced him with another world-class drummer. So all of the sudden ... the band kept getting stronger."
In part one of our interview with Nelson, he talks about the upcoming 'Tonight Show' appearance. In the second part of our interview with Nelson, we'll talk much more about the band's ownership of its name, as well as its recent history and new album.
'The Tonight Show' booking is an interesting one. As a fan, I like how Jimmy Fallon and his people have brought diversity to what they're booking. A few years ago, you might not have had the chance to see a band like Little River Band on late-night television. It's cool to see that and it's got to be pretty cool for you guys to get that call.
Well, it is and like you say, I think that some of the stuff — especially on Letterman's show — some of the stuff that gets put on Letterman's show, it's new but is it good? It's so alternative and weird. One night, there was this band on there that just absolutely sounded like crap and Letterman came over … they were kids, probably barely able to vote, and he was over there hanging with them and pumping them up and you could just go, "Dave, you're bulls---ting — you can't possibly think that was good!" [Jay] Leno, he wasn't much better than that, so this is really a cool opportunity to start the year off, no doubt.
How did it come about?
About four to six months ago, we danced back and forth with a new publicist. To be honest, publicists … it's an interesting gig to be trying to talk about a 40 year-old band. We do have a new CD, and some of the songs have gotten to the radio and that's all good stuff. But the truth of the matter is that we're never going to compete with the A team, with the [Justin] Biebers and the Taylor Swifts and the Beyonces and the Jay Zs and stuff like that. Little River Band has its place — we continue to tour and put on a great live show and jog people's memories about some great music. But being a viable storyline for publications, it's borderline whether anybody cares, unless we happen to be coming to their town. So the publicist — we were going back and forth, saying "What can we do?" And at least for the 40th anniversary, we'll give it a shot. As soon as I gave her the green light, she started putting out feelers to TV shows to promote the 40th anniversary, number one, but also to promote the fact that the band … me being the oldest person in it and having tendencies towards doing this … we are on a serious mission to give back. We've got a plan coming back to give back to Green Beret Foundation, we've done plenty of fundraisers for Wounded Warrior, cancer survivors, dog rescues, you name it — there are so many things going on that we can on our level help with. To me, that is part of our mission statement now.
We've got a catalog of music that people want to come out and hear. It makes them feel good. There are things we can do to help other people and get their message out and make them some funds on the night and let them do the good work that they want to do and to me, it's part of us taking the legacy and history of the band and putting a step forward to do something to give back. So our publicist is very approving of that and sees that as a great thing to do. As a matter of fact, the reason that we met her was because there was going to be and probably still will be a movie made about the guy that started the Make-A-Wish Foundation. I won't go into all of the details, but he was an Arizona cop, and he saw a kid that wanted to be a cop and the kid was terminal — they made him a uniform, they put a helmet on him and that was the beginning of it. The kid made a wish and [founder] Frank [Shankwitz] stepped up and did it. So she heard about us, she called us and we talked about doing the music for it and that is a plan that still is in progress. That's kind of how this whole thing started to roll forward. From there, they went, "Well, you guys, you sound great number one and number two, you've got new music — you're not just sitting still and number three, you've got something to say and something to do, so let's try to get you on TV and help this 40th anniversary be fruitful in all of those areas." She reached out to the big guys.
[Jimmy] Kimmel is talking about having us on when we get to the West Coast and it routes better for us and then Fallon was the first one to come back and say, "Come on the show!" He has spoofed the band a couple of times in his monologues, and the Roots jumped in and played one of our songs. So we're anxious to get on the show with somebody that creative and that fun and start the ball rolling and get the message out there this year.
[We reached out to the publicist for 'The Tonight Show With Jimmy Fallon' regarding the band's upcoming appearance, hoping to get some comments from Fallon and musical booker Jonathan Cohen. We didn't receive a reply.]
What are you going to play on the show? Has that been worked out?
It has, but I'm not going to give it away. Fallon knows what he wants us to come on and play, but I don't want to drop the bomb here. I'm going to let it happen on the night. The other cool thing about the Fallon thing is that he has a web interview as well, so we'll do a song on the [regular broadcast] and I think he's going to join in somehow — I don't know what they're going to do and we're kind of ready for anything. But the other cool thing is that there's a web part as well — there's a web interview and we're going to perform one of our new songs on the web interview. So we get a great way to reintroduce the CD — it's been around for about a year, but so few people know about it because we don't get airplay anymore. You know, we're not in that league. It's a great CD, and we're very proud of it and he's going to hold it up on the air in front of all of his fans and then we're going to be able to put a song on his website for the interview. It's a two-pronged shot for us here.
More From Ultimate Classic Rock