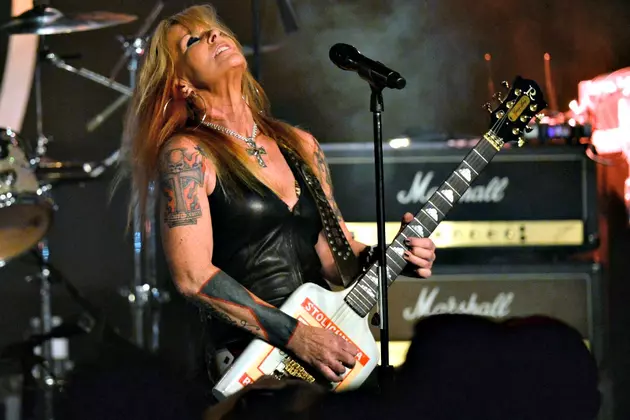 Lita Ford Reaches Into the Vaults for New Star-Studded 'Time Capsule' Album
Ethan Miller, Getty Images
Lita Ford has announced an April release for Time Capsule, a new album consisting of previously unreleased archival recordings featuring appearances from a long list of guests that includes members of Kiss and Cheap Trick.
"There was a s---load of these 24-track analog tapes in the closet in my house [in the islands]," Ford explains in a press release. "This is some of the best work I've ever done and it was sitting there. I grabbed two suitcases and took them back to the United States."
After spending decades in the Caribbean, the tapes needed to be baked to preserve the recordings before they could be used. "I was chewing my fingernails, thinking, 'Please work!'" said Ford. "And they did!"
Due April 15 and available for pre-order now, Time Capsule was tracked after her 1988 Lita album — a time when, as Ford put it, "we had a break between recordings and it seemed so many of us were always in the same place, at the same time."
Looking back on the spontaneous, self-produced sessions, which she helmed with the assistance of engineer George Tutko, Ford adds, "Dave Navarro walks by. We grab him and tell him, 'Play something on this song. Here, play this mandolin!' And boom! He does it. These recordings have attitude. All of these rock stars were recording in the local studios. There's also Cheap Trick — the identifiable voices of Rick Nielsen and Robin Zander singing backing vocals. Gene Simmons played on and co-wrote 'Rotten to the Core.' W.A.S.P.'s Chris Holmes is in the introduction to the album and is the first thing you hear, stomping around looking for the keys to his 'Ford.' ... We didn't know how long it would take; we were simply having fun."
Before Time Capsule comes out, Ford will publish her memoir, which is titled Living Like a Runaway and is due to arrive in stores Feb. 23. She'll also begin a fresh round of tour dates next month, starting Feb. 12 in Houston. Visit Ford's official website for more information and check out the complete Time Capsule track listing below.
Lita Ford, 'Time Capsule' Track Listing
"Intro"
"Where Will I Find My Heart Tonight"
"Killing Kind"
"War of the Angels"
"Black Leather Heart"
"Rotten to the Core"
"Little Wing"
"On the Fast Track'
"King of the Wild Wind"
"Mr. Corruption"
"Anything for the Thrill"
See the Top 100 Rock Albums of the '80s
More From Ultimate Classic Rock