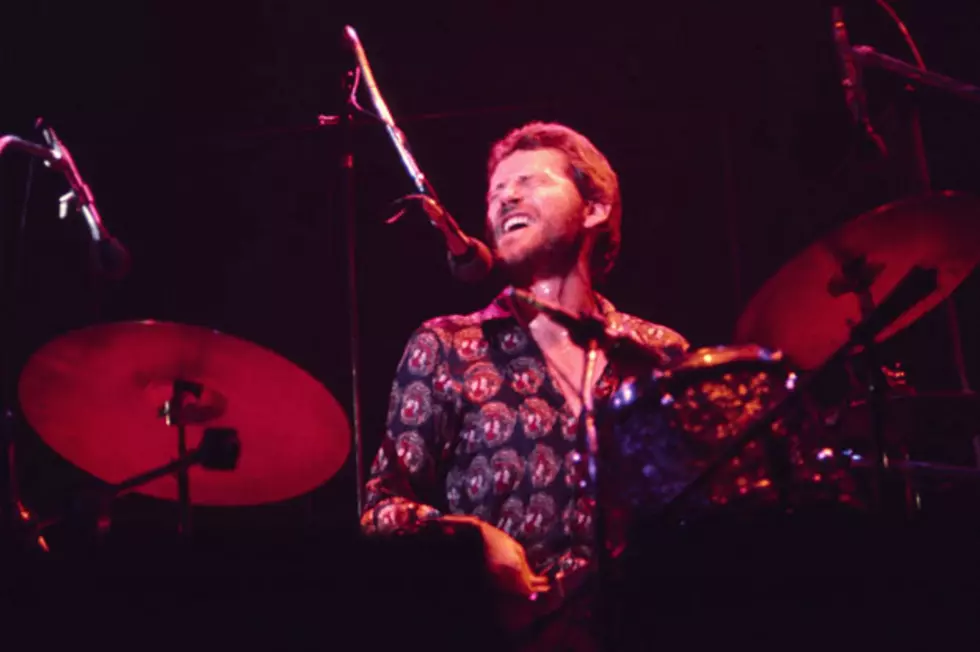 Levon Helm, drummer and vocalist with the legendary rock group simply known as the Band, died today (April 19) at the age of 71 after a battle with cancer.  His wife Sandy and daughter Amy posted the news of his imminent exit on his official website earlier this week.
Larry Campbell, Helm's guitarist and band leader, told the Times-Herald Record,"We lost Levon at 1:30 today surrounded by friends and family," adding that, "As sad as this was, it was very peaceful."
Helm grew up surrounded by music, always listening to the Grand Ole Opry. One of his earliest experiences was seeing Bill Monroe and his Blue Grass Boys in concert at the age of six. "This really tattooed my brain," he said in his autobiography 'This Wheel's on Fire.' "I've never forgotten it."
The music stuck with him and he formed his first band, the Jungle Bush Beaters, while in high school. In 1959 he joined up with Ronnie Hawkins & the Hawks, who had begun to make a name for themselves in their native Canada. Soon, the band would change lineups and bring in new members. This included Richard Manuel, Rick Danko, Robbie Robertson and Garth Hudson, who, along with Levon, would ultimately split from Hawkins to form The Band. Originally called Levon and the Hawks, the Band gained their first real notoriety when Bob Dylan called on them to supply the power behind his new electric sound.
They would back up Dylan on tours in 1965 and 1966, though Helm left the group before the overseas portion of the 1966 world tour due to the negative reaction to Dylan's decision to plug in. When Dylan's infamous motorcycle accident put him out of commission in late 1966, the Band decided it was time to make their own statement.
So they signed with Capitol Records and issued one of the most influential albums of the late '60s, 'Music From Big Pink.' Miles away from the psychedelic overload favored at the time, 'Big Pink' -- named for the house they wrote, rehearsed and recorded in-- pointed the way, along with bands like Creedence Clearwater Revival, towards a new, more rootsy direction in rock 'n' roll. More than a few musicians cite it as a turning point for the genre.
The Band would issue six more albums before calling it a day in 1976. Levon's soulful, down-home vocals took the spotlight on several of the Band's most loved songs such as 'The Weight,' 'Up on Cripple Creek' and 'The Night They Drove Old Dixie Down.' Their final concert was captured on film by Martin Scorsese and released as the must-see concert film 'The Last Waltz.'
After the split, Levon went on to record a couple of solo records, and at one point joined up with Ringo Starr for one of the Beatles' legend's All Starr tours. He also made a venture into acting, appearing in several films, most notably his role as Loretta Lynn's father in 'Coal Miner's Daughter.'
Levon set up a home studio called 'The Barn,' where he would invite a wide variety of musicians to record, jam or just hang out and tell tall tales. In addition to drums, Helm also knew his way around a guitar and a mandolin. His comeback came late in life with three Grammy Award-winning albums: 2007's 'Dirt Farmer,' for 'Best Traditional Folk Album,' plus 2009's 'Electric Dirt' and 2011's 'Ramble At The Ryman,' which both won for 'Best Americana Album.' In 2010, a documentary titled 'Ain't in It for My Health: A Film About Levon Helm' was released.
A lifelong smoker, Helm reportedly quit the habit a while back, but even after a reported 25 rounds of chemotherapy, the disease eventually caught up with him. Levon is survived by his wife Sandy and daughter Amy.
More From Ultimate Classic Rock