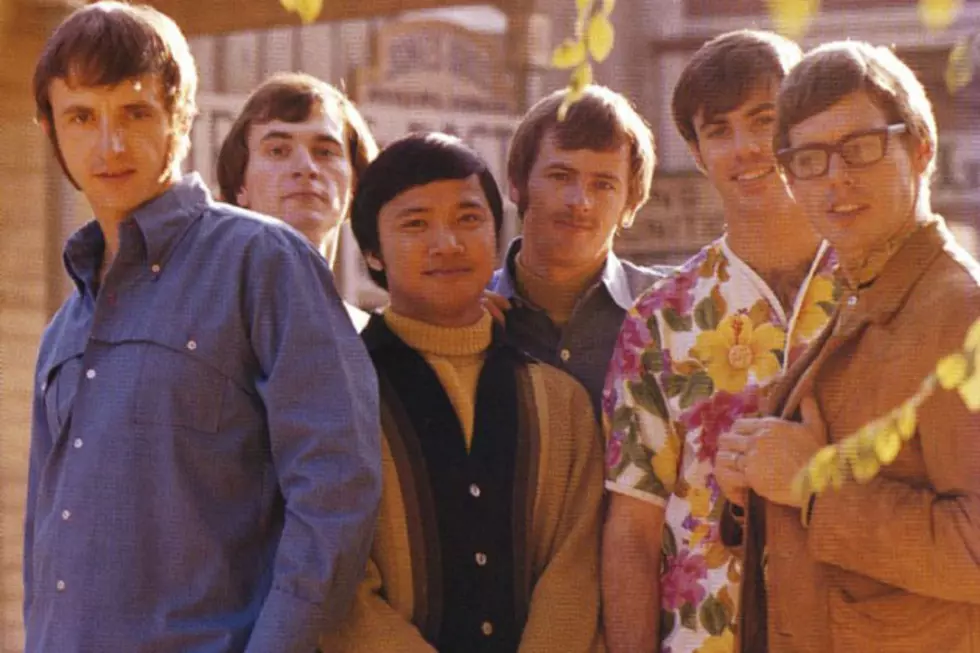 Larry Ramos of the Association Dies at Age 72
Larry Ramos (third from left), Rhino Records
Larry Ramos, guitarist and vocalist with the Association, has died at age 72. His daughter, broke the news on the Association's Facebook page.
"It is with immense sadness I write this. My Dad, Larry Ramos passed away this evening (April 30). As you all know he had been ill for the past three years following his heart attack in 2011. What you don't know is he was diagnosed with metastatic melanoma last year (he wanted that diagnosis to be kept private while he was alive.) While his illnesses were trying at times, his passing was peaceful and he was surrounded by family."
Ramos was born and raised in Kauai, Hawaii, with music always at the center of this life. He learned to play the ukelele before eventually tackling the guitar. He joined the New Christy Minstrels in the early '60s, even winning a Grammy Award with them in 1963.
In 1967, founding Association member Gary Jules Alexander left the band, and Ramos was asked to join. He was with the band through their most successful period, including a spot on the bill at the famous Monterey Pop Festival in June of '67 that proved they were no mere studio creation. He recorded five studio albums and several glorious singles with the band before leaving in 1975 to concentrate on raising his family. He would rejoin the group in 1980 and remain part of their story, off and on, for the next three decades. Ramos gave his final performance with the Association on Feb. 24, 2014.
When it comes to the great harmony groups of the '60s, the Association rank among the finest. Their lush harmonies, rich production style, and almost fragile song arrangements were not only at home on pop radio, but were influential to the likes of Steely Dan to Fleetwood Mac over the years. Between 1966 and 1968, they had seven Top 40 hits, including 'Along Comes Mary,' 'Everything That Touches You,' and two chart toppers, 'Cherish' and 'Windy.' It was, however, their No. 2 single from the summer of 1967 that has been the Association's signature song. That song, of course, was 'Never My Love' -- which just missed the top spot on the chart, but over the years has become a beloved rock and roll standard.
Watch the Association Perform At The Monterey International Pop Festival
More From Ultimate Classic Rock