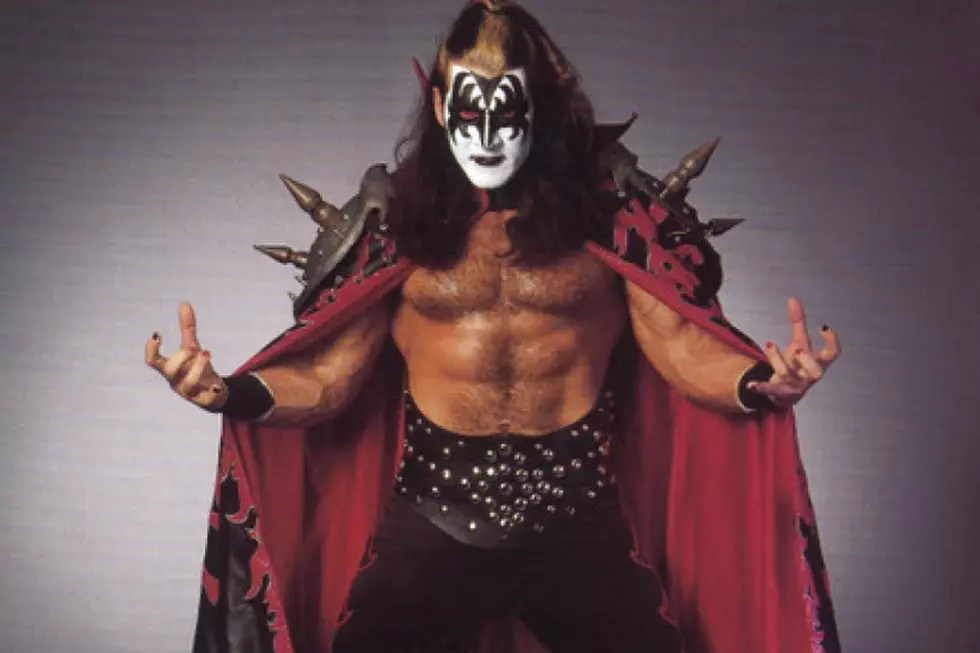 When Kiss Debuted Their Pro Wrestler, 'The Demon'
WCW Press Photo
Between their shared penchant for spectacle and oversized personalities, it's a surprise that it took Kiss and the world of professional wrestling so long to collide. But that's what happened on Aug. 23, 1999, when Kiss and World Championship Wrestling debuted "The Demon" on an episode of WCW Nitro.
On that first appearance, the Demon, wearing Gene Simmons' makeup, was played by Brian Adams, with the band on-hand to introduce him with, naturally, "God of Thunder," as you can see in the below video. But after that first broadcast, which was a ratings failure, Adams left and was replaced by Dale Torborg, who had been Simmons' first choice to represent his persona.
"I was really pumped," he said years later. "It was a dream of mine to represent Kiss, which I feel is the greatest band in the world."
Watch the Demon's First Appearance
However, the low ratings gave the impression that the character was dead-on-arrival before he had even fought his first match. The powers-that-be didn't give him an opportunity to develop, using him only for events that were mandated in the band's contract with WCW, which was struggling financially at the time.
The plan had originally been to bring all four Kiss characters into the WCW world, but the failure of the Demon meant that he wound up being the only one created. Two years later, WCW was bought by World Wrestling Entertainment and Torborg was let go. "I still enjoyed it," he said. "The whole trip with the Demon was just a crazy ride."
Torborg rebounded well, though. His father, Jeff, was the manager of the Montreal Expos, and he became the team's strength coach. A year later, he followed his father to the Florida Marlins. Since 2004, he's been the conditioning coordinator for the Chicago White Sox. He's been a part of two World Series-winning teams, the 2003 Marlins and the 2005 White Sox.
Kiss Albums Ranked
More From Ultimate Classic Rock