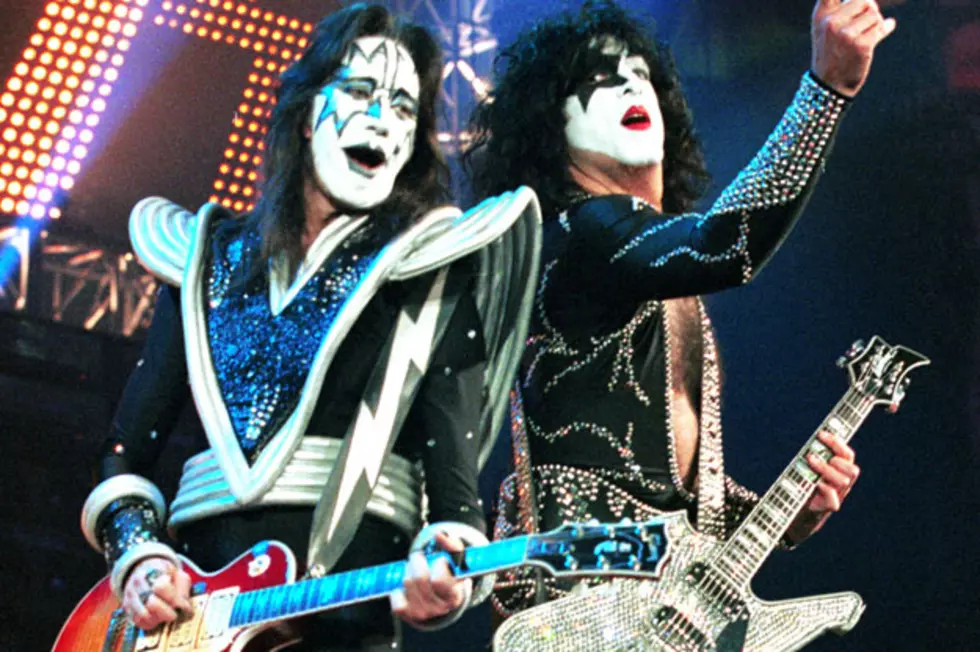 Kiss Stars Paul Stanley and Ace Frehley Both Announce New Guitars
Ace Frehley may not be sharing the stage with Paul Stanley and the other original members of Kiss anymore, but thanks to a pair of new custom guitars being produced by Washburn and Les Paul, you can relive your memories of the band's glory days with some hot licks of your own.
Stanley has partnered with Washburn to release his signature "Starfire" guitar, designed with a raised center mahogany body and chrome hardware. Specs include two Seymour-Duncan SM-3 Mini Humbuckers, controlled by two volume knobs, two tone knobs, and a 3-way toggle switch, as well as a custom Tone-Pros Tune-O-Matic bridge and custom Paul Stanley tailpiece machined from solid aluminum.
Meanwhile, Frehley has teamed up with Gibson to issue a replica of the Cherry Sunburst custom guitar he played during Kiss's landmark Japanese concerts in 1977. The appropriately named Ace Frehley 'Budokan' Les Paul Custom is being produced in a limited run of 300 -- 50 hand-aged guitars signed by Frehley, with a further 100 hand-aged guitars, and 150 guitars treated in Gibson Custom's VOS process. According to Gibson, the company worked closely with Frehley to design the instrument, even using digital scanning technology to produce the closest possible replica.
The attention to detail for the 'Budokan' extends into the hardware, which includes three period-correct double-cream DiMarzio humbucking pickups. "And just like on Ace's guitar," notes Gibson's press release, "the traditional 3-way toggle switch has been modified to only allow the use of the bridge pickup, allowing you to be able to accomplish one of Ace's most noted effects." Ready for band practice, everyone?
More From Ultimate Classic Rock