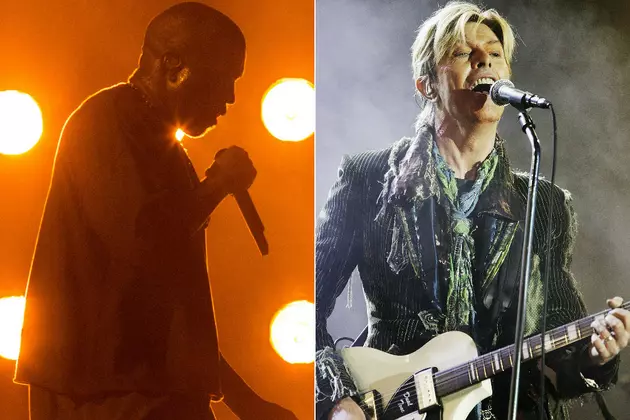 No, Kanye West Is Not Recording an Album of David Bowie Covers
Christopher Polk / Jo Hale, Getty Images
Reports that Kanye West was planning to report an album of David Bowie covers — which sparked a predictable wave of outrage that included a meaningless petition — have been revealed to be a hoax.
The Independent traces the rumor back to a report from the U.K. tabloid the Daily Star, which alleged that West had only just discovered Bowie's music in the days following Bowie's death and said he believed "'the torch' of musical innovation has been passed to him."
An unnamed source is quoted in the Star as saying West would be adding his own spin to Bowie's catalog: "Some are straightforward covers with Kanye actually singing. On others he is rapping with his own lyrics over Bowie's music."
As of this writing, more than 11,000 people have signed a petition urging that the covers project be brought to a halt, although none of the respondents seem to have any clear idea of how, exactly, online signatures are supposed to stop a recording artist from making music. In any event, TMZ says the whole thing is fake anyway.
Quoting one of West's representatives, TMZ refers to the Star report as "complete BS," and notes that West himself — while not commenting on the rumors directly — made it clear that Bowie has long been an influence on his work, and his music is not any kind of recent discovery for him.
While some fans can breathe a short sigh of relief before looking for something else to be outraged over, for others this news will come as something of a disappointment. A Guardian editorial argues that the covers project would have been fitting, saying "West is the closest we have to Bowie in the modern mainstream" and adding, "There is nobody else who can sell as many records as West does ... while remaining so resolutely experimental and capable of stirring things up culturally and politically."
Living Colour guitarist Vernon Reid, meanwhile, responded to the furor over the rumor by drawing a parallel worth considering between West and Bowie — and offering a reminder of how time can do wonders for an artist's reputation.
Every David Bowie Single Ranked
More From Ultimate Classic Rock