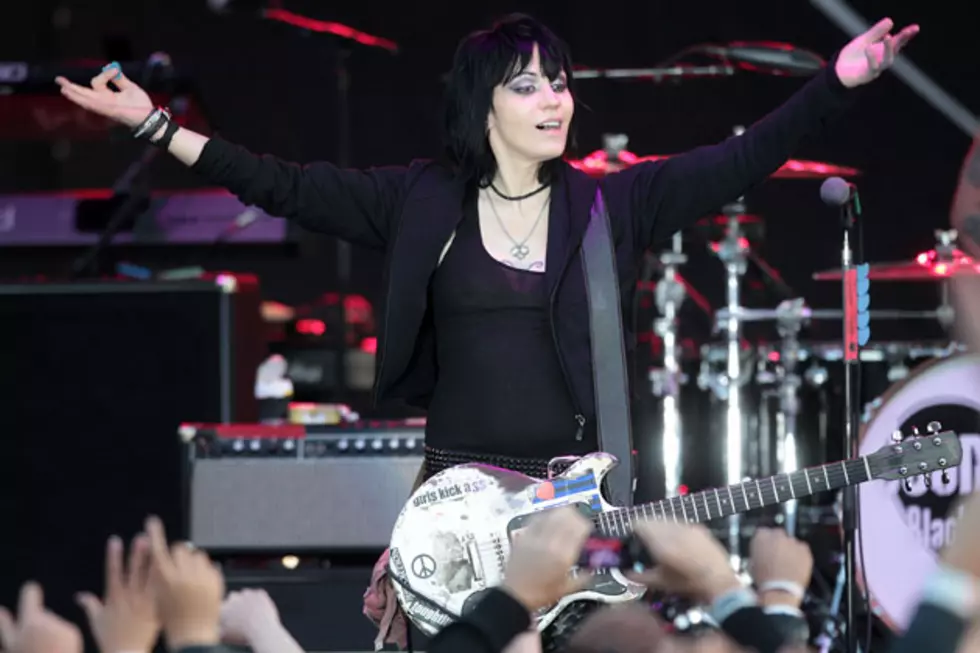 Frederick M. Brown, Getty Images
Joan Jett is a rock and roll pioneer and icon. From her teenage years with the legendary Runaways and right up to her brand new album, 'Unvarnished,' Jett has been rocking full throttle for the better part of 40 years now, and is showing no signs of stopping anytime soon.
Whether as writer or interpreter, Joan knows her way around a good song. Drawing on inspiration from her beloved Glam era of Sweet, Slade and Gary Glitter, she crafted her own songs that sit proudly alongside those of her heroes. We salute Miss Jett with nods to the Runaways, her solo material as well as many of the cover songs that she claimed for her own. Get down ladies (and gents) you got nothin' to lose with out Top 10 Joan Jett songs.
10

'Do You Wanna Touch Me?'

From: 'Bad Reputation' (1981)

Solo

The ugly (and self-created) problems over the last several years have cast an irremovable shadow over the fact that in his prime, Gary Glitter made some great rock and roll singles. Jett was a big fan, and took this classic Glitter hit, gave it a bit of 80s gloss and took it into the U.S. Top 20. The Glitter original flopped in the U.S., but had been a massive hit in the U.K. in early 1973, coming just shy of the No. 1 slot.

9

'Activity Grrrl'

From: 'Pure and Simple' (1994)

Solo

Joan Jett and The Blackhearts issued an album in 1994 called 'Pure And Simple,' which should have brought the band back to the top of the charts. Yes, it was that good! But sadly, the album kind of sunk without a trace. Maybe Jett's style of rock and roll was out of sync with the angst ridden 90s rock scene, or maybe someone dropped the ball in promoting it, but regardless, it is an album full of great songs like 'Activity Grrrl.' The song is a nod to the 'Riot Grrrl' movement that included such bands as Bikini Kill. In fact, Kathleen Hanna of Bikini Kill co-wrote this one with Miss Jett. It's a fired up rocker and one of the standout tracks on the LP.

8

'Fake Friends'

From: 'Album' (1983)

Solo

'Fake Friends' kicks off Jett's third album, the profoundly titled, 'Album,' and does so in fine style. Another in a long line of stomping rockers, 'Fake Friends' has all the usual bubblegum pop meets glam rock slash-and-burn that makes Jett's sound so irresistible. Though the single barely dented the Top 40, the album proved another hit for Joan and band, sliding into the Top 20 and selling millions.

7

'You Don't Know What You've Got'

From: 'Bad Reputation' (1981)

Solo

Taken from the 'Bad Reputation' LP, 'You Don't Know What You've Got TIl It's Gone' takes the Jett sound and puts it into a song that carries a strong mid-'60s pop style. It's as if the worlds of Brenda Lee and the Ramones crashed head on and landed in Jett's backyard to create this perfect pop record!

6

'I Hate Myself For Loving You'

From: 'Up Your Alley' (1988)

Solo

With this kick-ass rocker from the 1988 album, 'Up Your Alley,' Jett delivered her own mini-masterpiece that takes form the pages of Glitter, and adds her own stamp. The pounding drums, screams, handclaps and such are trademarks of much of the early-'70s U.K. glam sound. Jett dishes out all that and more on this rocker and makes her own classic in the process. The slithering and stomping verses give way as the anthemic chorus explodes in this top-shelf rocker.

5

'Dead End Justice'

From: 'The Runaways' (1976)

The Runaways

The ending song on the debut Runaways album is a full-blown teen drama set to rock and roll. Take equal parts Shangri-Las and Kiss, mix together until it boils over and you have the basic recipe for 'Dead End Justice,' which Jett co-wrote. The mini drama is played out by Jett and Cherie Currie, as they let us in on this almost-TV movie of the week adventure. "Where Am I?" asks Cherie, "You're in a cheap run down teenage jail, that's where!" answers Joan at the songs mid-section build up. They plot their breakout, but something goes wrong. Trashy, teenage rock and roll never got any better than this. These desperate teenage Runaways certainly knew how to kick out the jams!

4

'I Love Playin' With Fire'

From: 'Queens Of Noise' (1977)

The Runaways

Though Joan later re-recorded this song for her 1983 album, 'Album,' it is the original Runaways version that wins hands down. One of Jett's first compositions credited solely to her, 'I Love Playin With Fire' is a foot stompin', hand-clappin' rocker that would make even Slade envious. Joan belts out a tough-as-nails vocal here while Lita Ford whips out some fine lead guitar. One of the highlights of the band's second album 'Queens Of Noise.'

3

'I Love Rock 'N'Roll'

From: 'I Love Rock 'N' Roll' (1981)

Solo

This is the one that sealed the deal and made Joan Jett a genuine rock star. First recorded by U.K. band the Arrows in 1975, their single failed to chart in their homeland and was never even released stateside. Jett, however, knew a hit when she heard it and with a little revamping, she re-made it into her own signature song. Most people probably don't even realize it's a cover as it has become her signature song over the years  She and the Blackhearts pumped real life into the song. The record made it's way into the Top 10 nearly everywhere in the world, and became her only No. 1 in the U.S.

2

'Bad Reputation'

From: 'Bad Reputation' (1981)

Solo

The title song from The Blackhearts 1981 LP is a raucous ride of super-charged rock and roll. Utilizing a Ramones-inspired template, Jett proves a force to be reckoned with. As much attitude as her male counterparts, Joan is at the top of her game here. The song itself rings out like a genuine anthem for disaffected youth. Later used as the theme song for the classic television show, 'Freaks And Geeks,' the song has had staying power through the years and still shines as a staple of her live shows.

1

'Cherry Bomb'

From: 'The Runaways' (1976)

The Runaways

'Cherry Bomb' is one of the most potent and incendiary rock and roll songs ever recorded. The attitude and power these teenage girls were able to dish out is still stunning 37 years later. Co-written by Jett with manager Kim Fowley, 'Cherry Bomb' kicks off the Runaways debut album with the explosive force of a stick of dynamite. Lead singer Cherie Currie belts it out and takes no prisoners. You truly believe every word she spits out at you here. This was another one later re-recorded as part of her solo catalog, but the original is the only way to go! 'Cherry Bomb' should be hailed as one of the greatest teenage anthems in the history of rock and roll.
More From Ultimate Classic Rock