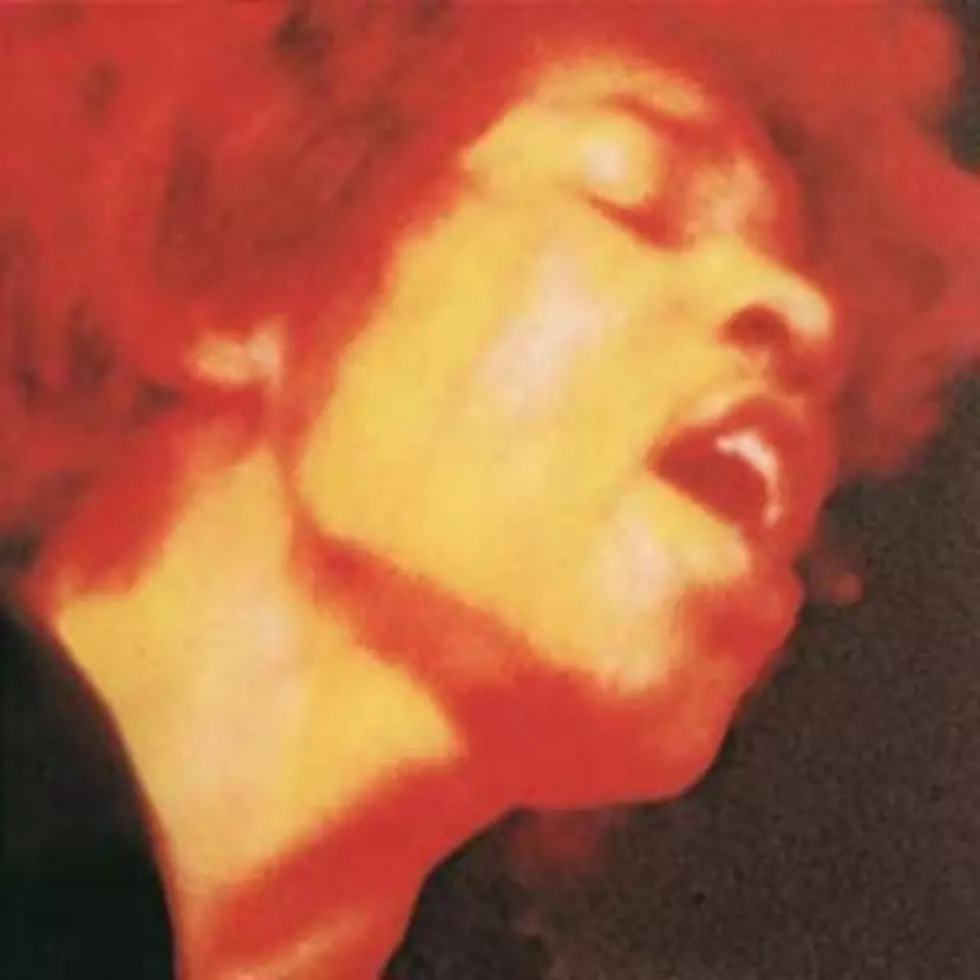 No. 6: The Jimi Hendrix Experience, 'All Along the Watchtower' – Top 100 Classic Rock Songs
Experience Hendrix/Sony Music
Anyone can cover another artist's song, but few are able to take that song and truly make it their own. In the case of 'All Along The Watchtower,' there is no doubt that Jimi Hendrix most certainly turned the Bob Dylan composition into not only a Hendrix song, but into a true classic.
Its high ranking here on our list of the Top 100 Classic Rock Songs should prove no surprise. Unlike a number of "guitar gods," Jimi Hendrix was as much a songwriter as he was a guitarist, taking equal pride and joy in both facets of his artistic self. The song was always of utmost importance.
'All Along The Watchtower' first made its way to the public on Dylan's 'John Wesley Harding' LP, released in late 1967. The album had a more subdued and less chaotic approach than his previous few LPs, and this track didn't make any big waves in its original form.
Hendrix, a huge Dylan fan, didn't let the song slip away, turning the unassuming track into a true masterpiece. His arrangement and feel suit the lyrics and melody perfectly.  "He had a magical ability, bar none, to take other people's material and make it his own," said producer Eddie Kramer in an interview with Sound On Sound. "Jimi was driving the train. He always drove the train, whatever he was doing."
Hendrix began to record his version in January of 1968 as part of the sessions for his classic album, 'Electric Ladyland.' Released in October of 1968, 'Electric Ladyland' was a milestone for Hendrix, covering a massive amount of ground over two LPs. The double album was somewhat at odds with the back-to-basics approach and the UK blues revival, both of which were very in vogue at the time.
'Electric Ladyland' was certainly more about the future than it was the past. "I'm playin' all I know, just playin' the way I feel," Hendrix said in an interview with Canadian television just days before the album's release. "If it sounds like blues, well, call it anything you want, but it's no revival because why go back into the past?"
According to Kramer, the recording sessions took a different path as well. "Recording was always a learning process for Jimi, so each take would be different," he said, "and for 'All Along The Watchtower' there was no real rehearsal. Jimi just played a six-string acoustic guitar while Traffic's Dave Mason played 12-string and Mitch (Mitchell) was on drums. That's how Jimi wanted to cut it, and as a result the track had a marvelous, light feel thanks to the acoustic guitars that were driving it."
And just how did he get that fantastic guitar sound? "I'd stick a bloody mic in front of it and hope for the best," the producer joked.
Hendrix himself actually played bass on the recording after Noel Redding grew tired of the sessions. Legend has it that a very wasted Brian Jones stopped by the studio to visit his friend Jimi and tried to take part in the sessions, but his altered state prevented him from contributing.
When issued as a single, 'Watchtower' hit the top 20 in the US and the top five in England. "Jimi just wanted to record the song," said Kramer, "He loved Bob Dylan and he always carried his songbook with him. In this case, he was fascinated by the color of the lyrics and the tone of the lyrics, and of course the chord sequences were wonderful, too. It was a very special song."
And what was Dylan's opinion on Hendrix' rendition of the song? "I liked Jimi Hendrix's record of this and ever since he died I've been doing it that way," he states in the liner notes to the 'Biograph' collection. "Strange how when I sing it, I always feel it's a tribute to him in some kind of way."
Watch the Jimi Hendrix Experience Perform 'All Along The Watchtower'
More From Ultimate Classic Rock