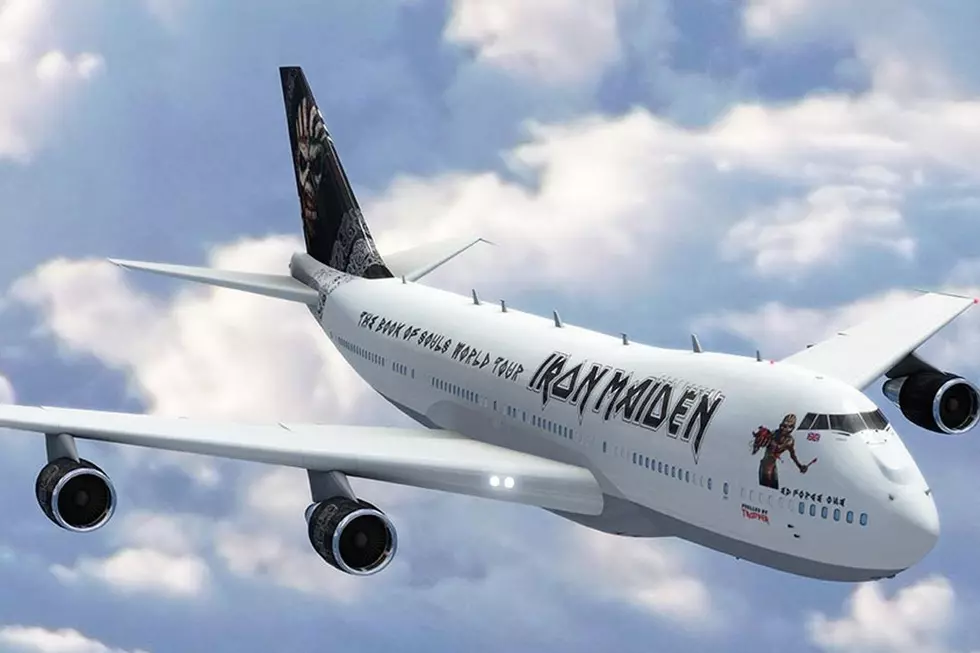 Iron Maiden Unveil New Jumbo Jet, 'Ed Force One,' and Preliminary World Tour Plans
Iron Maiden
Now that Bruce Dickinson has been declared cancer-free, Iron Maiden can get back to planning their support of their upcoming album, The Book of Souls. They just revealed a rough time frame for their tour, and, as befits a band whose singer pulls double duty as their pilot, showed off the airplane that will take them around the world.
The complete details are still being worked out, but according to their website, Maiden will play three shows in the U.S. in February before going to Mexico, Central and South America, including their first-ever concert in El Salvador. They will return to North America in late March for dates in the U.S. and Canada.
From there, they'll head to Japan, China (another first), New Zealand, Australia and South Africa, where they played only during Dickinson's hiatus from the band. Iron Maiden will also tour Europe extensively between late May and early August next year. In total, they expect to play 35 countries on six continents, covering 55,000 miles.
They will be flying on the third iteration of what they've dubbed "Ed Force One." As with the planes that they used on tours between 2008 and 2011, the craft features the band's name and tour on the side, with mascot Eddie painted all over the tail. But unlike the previous two jets, both of which were Boeing 757-200s, the new one is an upgrade to a Boeing 747-400.
You can see the difference in size in the handy chart below. As Dickinson explains, "The greatest benefit of traveling in a 747 is that, because of its colossal size and freight capacity we can carry our stage production and all our stage equipment and desks in the cargo hold without having to make any of the immense structural modifications needed to do this on the previous 757, the extent of which fans will have noted on the Flight 666 DVD .... All we will need to do is 'paint' it and move a few seats around, with the added advantage that there is much more room for band and crew – our Krew can almost get a row of seats each to catch up on sleep on the flights!"
But there is one major hurdle to be jumped before they can take flight: "Even though we have worked out the logistics of taking a plane of that immense size out on tour, I still have to learn to fly it before we can go anywhere!" writes Dickinson. "So, I'm currently doing my training to qualify as a pilot and Captain on a Boeing 747. I'm doing this at Cardiff Aviation, my aircraft maintenance facility in Wales, where we recently took possession of a rather splendid 747 simulator which I can't wait to get practicing on!"
The Book of Souls, Iron Maiden's first double album, will be released Sept. 4.
See Iron Maiden and Other Rockers in the Top 100 Albums of the '80s
Criminally Underrated Rock Albums
More From Ultimate Classic Rock