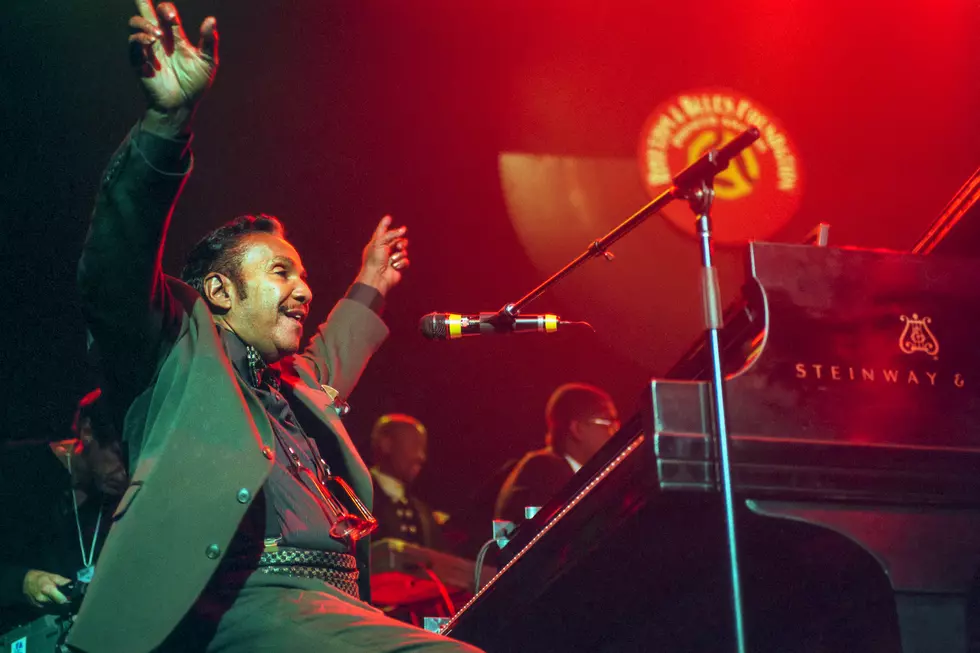 R&B Pioneer Huey 'Piano' Smith Dead at 89
Jack Vartoogian, Getty Images
Huey "Piano" Smith, a pioneering figure in R&B and early rock 'n' roll music, died on Monday at age 89.
The news was confirmed to Nola.com by his daughter, Acquelyn Donsereaux. "He just slept away," Donsereaux said. "Daddy was the most positive person I know. Easygoing and funny. He was a comedian until the last couple of hours."
Smith was born in New Orleans in 1934 and was influenced by the regional music played by Professor Longhair. He wrote his first song, "Robertson Street Boogie" - named for the street where he lived - when was 8. As a teenager, Smith played piano in local bars and clubs, often performing with guitarist Eddie Jones, who was later known professionally as Guitar Slim. Smith's right-hand heavy style of playing made him stand out among New Orleans musicians, and in 1952, when he was 18, he signed his first recording contract with Savoy Records. The label released his first single, "You Made Me Cry."
Three years later, Smith became the piano player in Little Richard's first group while he was recording for Specialty Records. Smith also played sessions with Lloyd Price, Earl King and Smiley Lewis. In 1956, Smith recorded with the Rhythm Aces, marking the first time he worked with Mac Rebennack, better known as Dr. John, who would cite Smith and his distinct style of piano playing as a major influence.
"He had the perfect touch for what he was doing," New Orleans music legend Allen Toussaint noted in an interview at the 2014 New Orleans Jazz and Heritage Festival (via Nola.com). "Extremely creative and, though most of us are disciples of Professor Longhair, he was less a disciple of Fess than us. He was so strong within his own spirit."
In 1957, Huey "Piano" Smith and His Clowns were formed. That same year, the group recorded "Rockin' Pneumonia and the Boogie Woogie Flu," a hit single and influential recording in early rock 'n' roll that was later covered by acts like Aerosmith, Grateful Dead, Bruce Springsteen and Deep Purple. Another million-dollar seller followed in 1958, "Don't You Just Know It," which reached No. 9 on the Billboard Pop chart and No. 4 on the Rhythm and Blues chart.
Listen to Huey 'Piano' Smith's 'Rockin' Pneumonia and the Boogie Woogie Flu'
The last time Smith and His Clowns performed was in 1981 at the New Orleans Jazz and Heritage Festival. In 2000, Smith was given the Pioneer Award by the Rhythm and Blues Foundation. At the ceremony in New York City, Smith performed "Rocking Pneumonia" and "Sea Cruise" (a 1959 hit written by Smith and sung by Frankie Ford). It was the first time he played live in close to 20 years.
In 2014, Art Garfunkel listed "Don't You Just Know It" as one of 10 records that changed his life. "It's a New Orleans rhythm with a piano that's kind of dragged in its tempo," he said. "It's down and dirty – it makes you wanna get up and dance."
Listen to Huey 'Piano' Smith's 'Don't You Just Know It'
In Memoriam: 2023 Deaths
A look at those we've lost
More From Ultimate Classic Rock