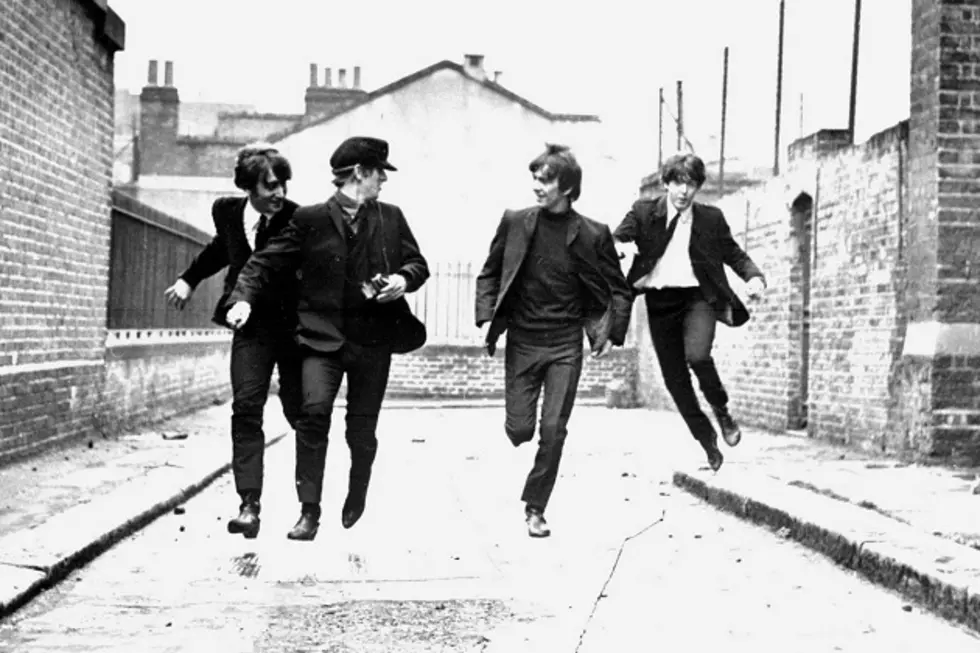 See the Cast of 'A Hard Day's Night' Then and Now
Miramax Films
'A Hard Day's Night' may not have started as a rock 'n' roll movie, but it certainly perfected the genre. Conceived as a day in the life of the Beatles, the 1964 film idealized the Fab Four as music's Marx Brothers who encounter (and often wreak havoc on) various stock characters. The hijinks are broken up by one kinetic musical sequence after another, making Richard Lester's black-and-white musical comedy a forebear of MTV. Almost 50 years later, 'A Hard Day's Night' remains fresh and exciting, a testament to its sharp script and innovative filmmaking, as well as the Beatles' undeniable charisma and timeless music. Let's take a look back at those involved and see what's happened to them in the past five decades.
Miramax Films/Getty Images

Miramax Films/Getty Images

Then: John Lennon, Paul McCartney, George Harrison and Ringo Starr had just conquered the U.S. when they returned home to star in their first feature film. The Fab Four played (slight) caricatures of themselves: anarchic John, concerned Paul, droll George and oversensitive Ringo.

Now: The music, style and iconography of the Beatles loom as large as ever, even though the band broke up in 1970. Lennon was shot and killed in 1980, and Harrison died from cancer in 2001. Now in their 70s, McCartney and Starr remain ambassadors for the group and continue to record new music and tour, playing Beatles tunes to multiple generations of fans around the world.

Wilfrid Brambell, Paul's Grandfather

Then: Brambell played McCartney's grandfather, a "king mixer" whom everyone seemed to mistake for "very clean old man." The devious oldtimer causes trouble wherever the Beatles take him and almost makes the band miss its big gig at the end of the movie.

Now: Although Brambell, born in 1912, was merely old enough to play Paul's dad in 'A Hard Day's Night,' he was cast because of his ability to play older on the British comedy series 'Steptoe and Son' (the inspiration for 'Sanford and Son'). Brambell starred in the show until 1965 and returned for a second series from 1970-74. He continued to act in guest roles in film and television until the early '80s. He died from cancer in 1985.

Miramax Films/Screen Media Ventures

Miramax Films/Screen Media Ventures

Then: Rossington landed the supporting role of Norm, the Beatles' fictional manager who's given the impossible task of getting the lads to answer fan mail, keep their appointments and stop messing about. He's mostly engaged in a battle of nerves with Lennon, who delights in driving him mad.

Now: In 1967, with his appearance in 'Double Trouble,' Rossington became the only actor to appear in a Beatles movie and an Elvis flick. He appeared in lots of films in the '50s and '60s (including the 'Carry On' series), but later found more work on TV and the stage. He died in 1999 at the age of 70, following a six-month cancer battle.

Miramax Films/John Junkin

Miramax Films/John Junkin

Then: Junkin played Norm's affable assistant Shake, who seemed to get on better with the boys -- whether he was taking shaving lessons from George on a mirror or doing his best to keep watch over Paul's grandfather.

Now: The character actor usually played small roles (and the occasional starring one) on film, radio and television, where he appeared on 'The Avengers' and 'Mr. Bean.' Junkin made it into the Guinness Book of World Records for being part of the longest-running series of TV commercials (for PG Tips tea). He died from complications resulting from lung cancer, emphysema and asthma at age 76 in 2006.

Miramax Films/Getty Images

Miramax Films/Getty Images

Then: Boyd had been modeling for a couple of years when she was cast as one of the schoolgirls on the train at the beginning of 'A Hard Day's Night.' She had one line: "Prisoners?"

Now: Harrison asked Boyd for a date during filming and the two married in 1966. They separated, then divorced in the '70s, and Boyd went on to marry (and divorce) George's pal Eric Clapton. She published her autobiography in 2007 and continues to showcase her photographs of Harrison, Clapton and others in exhibitions around the world.

Richard Vernon, Man on Train

Then: The actor, famous for aristocratic roles, entered the lads' train compartment, only to be annoyed by the young rockers. "I fought the war for your sort," he blustered. "I bet you're sorry you won," Ringo swiped back.

Now: Just after 'A Hard Day's Night' hit theaters, Vernon was seen as Colonel Smithers in 'Goldfinger.' (James Bond and the Beatles in one year? Pretty good.) Vernon continued to work as a character actor in film, TV and radio until his 1997 death from Parkinson's disease.

Miramax Films/Anchor Bay Entertainment

Miramax Films/Anchor Bay Entertainment

Then: Malin had a bit part as the hotel waiter, who lends Paul's grandfather his tuxedo so the old man can impersonate a rich guy at the casino. Ringo and George later find him in their closet in his underwear.

Now: The actor continued to land small parts in movies, such as the comedy 'Percy,' which featured music by the Kinks. His most notable role was as Walter the mute on the 1968-73 British sitcom 'Nearest and Dearest.' Malin died at age 82 in 1977.

Margaret Nolan, Casino Girl

Then: Nolan was the casino floozy who cozies up to Paul's grandfather, certainly unaware of his lack of wealth.

Now: The former model also appeared in 'Goldfinger,' as Bond's masseuse, Dink. She was also the woman covered in gold paint during the movie's title sequence and in ads. Nolan continued to act in movies and TV through the '70s, but has more recently established herself as a London artist who makes collages out of her old glamour photos.

Jeremy Lloyd, Tall Dancer

Miramax Films/Getty Images

Miramax Films/Getty Images

Then: Lloyd went uncredited as the tall man at the disco who starts trading moves with Ringo on the dance floor.

Now: He would appear (again, uncredited) in 'Help!' as well as 'The Magic Christian,' which Ringo also acted in. He also appeared on 'Rowan and Martin's Laugh-In' before having greater success as a TV comedy writer. He co-created the infamous '70s / '80s sitcom 'Are You Being Served?' In 2013, at the age of 82, he became an Officer of the Order of the British Empire for his comedy writing.

Maggie London, Dancer at Disco

Miramax Films/Studio of Style

Miramax Films/Studio of Style

Then: Margaret Lyndon adopted the name Maggie London as a model and appeared in the disco scenes dancing with George and Ringo.

Now: She became Maggie D'Abo when she married Mike D'Abo of Manfred Mann. During their marriage, she gave birth to two children, one of whom is Olivia D'Abo (who played Karen on 'The Wonder Years'). Maggie also appeared in '2001: A Space Odyssey,' but has since retired from modeling and acting.

Victor Spinetti, TV Director

Miramax Films/Getty Images

Miramax Films/Getty Images

Then: Spinetti played the comically pessimistic TV director who skulked around while fretting that the Beatles would not return for their live performance.

Now: The stage, television and film actor got along well with the Fab Four, who gave him supporting roles in their next two movies. He also appeared in 'Under Milk Wood,' 'The Return of the Pink Panther' and Prince's 'Under the Cherry Moon' and toured the U.K. with his autobiographical, one-man play. He died from prostate cancer in 2012 when he was 82. McCartney attended his funeral.

Robin Ray, TV Floor Manager

Then: The bespectacled Ray had a small part as an obstinate floor manager who wants to mess around with Ringo's drums.

Now: 'A Hard Day's Night' was one of Ray's few acting credits. His impressive knowledge of classical music made him a fixture on the quiz show 'Face the Music.' He went on to host children's programs and other game shows and wrote a musical in the '80s. Ray died in 1998 at age 64 from lung cancer.

Lionel Blair, TV Choreographer

Miramax Films/Getty Images

Miramax Films/Getty Images

Then: Blair played a choreographer practicing a dance set to a schmaltzy version of the Beatles 'I'm Happy Just to Dance with You.'

Now: Blair is well-known for his oversized personality in Britain, where he's worked as a choreographer and actor in film and television for decades. In 2007 he appeared as himself in the Ricky Gervais series 'Extras' and recently starred in a short film titled 'Being Lionel.'

Then: Quayle, fresh off of winning a Tony Award, had a short – but famous – scene with John, in which he convinced her character that he didn't look a thing like "him."

Now: The actress was cast in 1967's 'Casino Royale' and 1968's 'Chitty Chitty Bang Bang' before migrating to television roles. Qualye, now in her 80s, has kept a low profile since she her five-year stint as a regular on the U.K. series 'Grange Hill' – although she did pop up in a pair of YouTube videos in 2010.

Kenneth Haigh, Simon Marshall

Then: Haigh played the ad man Simon Marshall, who matched wits with George over what young people found "fab and all the other pimply hyperboles." It's safe to say that Harrison found the experience "dead grotty."

Now: Haigh, who made his name on the London stage, became a TV star in the '70s as the lead in 'Man at the Top.' He's had many guest spots since. His work has included a part on 'The Young Indiana Jones Chronicles' and the lead role in a 2004 film short 'Mr. Blue.'

Then: Holloway was cast as Adrian, Simon's assistant, who presented the "grotty" shirts to George.

Now: Over the years, Holloway's created a multi-faceted career as an actor. He starred on Broadway in a '90s revival of 'My Fair Lady' and appeared in the Sex Pistols movie 'The Great Rock 'n' Roll Swindle' and 'The Rum Diary' with Johnny Depp. In recent years, most of his work has been as a voice actor in video games and movies, including the animated 'A Christmas Carol.' He currently voices multiple characters on the cartoon series 'Star Wars: The Clone Wars' and 'Regular Show.'

Miramax Films/David Janson

Miramax Films/David Janson

Then: Janson (erroneously credited as David Jaxon) played young deserter Charlie, who bonds with Ringo when the drummer goes "parading" outside of the studio.

Now: Janson earned fame in the U.K. for his role on the soap opera 'The Newcomers' and the sitcoms 'Get Some In!' and 'Keeping Up Appearances.' His most recent credit is the British comedy movie 'Run for Your Wife,' released in 2013.

Roger Avon, Police Officer

Then: Avon had a bit part as the copper who nabs Ringo after he accidentally causes a woman to fall into a giant hole (but she's OK, folks!)

Now: The actor had a long television career, with appearances on 'Black Adder the Third' and in two 'Doctor Who' serials. He acted until his death, in 1998, at age 84.

Deryck Guyler, Police Inspector

Then: Guyler played the mild-mannered police inspector who meets Ringo and Paul's grandfather after they've been hauled into the station. He doesn't seem concerned about any criminal endeavors; he even offers them a cup of tea.

Now: The actor became known for his work with comedian David Sykes on his '60s and '70s series. He also was a regular on the sitcom 'Please Sir!' Although Guyler retired from acting in the '80s and died in 1999, his voice role as a newsman continues to be heard in British productions of 'The Mousetrap.' The Agatha Christie play is the longest running show in modern history, with more than 25,000 performances since it opened in 1952. And Guyler (or at least his voice) has been part of every show.

Then: The comic actor had a bit part as a car thief trying to remain incognito as the Beatles and the bobbies make like the Keystone Kops.

Now: Bluthal also appeared in 'Help!' as well as 1967's 'Casino Royale' and two of the 'Pink Panther' movies. In the late '90s he landed supporting roles in two sci-fi standouts, 'The Fifth Element' and 'Dark City.' He's most recently been seen playing recurring characters on England's 'The Vicar of Dibley' and Australia's 'Spirited.'

Phil Collins, Audience Member

Phil Collins/Getty Images

Phil Collins/Getty Images

Then: At the age of 13, the future rock star was an extra in the film's closing concert sequence and can be spotted in a quick close-up.

Now: Although Collins continued to pursue acting as a youngster, he soon transitioned to music, eventually joining Genesis as the prog-rock band's drummer. He became the frontman after the departure of Peter Gabriel and also built a successful solo career. He has since retired from music because of health reasons, although he recently revealed that he's considering making new music.

Then: The American director was hired to helm 'A Hard Day's Night' because the Beatles liked his work with British comedians Peter Sellers and Spike Milligan.

Now: The lads were so pleased with the film that they again worked with Lester on 'Help!' He went on to make 'How I Won the War' (with Lennon), 'The Three Musketeers,' 'Superman II' and 'Superman III.' He unofficially retired in 1989, following the death of his friend, actor Roy Kinnear, and only returned to direct a concert movie for McCartney ('Get Back') in 1991. His work with the Beatles has proven to have a long-running influence; he's been called the "father of the music video."

BONUS: You Think You Know The Beatles?
More From Ultimate Classic Rock