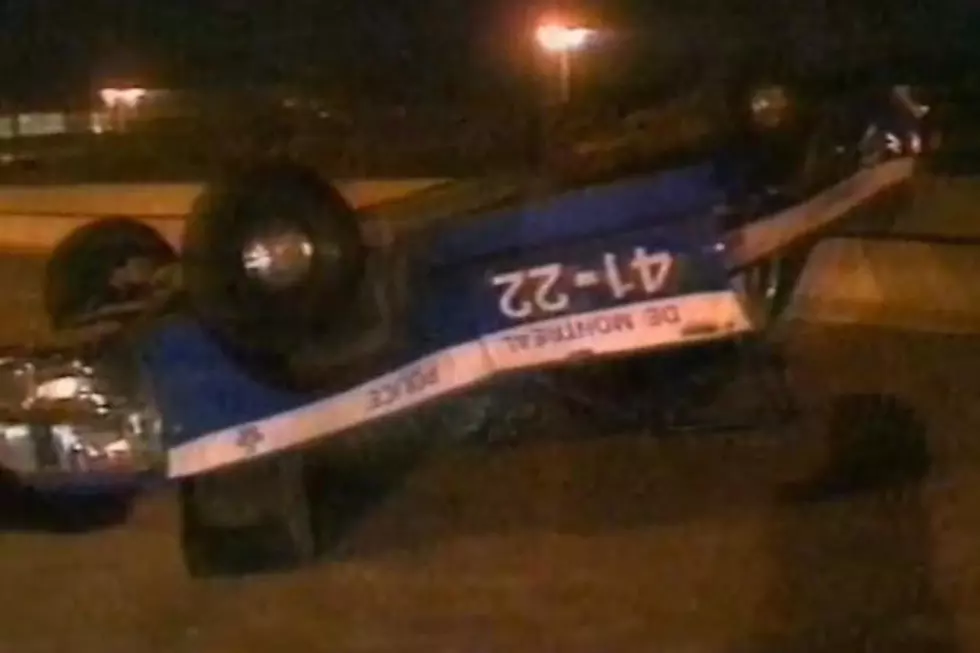 Why a Guns N' Roses and Metallica Concert Ended in a Riot
YouTube
Canadians have a reputation for being some of the nicest people on the planet, but even they have their limits. Just ask Guns N' Roses frontman Axl Rose.
The singer received a firsthand education in the boundaries of Canadian patience on Aug. 8, 1992, when the band's stop in Montreal for the Guns N' Roses/Metallica Stadium tour ended with both headliners playing shortened sets. This led to a group of particularly frustrated audience members retaliating by starting a riot that ended with looting, smashed windows, fires, plenty of arrests, nearly half a million dollars in damages and GNR being banned from the city's Olympic Stadium for life.
It wasn't supposed to be this way. The tour represented the hard rock event of the summer, bringing together two of music's biggest acts at the peak of their commercial power. With Faith No More, Motorhead, and Body Count along for the ride as openers, ticket buyers were promised hours of heavy riffing and musical aggression, and on most of the 25 dates, that's exactly what they got. The Montreal show, however, was a disaster – in more ways than one.
The problems started during Metallica's set, when James Hetfield was horrifically injured in a scary pyrotechnics accident that sent him to the hospital with second- and third-degree burns. "During 'Fade to Black,' I'm up there playing the part, and all these colored flames are going off," he recalled during the band's Behind the Music episode. "I'm a little confused on where I should be. I walk forward, I walk back, the pyro guy doesn't see that I've walked back there, and [makes whooshing noise] colored flame goes right up under me."
Blasted by a column of fire in front of a live audience, Hetfield was in shock: "I'm burnt – all my arm, my hand completely, down to the bone. The side of my face, hair's gone. Part of my back. ... I watched the skin just rising, things going wrong."
The band cut its set short and called for immediate medical attention, but Hetfield also remembers the journey to the hospital being less than ideal. "The security guys are kinda walking around, and one guy bumps into my hand. I just lost it; I screamed and punched him right in the nuts," he laughed. "This is pain I've never felt in my whole life and it won't go away. I'm freaking at this point, you know?"
Unfortunately, GNR's set took freaking to a different level. Rose's mercurial temper with concert crowds was already public knowledge. Shortly before the Montreal show, he'd been arrested for charges stemming from a 1991 riot that erupted after the band walked off the stage during a stop in St. Louis -- and he'd been complaining of vocal problems since the tour with Metallica started. In fact, it was just getting back on track after a handful of canceled dates. Slash had warned the Montreal Gazette that Rose had a hole in a vocal cord, but promised that the "typhoon of chaos" surrounding the group wouldn't derail the show.
According to the Gazette, GNR took more than two hours to take the stage after Metallica's departure, and things went downhill from there. According to the New York Times, Rose lasted 55 minutes before ending the set, although the Seattle Times timed it at a far less charitable 15 minutes.
Watch an MTV Report on the Guns N' Roses Riot
Either way, after standing around waiting to rock only to hear Rose say, "this will be our last show for a long time" then walk off the stage, the crowd turned to violence. "The PA fed back the entire time, the monitors fed back the entire time, the crowd was like, nonexistent," Slash later told MTV.
"We had just stopped the tour because I had throat problems. Came back, and I realized, 'I'm gonna hurt myself,' Rose said. "I told Slash, 'Two more songs, if we can't get it fixed, I gotta go.' We did more than two more songs, and finally I was just, like, 'I don't know what to do.' I looked over and Gilby was like, 'Dude, I can't hear. And Duff [McKagan] was like, 'I can't hear either.' We had a little huddle, and we were like, 'We're outta here.'"
Added Slash: "Montreal was just really creepy. Nothing against the people of Montreal; we had a great time hanging out there. I think it was the building itself."
Ultimately, out of the 53,000 or so in attendance, only an estimated 2,000 were involved in the riot, and aside from grotesque levels of property damage – which reportedly included an uprooted street lamp and an overturned police cruiser – the whole thing was kept from spiraling too far out of control by Montreal police, who showed up in riot gear, sealed off the area and used tear gas to quell the violence. When the dust settled, there were "at least three police officers and 10 rioters injured" and "at least a dozen arrests."
The whole mess made headlines around the world, giving Rose's list of detractors more ammunition and furthering the band's growing reputation for bad behavior. The Montreal Gazette recalls that when U2 visited the city a few weeks later, Bono cracked a veiled joke at Rose's expense from the stage, pausing a few songs into the set and quipping, "What time is it? We gotta go."
Between Hetfield's injuries and Rose's vocal woes, the Montreal catastrophe left the tour in temporary limbo until Aug. 25, when things were finally able to resume in Arizona. Hetfield, eager to get Metallica back on the road, had to stick to vocals, temporarily turning his guitar duties over to John Marshall of Metal Church – an experience that he later admitted was awkward, and not just because of the arm-length bandage he was sporting.
"It sucks," Hetfield told the Columbus Dispatch. "You're up there and you're singing, but a lot of our songs have some pretty long instrumental bits; it's like, 'What the hell am I going to do here? Head back stage, do some laundry?' You can only be a cheerleader for so much, and it looks kind of silly."
Fortunately, the tour was able to make it through the rest of its dates – which concluded on Oct. 6 at the Kingdome in Seattle – without further property damage, and all things considered, still turned out to be a solid moneymaker. According to Slash, however, the members of Guns N' Roses ended up barely breaking even, thanks partly to habitual tardiness and partly because, as he claimed in his self-titled autobiography, Rose insisted on throwing expensive backstage theme parties in an effort to impress their co-headliner.
"Metallica was earning the exact same paycheck as we were every night," Slash said, "but while they pocketed the whole thing, we were blowing 80 percent both on union dues for all of the overtime we cost ourselves going on late and on these stupid theme parties. It was just bad."
Still, there's at least one person who was on the payroll that summer who has fond memories of the tour: Rose's former personal manager Craig Duswalt, who looked back on Montreal and its aftermath in his book Welcome to My Jungle. With the band temporarily off the road and Rose in the mood for a trip to New York, Duswalt tagged along – and on the trip, he ended up connecting with his future wife.
As he put it, "I am married to Natasha because James Hetfield, the lead singer/guitarist of Metallica, stood on top of a flash pot during their set and suffered second-degree burns on his arms and hands on Aug. 8, 1992, in Montreal, Canada."
See Guns N' Roses and Other Rockers in the Top 100 Albums of the '80s
More From Ultimate Classic Rock