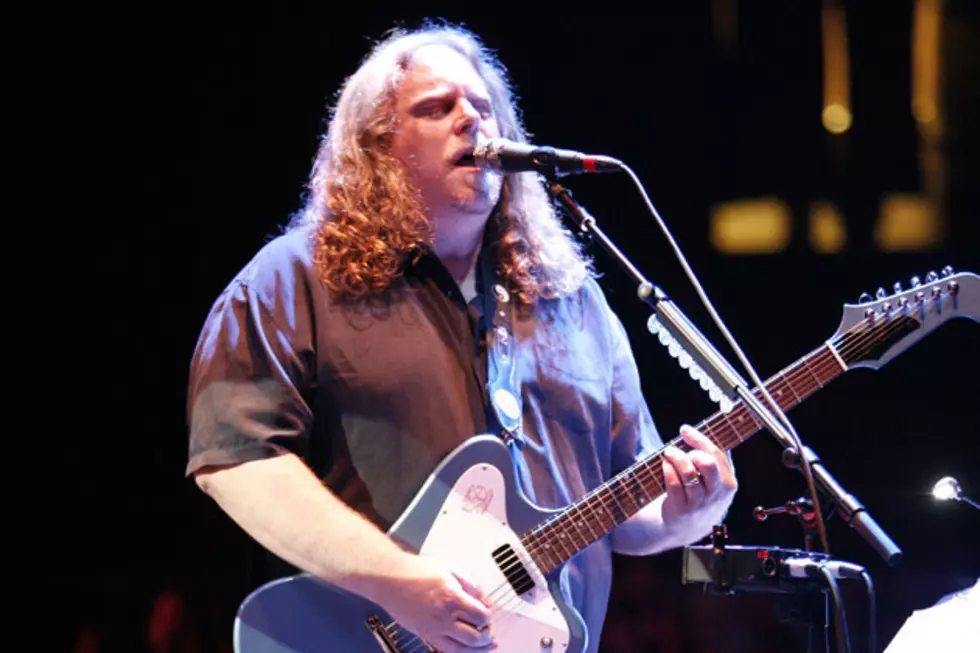 Cory Schwartz, Getty Images
Sure, the comparisons continue, fueled by Woody's untimely death in 2000 -- a tragedy that echoed similar losses for the Allman Brothers -- not to mention the odd overlapping song. But, since its 1995 inception, Gov't Mule has evolved into an amalgam of musical moments that run far afield of the old ABB template to include classic soul, more overt country influences, fusion jazz and even reggae. All of those disparate sounds, held together by sheer force of Haynes' will, can be found on our list of the Top 10 Gov't Mule Songs.
10

'Wandering Child'

From 'Life Before Insanity' (2000)

'Wandering Child,' with its fascinating time-signature shifts, is a definitive argument for Gov't Mule as something a whole lot more than standard-issue Southern rock. And this wasn't just a tucked-away deep cut. It not only opened their 2000 studio effort, but also many Mule concerts of that era. Unfortunately, 'Life Before Insanity' marked the final album with Woody, who died shortly after it was released.

9

'Scared To Live'

From 'Shout!' (2013)

'Scared to Live' certainly doesn't mark a first-time experiment for Gov't Mule with reggae rhythms. After all, 2007's 'Mighty High' was packed with similar Rastafarian-inflected reworkings of Mule songs and choice covers. This newest iteration, however, shows just how adept Haynes and Company have become with this synthesis of island atmospherics, swampy grooves and deadly serious topicality. It's no easy feat, even if Gov't Mule makes it seem so.

8

'Birth of the Mule'

From 'Dose' (1998)

This list of the Top 10 Gov't Mule Songs has already shown that they could conquer something so weirdly unconventional as reggae. How about jazz next? Based very loosely around a Miles Davis favorite, 'Birth of the Mule' even name checks one of the trumpeter's earliest ground-breaking recordings. But the slide work here is uniquely Haynes' own -- as furiously inventive as anything he's ever done. Pay close attention, too, as Woody and drummer Matt Abts chase Haynes right to the edge.

7

'Wine and Blood'

From 'Deja Voodoo' (2004)

A Southern rock power trio that could bring down concert venues with its brawny virtuosity, Gov't Mule had long been known, and rightly so, for its power. But, as this contemplative, country-tinged track reminds, there was always more to this group -- and to Haynes, who possesses a gravelly ache perfectly suited to this melancholy moment. 'Wine and Blood' also heralded a newly expanded lineup after Woody's death.

6

'Unring the Bell'

From 'High and Mighty' (2006)

Keyboardist Danny Louis and bassist Andy Hess had, by this point, settled in alongside Haynes and Abts - and Gov't Mule's musical pallette continued to expand in the most interesting of ways. That said, a monstrous groove, along with some fun dub elements, can't disguise the darker narrative running through this standout song.

5

'Blind Man in the Dark'

From 'Dose' (1998)

Lest we get too far away from the bulls-eye element of Gov't Mule's heavy-blues success, 'Blind Man in the Dark' provides a hard right hook to open 'Dose.' But even here, a menacingly inventive opening statement from Haynes takes this track, No. 5 on our list of the Top 10 Gov't Mule Songs, well away from comparisons with his more famous tenure in the Allmans - to say nothing of others working these same well-trod paths, like ZZ Top.

4

'Captured'

From 'Shout!' (2013)

A simmering, smoke-filled paean to the helplessness of true love - complete with a heart-rending vocal and a searching turn on the guitar. After four years away from studio work, this advance single from the double album 'Shout' provided an appropriately yearning return for Gov't Mule, now joined by bassist Jorgen Carlsson. And Haynes may have never been in better voice.

3

'Rockin' Horse'

From 'Gov't Mule' (1995)

Co-written by Gregg Allman, 'Rockin' Horse' is perhaps the item on the Gov't Mule resume that's most reminescent of Haynes' other band. It even showed up on the Allman Brothers Band's 'Hittin the Note' project. Still, that takes nothing away from its compulsively listenable propulsion. These guys proceed to kick it up a notch, with Woody thumping out a furious heartbeat - even as Haynes and Abts play with a delirious abandon.

2

'Broke Down on the Brazos'

From 'By a Thread' (2009)

Funny, even though Gov't Mule just issued a well-received guest-star packed album in 'Shout!,' there's still nothing that compares to this earlier meeting of the minds. Joined here by ZZ Top's Billy Gibbons, it feels like a supergroup moment and a meeting of mentor and star pupil all at once. Haynes goes toe-to-toe on 'Brazos,' and wins a very honorable draw.

1

'Mule'

From 'Gov't Mule' (1995)

An in-concert favorite and the No. 1 track on our list of the Top 10 Gov't Mule Songs, this trio-composed cut gave early shape to the Gov't Mule legend - and it still stands as a foundational touchstone, despite a series of changes (both in lineup and musical scope) over the ensuing years. Forget the squalling harp, and focus on what's left: This is Gov't Mule at its leanest. Everything flows outward from this moment in time. As Haynes bellows 'where's your mule?,' it's easy to see: Right here.
More From Ultimate Classic Rock