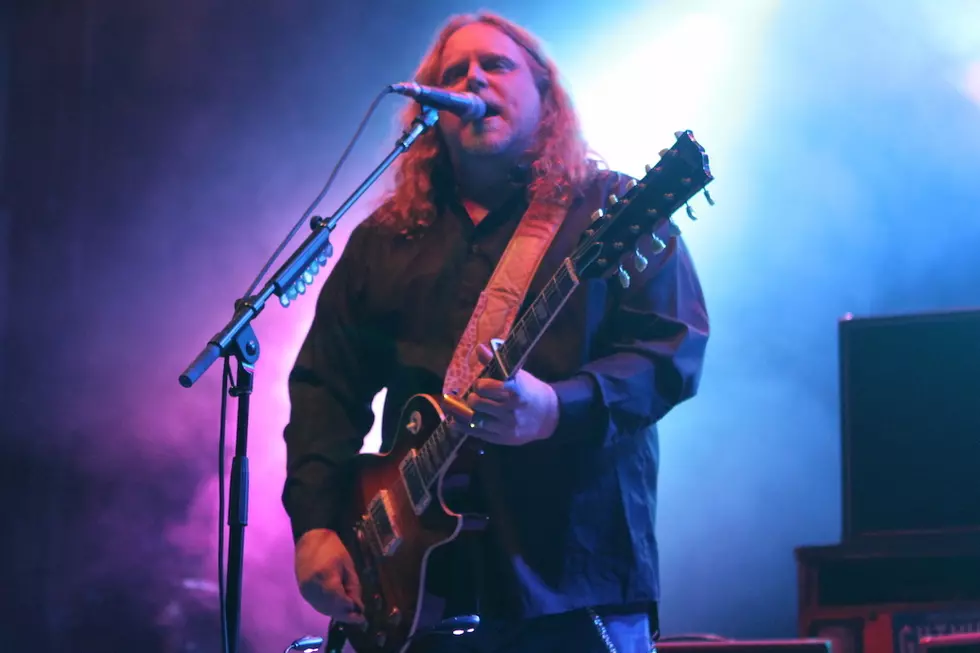 Top 10 Warren Haynes Songs
Cory Schwartz, Getty Images
Warren Haynes first came into view for many as part of the reborn Allman Brothers Band, joining the group at the tail end of the '80s when they came back together. A true musician's musician, Haynes' impact has gone well beyond the Allmans through ongoing work with Gov't Mule and as a solo artist. Even sitting in on someone else's album, he makes a huge impact. If the tape is rolling and Warren is there with his guitar in hand, you can be sure that something special will happen. A perennial workaholic in every sense of the term, Haynes has produced an overwhelming amount of music. We went through all of it to bring you our Top 10 Warren Haynes Songs.
10

'Stare Too Long'

With Corrosion of Conformity

From: 'America's Volume Dealer' (2000)

Corrosion of Conformity stuck a surprising Southern rock ballad that would make Lynyrd Skynyrd proud amidst an album's worth of polished hard rock which had been molded by time spent touring with Metallica in the late-'90s. Haynes turned in one of his finest guest appearances playing slide guitar, an experience that stuck with him years later: "I went into the studio and they played me the song and I just really dug it," he tells UCR. Haynes argues that "Stare Too Long" still deserves a much bigger audience. "I thought that it was not only a great song, but I also thought it should have been a hit."

9

'Beautifully Broken'

Gov't Mule

From: 'The Deep End, Volume 1' (2001)

When looking at his own catalog, Haynes says he tends to gravitate toward some of the more moody ballads. Coming in at No. 9 on our list of the Top 10 Warren Haynes Songs, "Beautifully Broken" was co-written with Gov't Mule keyboardist Danny Louis. "You know, there's a time when you're writing a song that you know it's something to be proud of, hopefully," he tells UCR. "When I had lyrically written the second bridge in that song, after that lyric finally came to me, I knew that the song was complete and knew that I'd found a way to take it past just being where it was."

8

'Man In Motion'

Warren Haynes

From: 'Man In Motion' (2011)

Haynes ended up with a batch of songs that felt different while in writing mode for this album. They fit together well but didn't feel like Gov't Mule songs, which brought him to the realization that it was time to make a solo album – Haynes' first in 20 years. Thematically, Man in Motion celebrates a lifelong love of soul music. The title track seems to speak lyrically to the life that Haynes has spent on the road, "moving town to town / band to band." For Haynes, that can sometimes mean several bands at one time.

7

'True Gravity'

Allman Brothers Band

From: 'Seven Turns' (1990)

Seven Turns brought the Allman Brothers Band back around for their first album together in nine years. Haynes was the newest addition to the lineup, but "True Gravity" spoke to his long-term musical partnership with co-founding Allmans guitarist Dickey Betts. At the same time, Haynes hadn't worked much with the rest of the band, so it was an "exciting time and things were just growing exponentially," Haynes says. "I think we're all very proud of all of that stuff we did, and then when you go back and look at it, it holds up well."

6

'Life Before Insanity'

Gov't Mule

From: 'Life Before Insanity' (2000)

Haynes channels a wide range of emotions in the title track from Gov't Mule's 2000 album, which ends the bottom half of our list of the Top 10 Warren Haynes Songs. In one moment, his guitar lines chaotically pull elements of the tone of "Dear Prudence," before shifting to a clean tone that recalls some of Eddie Van Halen's most docile riffing. It's a layered mix which serves the title of the song quite well. Unfortunately, there's seemingly no happy ending: Things closing as they began, with Haynes emoting that it's "hard to explain the hunger / if you don't feel it / what I really need is your breath / raining on my skin."

5

'About to Rage'

Gov't Mule

From: 'Deja Voodoo' (2004)

Deja Voodoo was the first proper Gov't Mule album to be released after founding bassist Allen Woody's passing in 2000. Bolstered by Andy Hess on bass and Danny Louis on keyboards, the band sounded revitalized. Their stormy "About to Rage" came on the heels of the waffle-stomp pacing of "Bad Man Walking," with a title that brought with it an accurate forecast as Gov't Mule moved from a slow burning beginning into funnel clouds of guitar fury from Haynes. Deja Voodoo proved that Gov't Mule 2.0 could rock just as hard as the original had.

4

From: 'Live at Bonnaroo' (2004)

Haynes said he liked a lot of Hearing U2's Achtung Baby when he heard it the first time, but he was particularly drawn to their soon-to-be classic ballad "One." "I started thinking about how it could be done as a soul song, starting with the bridge – love is a temple / love a higher law – that whole section just sounded like a bridge from a soul song." Performed impromptu at a solo acoustic gig, he tells UCR that "it came across good, so I kept working on it and kept doing it and it's such a beautiful song. The sign of a great song in some cases is one that you can interpret a lot of different ways." Haynes turns in one of his emotional vocals on record with this version.

3

'End of the Line'

Allman Brothers Band

From: 'Shades of Two Worlds' (1991)

If you want proof that dental hygiene is important, witness this: "End of the Line" was born when Haynes walked into the dressing room where Gregg Allman and bassist Allen Woody were working on a song. Haynes came in to borrow some toothpaste and brought his guitar. "I was playing this riff and Gregg turned around to me and said that's it – that's what we need right there and I said, 'What?' and he said 'Well, we're writing this song and that's what we need." Together, they quickly completed "End of the Line."

2

'Blind Man in the Dark'

Gov't Mule

From: 'Dose' (1998)

The power of Gov't Mule is in full force on this lead track from the band's second album. "Blind Man in the Dark" didn't exactly mesh with radio at the time, but still richly deserves its No. 2 ranking on our list of the Top 10 Warren Haynes Songs. This is a surperior example of what a rock solid unit Haynes had built with Woody and drummer Matt Abts (whose drumming leads off the stampede pacing). They're positively locked in from the first moment until the song's conclusion nearly seven minutes later.

1

'Soulshine'

Allman Brothers Band

From: 'Where It All Begins' (1994)

It would take Warren Haynes nearly 20 years from the time he wrote this song for the Allman Brothers Band to get around to dedicating a full album to his love of soul music, but his affection for the genre was very evident here. Gregg Allman spreads copious amounts of Hammond B3 organ thickly behind modestly simplistic guitar work by Haynes. "Soulshine" would quickly become one of Haynes' most well-known and best-loved compositions, and one which continued to pop up for decades in the setlists from both the Allman Brothers band and Gov't Mule.
More From Ultimate Classic Rock